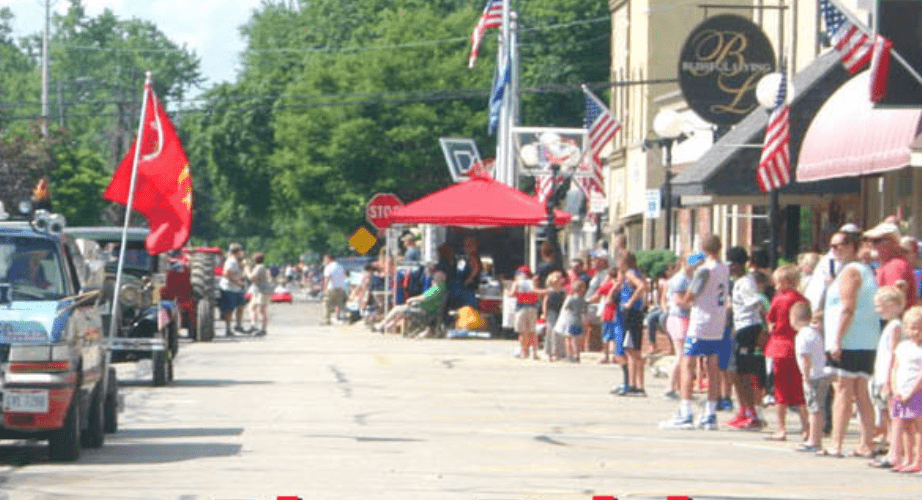 River Raisin Festival 2022
The River Raisin Festival is one of the premier festival of the year in Southeast Michigan.
Always free and packed with family fun and entertainment. Hosted alone the banks of River Raisin and in downtown Blissfield, Ellis Park and Bachmayer Park.
Besides picnics and free entertainment, there are plenty of rides, concessions, exhibits, crafts and vendors.
The River Raisin Festival has fireworks on Friday night plus a big parade on Saturday.
Come celebrate summer with us!
Parade Information
Time
The annual River Raisin Festival Parade will take place Saturday, July 9, 2022.
Check-in starts at 9:00 a.m. and the parade starts promptly at 10:30.
River Raisin Festival Parade Route
The parade will leave the high school parking lot promptly at 10:30 a.m. and proceed down Beamer Road to Lane Street, through downtown Blissfield, making a right onto U.S. 223, a right onto Depot Street, another right onto Sugar Street and back to the front entrance of the high school. The parade route is approximately 1.3 miles long. You may disperse as soon as you reach the front entrance of the high school. Please do not leave the parade until you have reached the end.
About Us
The Blissfield River Raisin Festival is hosting its 38th year of free, family fun, which will be held the second weekend of July, 2022. The festival is hosted on the banks of the River Raisin it celebrates in Ellis Park on the east side and beautiful Bachmayer Park on the west in the shadow of the "three bridges" made famous in Ripley's Believe it or Not. A fourth bridge now crosses the river to the south of the triple bridges which carry rail, vehicle and foot traffic.
There is no admission to the festival and the stage entertainment as well as many children's activities are available at no cost, allowing a family to come for a day of fun, bring a picnic and spend nothing.
​The Blissfield River Raisin has won honors as the Best Festival in Lenawee County several times.

We look forward to hosting you along the banks of the winding River Raisin in the quaint village of Blissfield, Michigan!