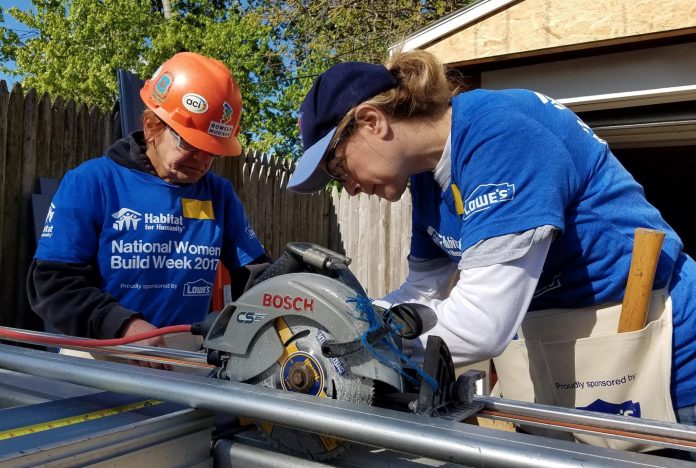 "My faith demands that I do whatever I can, wherever I am, whenever I can, for as long as I can with whatever I have to try and make a difference."  Jimmy Carter
By Chris Watson
Having a decent place to live seems simple. You find a place to rent or get with a realtor, do some paperwork, and start packing. Yet, according the 2018 GAP Study by the National Low Income Housing Coalition (NLIHC),there are just 35 affordable and available rental properties for every 100 of the lowest income renter households nationwide. This translates to 71% of the lower income residents, including Toledo and surrounding areas, becoming "housing cost burdened", spending well over the recommended 30% of their gross income on rent or mortgage.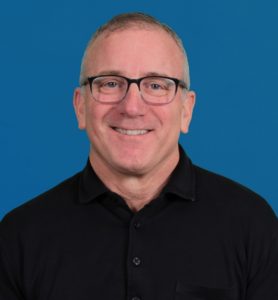 Enter Maumee Valley Habitat for Humanity, the local affiliate of Habitat for Humanity International. "Our goal," says  Executive Director Michael McIntyre, "is to find ways for people to afford homes and repairs. Decent housing isn't just a need, it is a basic human right." Maumee Valley Habitat, now celebrating its 30th year, is helping meet those human needs one house, one repair, and one volunteer at a time.
Real People, Genuine Success
"It is hard to look back at those days before I got involved in the Habitat program," says Ali, one of the Habitat home owners and partners. "I was 19 and working full time as a nursing assistant at a retirement community. I had a 2-year-old girl and already been married and divorced. We were so young, had so many issues to face and not much experience to deal with those issues."
Even with full time employment housing was out of reach. "I was bouncing around from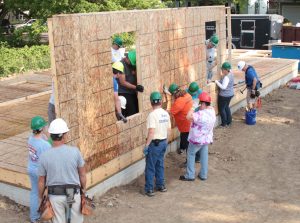 family member to family member, all graciously trying to help me and my little girl. I wanted her to have her own room…a place she could call her own." By providence, a coworker was in the application process with Habitat to secure housing. "My friend was already working with Habitat. I thought the worst that could happen is that they would say no."
The process includes financial discovery, ability to pay Habitat back through an affordable mortgage plan, and most importantly, hundreds of hours of volunteer labor alongside other volunteers and Habitat homeowners. "I was convinced that I couldn't qualify. However, the Habitat staff kept telling me, 'Ali, we want you to meet our qualifications! We are here to help you, not deny your application.' So, I qualified and started the process."
In Ali's case she volunteered at ReStore, Habitat's local resale store that helps financially support its mission. "Sometimes I think I lived at ReStore. Between a toddler, a full-time job, and my volunteer work I was running pretty hard. Still I wanted the opportunity. Everyone was so supportive and kept telling me that my time invested now would pay off. It did." Six months later Ali moved into her new house. Now remarried and with two additional children, Ali is a graduate of Lourdes University with a Bachelor of Nursing and works in Emergency at Toledo Hospital. "That house made all the difference in the world."
Up Not Out
"People are, of course, aware of what we do," says McIntyre. "They think we provide people homes. However, we don't give housing away or give repairs away. We, our volunteers and our families, act as partners to make affordable and safe housing achievable for those with limited, restricted, or lower incomes."
In fact, the basis of Habitat for Humanity isn't giving anything away. McIntyre emphasizes, "we are true to our core belief that we give a hand up, not a hand out." At the base of the home ownership program are zero percent interest mortgages for either new or rehabbed homes. For those who enter the homeownership program there is a variety of financial management and home maintenance education.
"Besides our education programs we also require our homeowners to partner with us," explains McIntyre. "This mean 250 'sweat equity hours' as part of process. Those hours are critical to the program. By investing in the home building or property rehabbing our future owners become rooted in their communities and work side by side with our volunteers to make their dreams happen. Nothing pulls people together like a project that benefits both a specific neighborhood and the community as a whole."
Housing is key to neighborhood stability and community growth. Surveys conducted by Habitat for Humanity nationwide have shown a strong connection between housing quality and overall health, especially in children. Children of homeowners are 116% more likely to graduate from college. Affordable housing can improve health outcomes by freeing up family resources for nutritious food, decent clothing, more regular medical care, and even basic savings growth; all possible when basic housing becomes available and affordable. "A house isn't just a place to live," explains McIntyre. "It is a foundation for a decent and fulfilling life."
Like a Good Neighbor
Anastasia Ellis use to work the news. "I was a news producer at 13 ABC," Ellis says. "For well over 2 years I did weekends and nights." Ellis, a graduate of University of Toledo, now serves and Communications Manager for Maumee Valley Habitat. "The news was great but it was relentless…just a 24/7 cycle. I was ready for a change. I didn't start out wanting to be in the nonprofit sector. I applied for this job and I haven't regretted a minute of working here."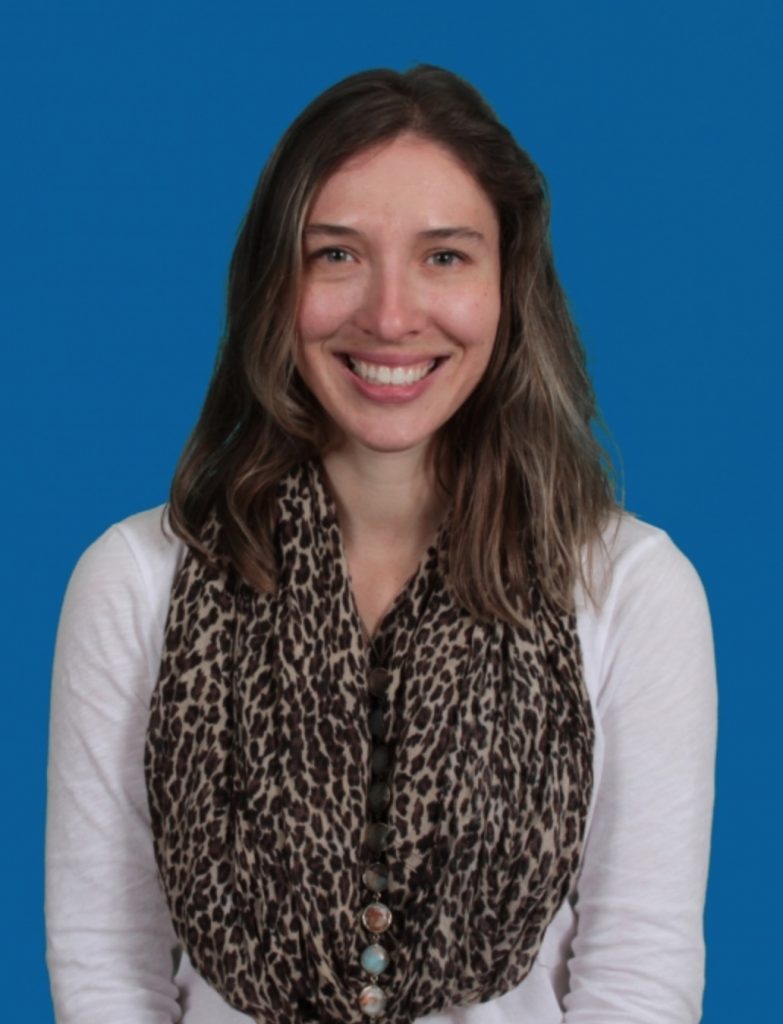 Although Ellis loves the benefits that the Habitat program brings its recipients, it is the volunteers that have true impact on her outlook. "Our volunteers just grab me. Many come back, project after project to help."  Volunteers are one of the prime movers in the Habitat program. "Our volunteers donated over 26,000 hours of work and impacted 70 homes," says Ellis. "In terms of money and labor that is the equivalent of at least 6 full time employees. Getting to work with them and experience their dedication is an honor."
Ellis's time in the newsroom gives her a unique perspective on the work of Habitat. "Back when I was producing the news I saw things as a reaction. This happened then that happened. We reported, we informed, and we highlighted good things that were occurring in our community." Ellis pauses for emphasis. "I am no longer watching and reporting. I am part of those good things that people are doing for each other."
Ways to Help
There are several ways to get involved. "Of course, we accept donations directly," explains Ellis. "These go a long way in helping us achieve our mission." You can also use ReStore, both to purchase items for your own projects or to donate appropriate items. Above all you can donate your time."I can't say this enough," claims Ellis. "Our volunteers are family. They make everything work."
And volunteering is more than just putting in a few hours. It is the essence of being a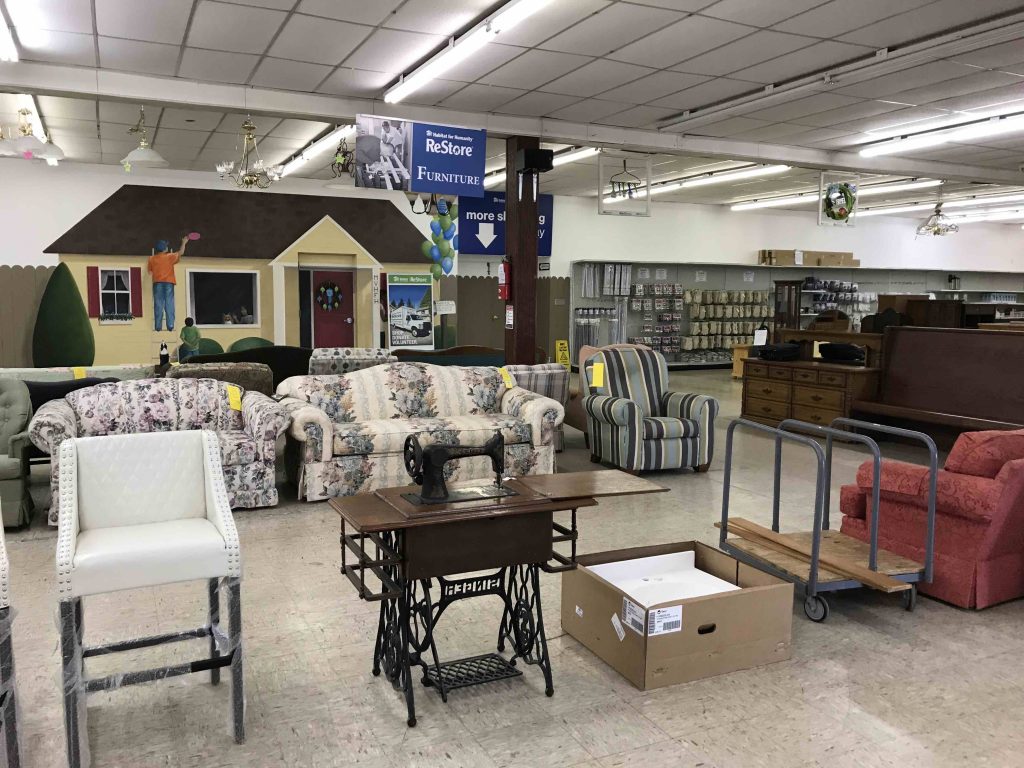 neighbor. So much can come from those core hours of work providing a house. "Our house has meant everything in our lives," says Ali. "When I was 19 and working full time I felt like a statistic. Just another kid who was destined to stay in an endless cycle. I didn't want that. I wanted to work hard, raise my little girl in a safe neighborhood, and give back to my community. All I needed was some traction."
Certainly, Habitat for Humanity provided Ali with that traction. However, the true soul of Habitat for Humanity is less habitat and more humanity. It gives every member of our community a chance, as President Carter said, "to make a difference." Not a far away or distant difference, but right next door.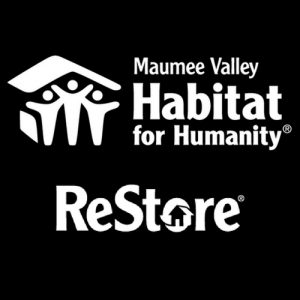 Maumee, OH
Office: 419.382.1964
Restore: 419.382.1658