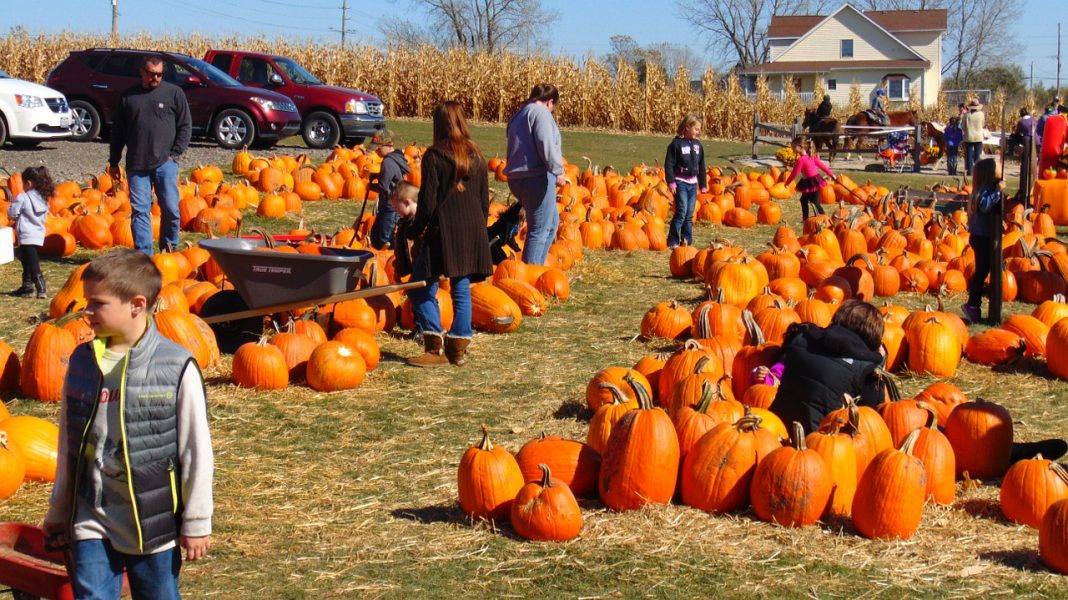 There are three things that Pumpkin Patches around Toledo offer: wholesome fun, fall food, and an excuse to play outside. What can be better?
It should come as not surprise that with the agricultural base of our region, the Western Shores of Lake Erie is filled with pumpkin patches. As Linus says in It's the Great Pumpkin Charlie Brown: "I don't see how a pumpkin patch can be more sincere than this one."
I'd say the first thing you need is…a pumpkin."
–Fairy Godmother, Cinderella
The Softer Side of Halloween
Halloween is like two distinct celebrations. First, there are the hay rides and cider, silly costumes land candy, and pumpkin patches Toledo! Then there is the scare and dare side of Halloween, represented by haunts and haunted houses.
Both have merit. After all, who doesn't like candy, silly, and cider. And, at least on occasion, we all can use a bit of scare.
Still, with there is no reason to get into the fall spirit in a sedate, family fun way. Our local farms have served up a big dish of outdoor adventure for for fall enthusiasts of all ages.
Guidelines for Pumpkin Patches Near Toledo
If you haven't done an outdoor fall activity in a while (and many haven't since the pandemic), there are some basics that might help the whole family.
Wear great shoes. Most patches require some walking.
Weather changes. Fall in northwest Ohio is, in a word, variable. Even if the trip starts out warm it may suddenly turn colder (or vice vera). Layers work great.
Getting dirty. Yep, you will be on a farm. Getting dirty is part of the gig. A few extra wipes or a towel or two is a good call.
Check rules. Make sure to check with the venue about rules. Don't assume pets are welcome. Also , accessibility is not a given.
Pumpkin Patches, Corn Mazes, Hayrides, and Farm Fun