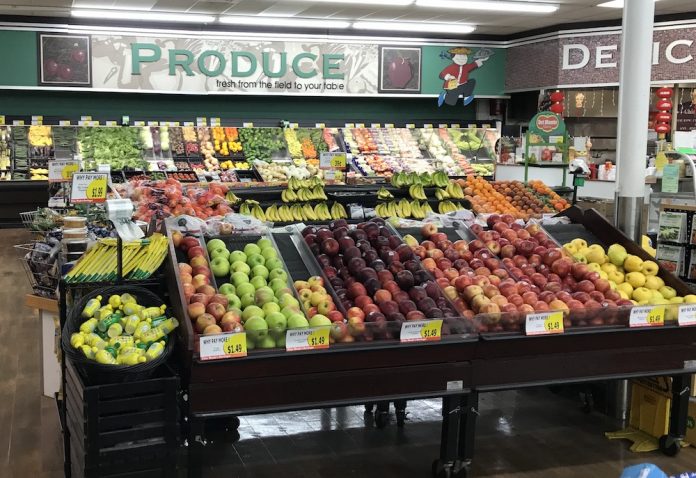 By Candace Byington and Chris Watson
Living on the west shore of Lake Erie we are use to fickle weather. Snow one day, hot and humid the next, tornados, dark and dreary…all possible weather for the Opening Day of the Mudhens. Our local markets, however, refuse to let us sink into the abyss of unpredictability. They know that spring is coming and with it comes all kinds of spring desires. Flowers, brightly colored bakery, produce, BBQ sauces, chips and dip, even ales and beers that help us get in a seasonal mood. This week we look at Walt Churchill's Market, Food Town, Monnettes, Kazmaier's, and Fresh Thyme.
We know that the weather will disappoint. We know that those shorts we pulled out on Thursday may get one use in a week. However, our local markets are here to keep us looking forward to sanders and t-shirts!
Spring is here and barbecue season is upon us…finally! Walt Churchill's Market in Perrysburg is a great one stop for barbecue season! Whether you need dessert, lunch on the run or everything for the weekend, you will find it all! Visit the meat counter for fresh, store brand brats in chicken and pork. Always check out the smokehouse products! Need a snack? Try one of many varieies if dried fruit, veggie chips and nuts. Need sides? The deli offers tasty side salads along with grab and go salads and wraps. In the cheese aisle you can take home single serve cheese chunks. Both locations also have amazing salad bars for no cook and healthy meals. The store offers a wide variety of wine and craft beer as well. Best off all treat someone to spring flowers or festive cupcakes!
This is definitely a hidden gem in the market landscape. It is, in many ways, "old school" in its design. Nothing fancy. Just a solid, neighborhood market. What makes it fun is some of the playful things the purchasing department brings in then highlights, like baskets of baked beans and spring themed Twinkies from Hostess. However, don't let the "fluff" fool you. You can stock up for the week at Food Town, which includes a respectable produce section, a modest deli, and full service hard lines like health and beauty and cleaning items. Like the three story bears, Food Town isn't too big, it isn't too small, it is just right.
Monnette's
Another awesome one stop is Monnette's. Whether you are planning a spring barbecue or need lunch on the run you find unique items for your cart! There is always an abundance of fresh produce. In the deli you will find unique mustards and side dishes. Visit their wine and craft beer section for spring themed offerings. Try their own, freshly made pretzel bun sandwiches, salads and wraps. We think of this store as "vegetable market" but it offers the spring shopper much greater opportunity. Stop for apples, walk away with a meal.
Spring Has sprung at Kazmaier's in Perrysburg. Upon arrival you will find colorful bowls of pansies at the door. Inside you will find an assortment of spring floral bouquets. The gardeners will be happy to find Dahlia bulbs, ready to be planted. If you're on the go, visit their deli for their very own Kazmaier potato salad or take home a ready made dip. Unique snacks in the deli include deviled eggs and guacamole. The produce aisle offers a variety of fresh mushrooms including Morel! Best of all, fuel up on varieties of locally roasted coffee! Check out, right at the front of the store, and entire display of locally sources and made products. You may find some surprises!
Although not strictly local, Fresh Thyme is a regional market that is definitely worth a stop. By keeping their location number small they can capitalize on regionally sourcing products. There are several things to check out, including a fabulous bulk section. They also have "in house" lunch meats including chicken and turkey. Their chicken sausages are a great grill option. If you are trying to narrow your diet to healthier options, this is definitely a place to go for staples and sauces. Finally, when Fresh Thyme says "health and beauty" they mean "natural and clean." Their section of personal products is excellent.