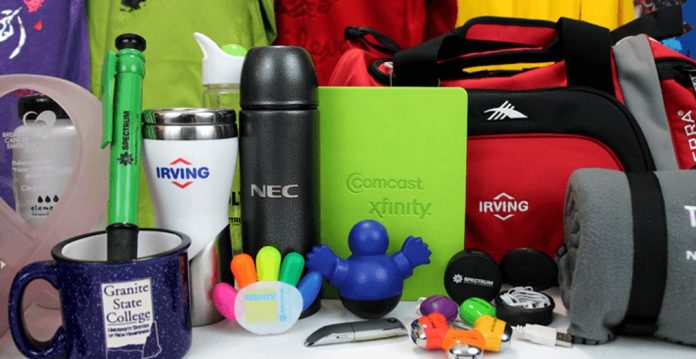 By Chris Watson
There are people who can achieve huge success in life, while adding a bit of fun and a splash of color to this increasingly grey world.  – Peter James
We see them all the time. We use them constantly. We wear, carry and play with them. We drink from, write on and write with, even sanitize our hands and keep the rain away with them. They are as ubiquitous in our everyday lives as electronic billboards and Instagram feeds. From pens and paper, tools and t-shirts, mugs and magnets, labels and lanyards, Frisbees and fobs, coffee cups and candy bars, shopping bags and stress relievers, promotional products are all around us.
"Even for those of us who work every day in the promotional product industry," says Dana Zanville, owner of Corporate Splash, "the range of choices about product can be intimidating. For the average business, organization, or event chair, the task of choosing what will carry your message can seem impossible." Thanks to a great breadth of experience and professionalism, Zanville and Corporate Splash take the guess work and fear out of the process.
Coffee to Corporate
When you look at the world of promotional products, "daunting" hardly does the scale justice. "We intrinsically know," says Zanville, "that these products are effective. We know this because we use and see them all the time. Our corporate mantra is 'Promotional Products with a Purpose.' We don't just say that because we think the item should be useful to the person who receives the product. We believe it should carry the message of the person who gives the product away. The 'purpose' is twofold."
Zanville understands this at a grass roots level. She was a NCAA full scholarship tennis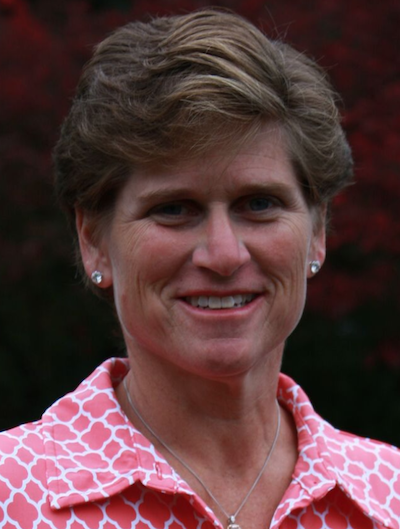 player at OSU. "I loved playing and had to stop due to an injury." Tennis, like so many other popular sports, is surrounded by logos and promotions.
"I admit that I thought getting injured was life ending. What was I going to do without tennis? So, I dabbled in jobs until I latched on to an opportunity and caught the entrepreneurial spirit." In 1995 she launched her first company, Café a la Carte, an espresso and coffee bar located in the lobby of the Medical College of Ohio (now UTMC).
"This was way before the coffee craze, before Starbucks and Panera were on every corner. I was bringing in both an idea and product from a Canadian producer. I originally thought I would just work for them but instead decided to buy the concept and build my first coffee stand." The concept caught on and by 1997 she had a full café at St. Vincent. "It was a great business and job," says Zanville. "We were roasting regionally, again something new and novel. I was a single mother of 2 yet still owned and operated my own businesses. It was empowering, exhausting, and exciting all at the same time."
There was also a deep sense of gratitude in working these cafes. "No matter how bad I thought my day was I would walk out grateful. I could be a bright spot in someone's day as they dealt with difficult circumstances, either as patients or as health care providers. That experience taught me that service always wins. Sure, I 'sold' coffee. But I also 'served' coffee. That core value of service is one of the things that distinguishes Corporate Splash."
A Real Person
For 18 years since her exit from the coffee business Corporate Splash has been focused on the customer. "There is no question that promotional products can be purchased online or ordered out of a catalogue."  It is not a new problem. For years certain industries, like printing, promotional products, even advertising have come under tremendous pressure from anonymous, online companies.
"There are two things that distinguish Corporate Splash from other companies. First, you will deal with a real person. Yes, we have an online portal and do our best to manage our customers' projects in a dynamic, real time way. However, when you are using our online portal you can also pick up the phone and talk to a real person."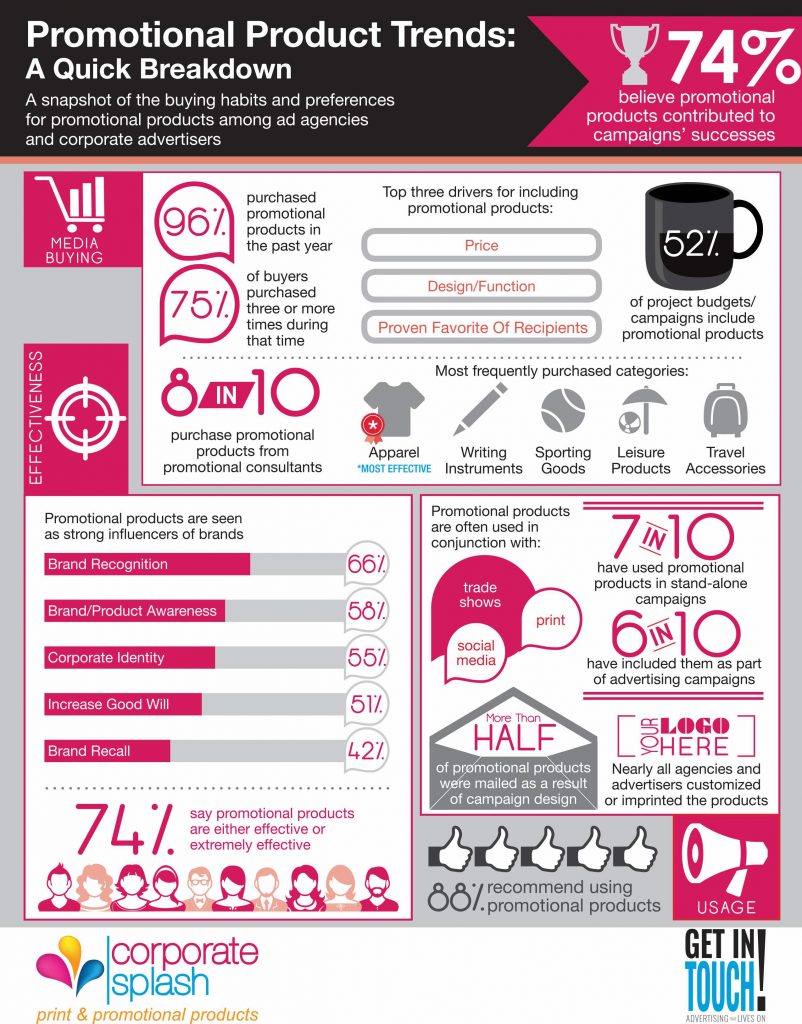 Ordering promotional products online also has pitfalls. "You can't plan for the unexpected," says Zanville. "When we are ordering products, there are a variety of issues that can happen. Weather, product shortages, misprints, shipping issues…all can play a part in how and when product is delivered to the customer. I have been known to go to a shipping hub and pick up a product for a customer to ensure their order gets to them when they need it. Shipping, especially because of weather delays, can always be a factor. A faceless internet company does not and cannot offer that kind of service. That is the inherent value of dealing with a real person."
More Than One X-Factor
The second distinguishing factor when dealing with a local provider of promotional products is experience. "We look at the whole company. We work with our clients and ask critical questions." Questions like what are your goals? What is the long-term marketing strategy for products? What is your budget and how does it dovetail into the overall business plan? Above all, how do you want to stand out?
"It isn't just a matter of ordering some words printed on a coffee mug. We look for solutions that meet needs, not just products that carry a logo. For some companies a pizza cutter might be a better purveyor of their message than a pen. The point is to engage directly with our clients, finding products that are impactful to their marketing."
Likewise, Corporate Splash looks to do as much locally as it can. "Of course, our products are sourced all over the world. That is the nature of the business. We do as much as we can to work with other local businesses. Some of our products are decorated locally. We also help companies create goodie bags (called kitting). Instead of just delivering some boxes to a client's door step we pull the pieces and bags and have them assembled locally. We actively look to retain as much in the local economy as possible."
The Next Generation
Zanville has recently brought her son, Taylor, into the business. Formerly in banking, at 25 Taylor left a stable, corporate style job to work in the family business. "It is hard to describe how thrilled I am to be working with my son. Legacy to us no longer means a house or an heirloom. It means that together we can build something he can continue to grow and from which I can retire."
This "family" label is exceedingly important to Zanville. "I have always tried to be a big supporter of local businesses, organizations and nonprofits. And I am putting my company where my mouth is. Many of the companies I work with are family, multi-generational businesses. The addition of Taylor adds gravitas to that message."
In the end, both Zanvilles realize what they are up against in a web driven industry. "We strive to be service driven and cost competitive. We seek the best cost advantage for our clients. Still, dealing with a local, family company that will work hard for you and for your community should and does carry weight. Our commitment to your company, event or organization is simple: Corporate Splash will work hard to make you look good with whatever products you chose."
419.265.2233