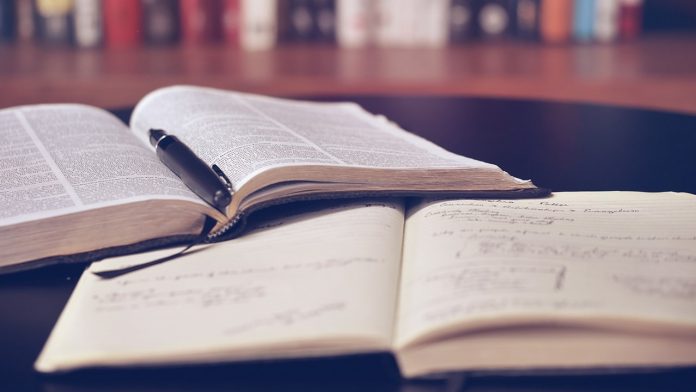 When we see school busses, flashing school zone signs and kids of all ages lugging back packs twice a day, most of us feel a twinge of either nostalgia or relief. Nostalgia for our days of attending or sending our kids to school; relief for parents after a long summer of hearing "I'm bored!"
Yet, as adults, back to school is also a stark reminder that we live in a volatile world, filled with constant changes in technology, best practices and the constant intellectual and professional threat of "use it or lose it." Whether we are are in the zenith of our careers or retired and looking to explore previously time prohibitive educational pursuits, lifelong learning is both a necessity and a pleasure.
Fortunately, our region has a rich tapestry of opportunities for the adult learner. Below are listed a variety of sources to begin or continue an education journey. The bottom line:  don't let the kids have all the fun. It's back to school time for all of us!
There are those who think that public libraries are a vanishing breed amongst the spectrum of technological information access. Think again. Our area has some of the most robust library programing of any region in the country and those institutions are supporting a great deal of continuing education, training, and of course book exploration. Besides their programing and collections, the region's library system also offers some unique "borrow" opportunities so you can try out equipment (like a telescope, cake pan, or ukelele) before you invest too much capital in a new hobby or passion. Check out a recent article on local library systems complete with links to their websites. 
University Level Opportunities
Obviously our local universities are already in session. Many do offer classes for seniors at little to no cost. Several also offer classes of a more public, community learning variety and some offer continuing education or job/skill certifications. 
All of these institutions also have public events that are well worth attending. You can find their sporting events along with public art performances listed on our Schools and Universities Calendar. However, check their websites for more in depth programing. These institutions bring in guest lectures, speakers and performers on a regular basis. Many of those events are open to the public. Below is a list of regional schools, links to their sites, and a summary of the programming they offer.
University of Toledo: An active campus with a wide variety of learning and entertainment opportunities. UT plays host to Rocket sporting events, a wide variety of lecture series, the Program 60 senior learning program, and a whole host of other educational events. To begin your browsing for options start with their master calendar.
BGSU: Like UT, BGSU is an active campus with an expansive selection of public programing, including Falcon sporting events, lecture series, public performances from the College of Musical Arts, the SAGE program for seniors, the New Music Festival (this year marks the 40th anniversary) and other major offerings from the universities departments of fine arts and theater. Start you search with their master calendar. 
Lourdes University: Lourdes is particularly good at public offerings. Along with Gray Wolves athletics, they offer a variety of outreach programs (Appold Planetarium, Lifelong Learning, Center for Science Education and the Environment and the Parent Institute), public lectures, and active mission and ministry in the Roman Catholic tradition. You can find their full calendar here.
Owens Community College: Owens is a great resource for anyone thinking about going back to school. Whether you are looking for a new job certification, seeking professional development, workforce certifications or casting about for a new hobby, Owens has an excellent selection of classes and public events. You can find information on those selections here. Don't forget the Owens Express which represents Owens around the area in a variety of sporting events.
Organizations and Museums
We certainly think about museums as places to learn. After all, you go and learn about history, art or some specific subject for which the institution is dedicated. What we forget is that these organizations are not just places to learn, but places of learning. By way of example, the University of Toledo Department of Art is located at the Toledo Art Museum.
With so many of these amazing resources right in our backyard, back to school can be as easy as a day trip to a beautiful, and sometimes overlooked, community treasure.
The Toledo Museum of Art: Awash in educational opportunities, TMA is a great place to explore lifelong learning. Besides having a wide variety of family events, TMA has lectures, private tours, book clubs and a whole host of music events. On the lighter side, they have wine tastings and adult mixers. Check their calendar for a full line up of events, performances, classes and demonstrations.
The Glass Pavilion at the Toledo Museum of Art: We list this separately from TMA only because of its robust schedule classes and project participation. From fun demonstrations hosted by some of the area's top artists to their "Pick Your Project" classes, The Glass Pavilion is a great learning location. Again, check the main TMA site for details on all of their programing.
577 Foundation: Founded by Virginia Secor Stranahan, the 577 Foundation has a varied and captivating series of programming along with being a beautiful green space to simply walk and relax. Pottery, art, yoga, cooking…these are just a few of the learning opportunities offered by the foundation. The key to this organization is that they are popular and have limited space. Plan your learning time early and pre-register for classes. They fill quickly and often.
Wood County Historical Society: There are a variety of programs available at this underutilized resource. Teachers and parents need to check into their talks and traveling baskets. For adults they have monthly teas along with a great mix of programming that is both historical and fun. Check their calendar for details.
Rutherford B. Hayes Presidential Museum: The estate of the former president is an excellent museum in its own right but also has a variety of events, kids activities and lectures. It is also a working library focussing on the interests of President Hayes in specific and the Gilded Age in general. 
Ft. Meigs Battlefield: A wide variety of events including reenactments, classes, lectures and book clubs. Plus they have one of the coolest Halloween events in the region (The Garrison Ghost Walk). If you feel like trying something completely new that is…well…old…you can investigate joining their reenactors group.
There are too many online learning opportunities to even begin to list. However, there are two that have coursework that are good places to start. No matter if you are trying to get a certification (for instance a Serve Safe Level 1 Food Handler, required by many restaurants, is totally online) or jumping into a new area of self improvement or study, online resources may be a good starting point. Although nothing beats face to face instruction, beginning with an online course might be the start of an amazing learning journey.
Udemy: With over a hundred thousand courses to choose from, Udemy has something for everyone. Don't hesitate to utilize this resource. It is a great way to experience lifelong learning. Pay attention to the user reviews. Udemy has a fairly broad acceptance policy for instructors so check student feedback to narrow your selection. Costs are minimum (depending on course length) and they offer a wide variety of topics from educational fundamentals to fun hobbies.
Coursera: Coursera is not free nor the least expensive of the online options; completion certificates do cost but they are worth it. The instructors are more carefully vetted and often hail from well established universities. They have a wide catalogue of options and offer interaction with other students along with quizzes, tests, and other evaluations methods that provide feedback.