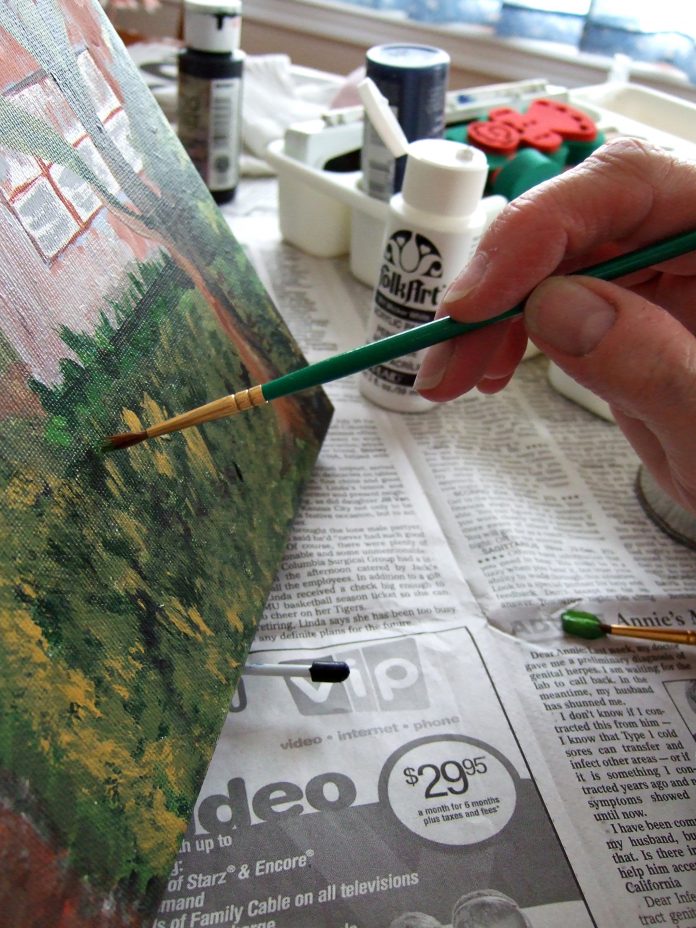 By Candace Byington
Who doesn't want to give the perfect gift?  Who doesn't want a gift to be not only cherished at the moment, but in the future?  Who doesn't want to shop, support, and encourage our local artists? Well, everyone.  With a little effort you can meet all of those gift giving goals plus be introduced to our local art community as a bonus.
During the holidays all of us strive to find gifts that have meaning to our loved ones, with varying success . One way that we can express how much we care about them and value their interests is to give a gift of original art. Original art,  whether a painting , drawing, print, artistic jewelry, or tee shirt bearing the artist's work can become a precious keepsake and conversation piece for a lifetime.  A gift of original art not only shows our willingness to shop outside of the mall but it becomes a story shared…a story between the giver, the receiver, and the artist. Those stories, as much as the physical item, are what makes a great gift.
Hungry No More
In previous centuries the concept of the "starving artist" was common. Art was the purview of royalty, popes, industrialists, and the gentry. This had as much to do with accessibility as it did with cost. Original artists and their work seemed hard to get to.  Even in the last couple of decades, as original artisans began to use more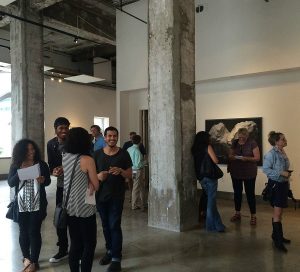 modern marketing techniques like banding together into guilds, festivals and public shows, most of these events and venues were not conveniently timed or located to facilitate our holiday shopping.  If we didn't think about seeking out local artists in June, certainly December was too late.
In this century, that thinking has grown obsolete. Many artists bring their creations to the market place through online sales and representation by galleries or local art events. In each case, art is accessible to the public and available in a wide range of price points. Supporting living and local artists is vital. Not only does it help support their careers but it helps the local economy. Plus, if you are new to the art scene, seeking out a gift for a friend is a great way to introduce yourself to this thriving and growing culture.  The gift, originally intended for a friend, will resonate through your life as well.
The Toledo Art Community
There is no need to rush off to Chicago or New York to find well crafted, unique art, nor wait for well established art festivals and shows that tend to be grouped in the fairer weather months.  The Greater Toledo area is home to many talented artists. Here are a few artists and galleries in the area to check out this holiday season.
Gretchen Stuhldreier, located in Northwestern Ohio. She creates expressive, mixed media paintings of local landmarks like the Issac Ludwig Mill in Grand Rapids Ohio, a view from the Impressionist gallery in the Toledo Museum of art as well as landscape work featuring the Maumee River. These works make perfect gifts for friends or family from the area that wish to remember the landscape. Her work can be found here: www.etsy.com/people/gretchenstuhldreier.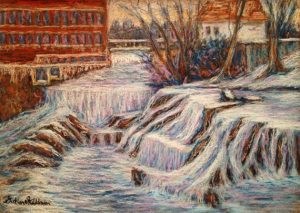 Jewelry is a popular gift choice. Although it may be easy to rush off to the jewelry or department store to find trendy jewelry, finding a unique, handcrafted piece may be a better gift. If you are seeking artistic, one-of-a-kind jewelry, look to local artist Katy Mims. She features sterling sliver bracelets,rings, earrings, and personalized jewelry on her etsy site:
www.etsy.com/shop/southpawstudios.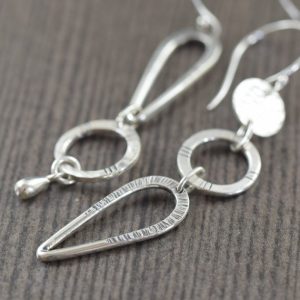 Traditional printmaking combines drawing with the process of printing from an inked etched plate or cut block either by hand or with a press. Toledo artist Matt Squibb creates traditional etchings such as mezzotint and other hand pulled prints like lithographs and relief. His detailed, whimsical work can be found at this link:www.etsy.com/shop/squibb and at the Hudson gallery in Sylvania.
For fans of the modern and macabre, Toledo artist William Barry Roberts does not disappoint. His detailed filigree octopus design and creepy visions inspired by Heironymus Bosch can be purchased as prints, greeting cards and t-shirts to name a few on redbubble.com at this link: www.redbubble.com/people/wmbarryroberts and his personal website: www.williambarryroberts.com.
Toledo has been called the Glass City and the tradition continues at the Gathered Glassblowing Studio on 23 North Huron. The gallery hosts events throughout the year and is open to the public. Custom work can be requested through the website: www.gatheredglass.com.
Toledo and Sylvania are home to galleries that feature local artists. During the holidays, visit River House Arts on 425 Jefferson,Toledo.  Downtown Sylvania play host to two galleries, The Hudson, at 5645 N. Main St. and River Centre Gallery, located at 5679 N. Main St.
If you want to get out for some cheer and festivities, on December 2-3, the Toledo Botanical Gardens will host the annual Heralding the Holidays event. This event is a chance to meet local artists and enjoy the botanical gardens.
Save your gas money and time this season! Support the local art scene! Your contributions will help artistic careers to flourish as well as the community.
All photos are courtesy of the artist web or sales site.  Cover photo from Morgue Files.