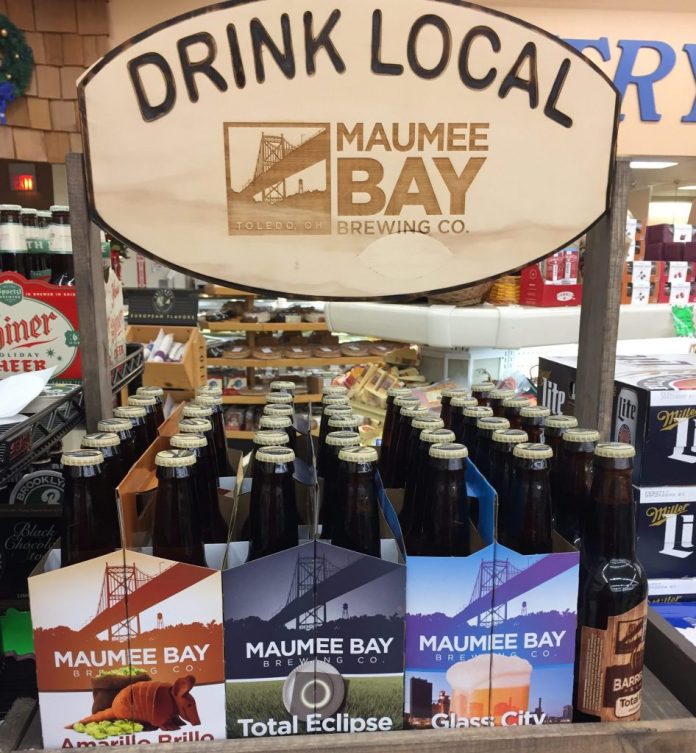 By Candace Byington
This week we look at four great beer and wine shops dotted across the area that have an amazing selection of wine, beer, and in many cases, other fixings for drinks that will fit any occasion.  These stores are locally owned and operated and in many cases have become fixtures of the community. Besides the ubiquitous selections of drinking delights, they are steadfast supporters and retailers of local wine and craft beer. As we head toward longer nights, colder days, and more and more reason to gather at home and hearth, check out Walt Churchill's Market, Cork's, Joseph's Beverage Center, and Paukin's. These stores are the perfect place to try something new and/or local!
If you are planning a party or looking to try a new wine, Walt Churchill's Market in Maumee is your one-stop! The store not only has local wine and craft beer but also sells liquor. There are weekly wine tastings and expert advice daily. Ohio wines like Breitenbach and Michigan's own Leelanau Cellars are available. Or enjoy craft beers support your regional breweries with selections from Black Cloister and New Holland. Of course you can take home gourmet cheeses that pair well and pick up unique tasty snacks too!
[cycloneslider id="wcm-drinks"]
With the autumn upon us, the festive party season has begun. If you need local wine or craft beers for your holiday gatherings or want to explore the world of wine, check out Corks Wine and Liquor in Rossford. There you find unusual offerings from Ohio including a maple wine and ice wine. Craft beer enthusisits will enjoy varieties from the region including Toledo's own Maumee Bay Brewing Company and Cleveland's Great Lakes. The best part about Cork's is that it offers more than just great selection. There is a bar in the center of the establisment that serves from open until close. If you want to sample any wine, just ask. On Wednesday nights they host wine tastings. Thursday nights feature live entertainment. Friday nights offer craft beer tastings. Stop by Cork's try something new and stay for the fun![cycloneslider id="corks-drinks"]
Another great one stop for a party is Pauken's in Maumee. The store bears the distinction of being one of the few remaining locally owned liquor stores in the area. The store carries an array of liquor from around the world and seasonal flavors like pumpkin spice rum, La Catrina Day of the Dead inspired wine or witches brew and various spooky craft beers from Ohio. You will also find selections of wine from Germany and France as well as Ohio and Michigan. If you are a craft beer fan and want to support your local or regional brewers you will be delighted by the selection.
[cycloneslider id="paukins"]
The nexus of all party stores is Joseph's Beverage Center on Talmadge. Here you will find wine from all corners of the globe and representation from many wineries in Ohio and other local surprises. Garnish your next drink with a simple syrup from Root 23 in Columbus. Make your next margarita with a splash of orange liquor from Toledo Spirits Company. The craft beer selection is vast and features Ann Arbor's Arbor Brewing Company, Cincinnati's Rhinegeist and Madtree to name a few.
[cycloneslider id="josephs-drinks"]