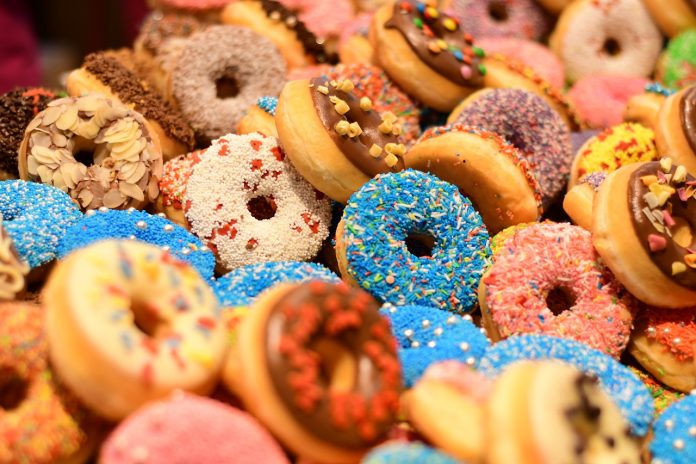 Donuts. Is there anything they can't do?
Donuts. Or, if you prefer, doughnuts. Spelling hardly matters. These amazing concoctions of dough and flavorings have driven us to breakfast bliss for generations. And what variety! Cake or raised, glazed or powdered, frosted or filled, regular, long or "holes"…all shapes, sizes and flavors. Don't listen to the nutritional naysayers…donuts are a great way to start the day.
Besides their playful nature, donuts have one other great thing going for them; they are a truly local product. Like our lineup of local breakfast places, donut shops have the same local focus. Sure, there are the big companies that are bringing in par cooked pastries and finishing the product in an oven. Forget them! Donuts are one of the easiest things in the world to support locally. Besides, if you are going to splurge on a morning pastry, isn't fresh and creative better than uniform and commercial? Listed below are some of our favorites. 
Top Local Picks for Donuts
Wixies: An iconic bakery on the south end that has been getting up early and feeding Toledo for over 80 years. They are in their fourth generation and have been tucked away just off of the Trail and near the zoo. Don't let their small shop deceive you. They crank out lots of product and all of it high quality. If you need a couple of boxes for the office, call the day before. They will have them ready for you the minute you arrive.
Mama C's: A Maumee fixture for a good part of 2 decades, Mama C's isn't fancy. Just great donuts, ready to go and right in a location (near the intersection of Conat and the Trail) where grab and go to work is perfect.
Holey Toledough: Great name, great donuts, playful product. Sure, you can experiment with beet and goat cheese or Blueberry Hibiscus. But why stop there? The options at Holey Toledough are vast and well worth the drive out to Alexis. If you want a deep dive into donut possibilities, Holey Toledo is the place.
Bakery Unlimited: With Two locations, Bakery unlimited has been serving up donuts, pastries, and other deserts since 1989. They also have "Kronuts", which is an article to itself. Plus they are the repository of the regionally famous Hinkles Bear Claws. Bottom line? Worth a visit.
Cafe Donuts: Cafe Donuts is just that…a donut cafe. Besides the usual large variety of everyones' favorite grab and go breakfast, Cafe has a good selection of vegan possibilities, which is both novel and very very helpful.
Hass Bakery: Located right in the heart of Oregon, Hass has been providing the region great breakfast rolls and donuts since 1979. They also have donut cakes…let's say that again donut CAKES. Although that takes a couple of days reservation it is another great way of treating guests or an office to a morning treat.
Stimmels Market: Right on Wooster Ave in Bowling Green, Stimmels is just a cool market with lots of options. However, we are talking donuts and Stimmels has a great selection. A straightforward place to grab a sweet treat on your way to school, work or play. Then, if you have a chance, stop by at the end of the day and check out the rest of the market.
Papa Moose's Donuts: The front page of Papa Moose's website proudly displays the words: "Our Shop: We Roll Local." So do we and this a great place to drop by for a morning treat. Basically, Papa Moose is a focused donut shop and bakery (including rolls and muffins). They will deliver, they will get a dozen ready for you to pick up or you can just drop in and enjoy a locally focussed business.
Royale Coffeehouse and Bakery: Located on the periphery of Downtown Perrysburg, Royal Coffeehouse and Bakery has an excellent selection of in house made donuts, rolls and muffins. They are also a full service coffee house so if donuts and espresso sounds appealing, Royal is a place to visit.
MacQueens: As an apple orchard, obviously you would expect and apple fritter or two from MacQueens Orchards. And yes, they are amazing. While you are picking up a fritter try their cider donuts as well along with the rest of their non apple selections. Of course, as long as you are there you can walk around the rest of the farm market and pick up a variety of awesome products direct from Mother Earth.
Monica's Baker Boy: Located in Monroe Michigan, Monica's has Boston Cream Filled donuts. We think that is worth a drive on its own. However, if you live out that way or just feel like a weekend drive, they have a great variety of other donuts plus excellent baked goods in general.
Walt Churchill's Market: There are almost too many reasons to walk into either location of WCM locations; however, their artisan bakery is certainly up high on the list. Besides the usual cakes and cookies associated with any grocery bakery, WCM has an excellent donut case. Added bonus? You can get some milk and juice as well.
The Next Sweet Thing: Located in Mayberry Sqaure, The Next Sweet Thing is an amazing place to grab some donuts (and cupcakes too). Are you a Simpsons fan? Snag some of their super popular Homer Simpson donuts before you head off to a hard days work at the factory.