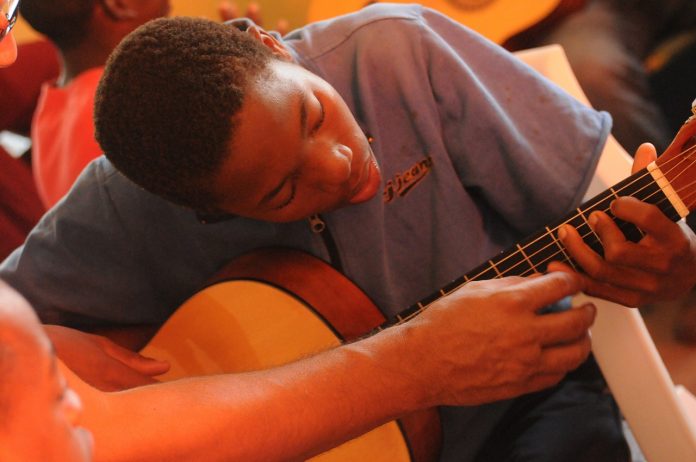 When we were in school we all hoped  that the three "R's" stood for rest, recreation and relaxation. However, we know that our students work hard on what on academics. With continued budget tightening across the education spectrum, parents and students alike increasingly seek outside instructors to help students grow in all aspects of themselves: creative, spiritual, musical and artistic.
As the fall term approaches for primary, secondary and even college students, we all turn our attention to not only what the school offers but what our diligent students want to explore outside of school. Our area is very fortunate to have a vast array of opportunities for students to explore activities that don't fall under standard curriculum.
Below is a list of many areas of private and class instruction that are all forming up classes or taking appointments for the fall. These companies are the essence of great local businesses. Run by local artists and experts, supporting these local establishments broadens you student's horizons while supporting the local economy. Even if you don't know anything about what these instructors offer but your student has an interest, reach out and ask questions. As instructors, the reason why they teach is to do just that: teach!
Black Swamp Fine Arts School: A one stop shop for lessons, including instrumental, ensemble, dance and art. Started and run by a local winner of The Hatch entrepreneurial engine out of BGSU, this school grows every year and is one of the top places to enter a student interested in fine arts.
Forte Music School: Offering music lessons on all instruments, voice, and music theater, Forte has a wide range of programs to broaden a students performing arts portfolio including a large practice facility and excellent hours to meet busy school schedules.
All Star Music: Tucked away on Bryne Rd in the south end, All Start has lessons, instruments, instrument repair and most importantly rentals. Not as big as other music stores but great guys who can help get a student started or keep them going with their next instrument. 
Rettig Music: Founded in 1947, rettig has been an important part of the music education landscape for over 70 years. With several locations thoruhgout the state, Rettig is an excellent place to find rent to own instruments plus method books and other instructionsal material. 
Valley Music: Located in the heart of Downtown Maumee, Valley Music has music tutoring available for several instruments. However, at the center of this music school is their community music groups, giving budding musicians and professionals alike a place to gather and play.
Durdel's Music: For the budding guitar player, Durdel's is an excellent place to start or continue your guitar playing path. Besides having excellent instruction and start up instruments, this long standing Toledo Area guitar showroom is the place to upgrade should your student outgrow his beginning axe.
Black Swamp Fine Arts School: Besides excellent musical instruction BSFAS also offers a wide variety of dance instruction.
The Edge Dance Complex: A complete dance studio that also includes tumbling, The edge Dance Complex is there to accommodate any age and style. Classes run the range from simple "get started" to tap, ballet, jazz, hip hop and contemporary. They also have an extensive series of tumbling and gymnastics classes, including cheer prep.
Perrysburg Dance Academy: Offering a wide range of styles and an extensive class list, PDA has offers most dance styles, including classes that focus on musical theater. For more advanced students there are also team opportunities. Although having undergone a fairly recent change in studio ownership, PDA has a long pedigree of dance instruction in the area.
Toledo Ballet: Although often associated with performances, the Toledo Ballet has an extensive class schedule for students at all levels. Certainly focussing on ballet, the Toledo Ballet also has scheduled classes in tap, contemporary and jazz. In many respects this is the "learning from the source" experience for young dancers.
Julie's Dance Studio: Celebrating 35 years of dance instruction in Bowling Green, Julie's Dance Studio teaches both classical styles along with modern dance styles. The studio also has tumbling instruction.
Ballet Theatre of Toledo: Like the Toledo Ballet, BTT has a wide variety of ballet classes and has a performance schedule built into its curriculum, offering students a chance to audition for choreographed ballets. Artistic Director Nigel Buroine is well known throughout the region in helping both young dancers get started in the art.
Dance Center of Northwest Ohio: Owner and Artistic Director Carol Dorfmeyer-Huster part of the local dance community since 1994. She offers a full range of dance lessons across all age groups, including tap, jazz, ballet, and modern forms. The studio is located in Whitehouse making it convenient to the Anthony Wayne District.
Touch a Dream Dance Studio: With a wide range of classes and recreational opportunities. Touch a Dream has a robust schedule of jazz, hip hop, and tumbling with additional classes in acting and modeling. They also offer ballet.
Company C Dance Club: Company C offers classes for ages 3 and up in a full spectrum of styles with a large stable of teachers. They also have 4 company levels that are competition teams by audition only.
Toledo Museum of Art: TMA is known, of course, for offering seminars and class studies based on currently collections or utilizing its glass blowing studio. However, the museum also offers a variety of art classes across several age ranges. Kids programing is quite robust and well worth checking into.
The Art Supply Depot: Located in Toledo and Bowling Green, these locations offer a wide variety of classes and supplies for the budding artist. Although not primarily focused on smaller children, these facilities offer a variety of classes on certain mediums they may not get in art class and even have some limited CEU's for art educators. 
Create: Art Studio + Workshop: Relocating by early September to the heart of historic Downtown Perrysburg, this studio has a variety of classes for kids of different ages. Art classes and private instruction allow kids of all ages to explore both specific projects and mediums.
There are so many different styles and techniques in this vast landscape of instruction it is best to simply explore the possibilities and find times and classes that suit the temperment and goals of your child. Listed below are several locally owned dojos and instructors who are more than happy to discuss beginning or continuing your students journey in this popular activity.s
Jon Penny's Black Belt Academy
Satori Martial Arts & Fitness Center of Maumee
After School and Special Studies
Besides specialty focused programs, many parents are looking for after school and weekend programs to help students stay connected, stay enthused and even get help with studies and homework. First and foremost, don't forget to check with your local branch library, including Toledo/Lucas County, Wood County, Way, and Monroe County for after school programs.
Also, check out these clubs and organizations to help support a great educational year for your kids!
Junior Achievement of Northwest Ohio
Boys and Girls Clubs of America
YMCA Programs: Check out after school programming at local YMCA's. Use this locator to find the brand closest to you.