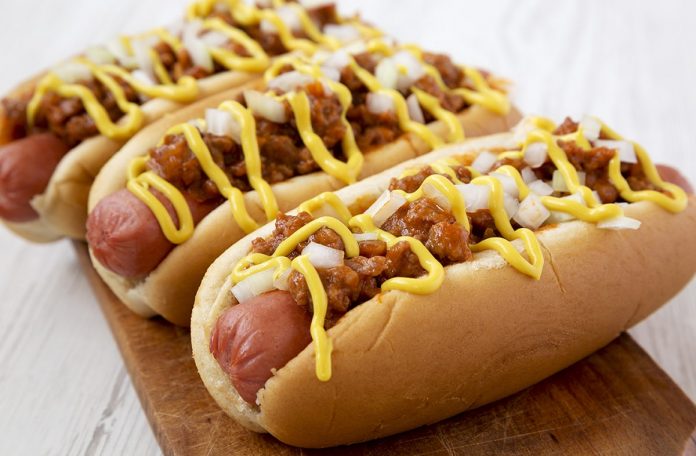 Chili dogs. A cold k-9 companion or a delicious summer treat. For the purpose of this article, we're going to focus on the later. Sure they're no diet food, but sometimes, a chili dog is the perfect answer to all of life's troubles. Just a little something to take your mind and palate elsewhere for a short time. If you love them as much as we do, you'll definitely have to check out our top 10 list below.
No History, Very Historic
Wikipedia doesn't even try to give a history of the chili dog. A recent article in The Atlantic claims that chili dogs have single-handedly transcended all of our countries current deep divisions, which strikes me as radically highbrow, especially for a hot dog.
Filling the Gap
What chili dogs do, especially during the absence of baseball, fairs, festivals, and other outdoor extravaganzas, is fill a void…a deep and difficult void. There is something about that outdoor, slightly risky experience of eating a chili dog on a golf course, at a concert, or hanging around a festival that places summer in the right perspective.
Listed below are our top ten places that serve great chili dogs. They may not be a festival, but they are festive. Feel free to glam on and add your own place!
By the way, it is ok to try each and every one of these places. We just don't recommend doing it on a single day.
Top Ten Places for Chili Dogs
Netty's: Netty's is one of those places that is old school in the extreme. It is more reflective of a 50's drive-in than a modern multi-location eatery. They have been around since 1978, have 4 local locations and one in Marblehead OH, and offer ice cream as well. Look for the white and orange stripes.
Rudy's: Rudy's has been around since 1920 and their hot dog sauce can easily be found in local markets. With 6 locations around town, they are worth a drop in. Don't be deceived by hot dog moniker, Rudy's also serves sandwiches and breakfast. Still, go for the chili dogs…
Packo's: Pretty iconic when it comes to chili dogs, although Packo's puts a great twist by adding the Hungarian sausage instead of a regular hotdog. Plus, when you order a dog you get some of the pickles. Now with 5 locations. However, if you have never been, go to the original on Front Street.
Smashdawgz Food Truck: They only have one chili dog, but oh what a dog. Chorizo and beef sauce with sharp cheddar cheese and onion. However, why stop there? They also have their signature smash dog, their Hawianian dog, and the incredible junkyard dog which includes any 6 toppings. Check their page for truck locations.

Jan's Famous Chili Dogs

:

With only one location, it is easy to overlook Jan's. Don't. They are worth a trip. They have been around since the early '80s and they now have a couple of carts working around town as well. Like Netty's, they also have ice cream.
Ideal Hot Dog: Located right in the heart of the south end, Ideal is another place that has carved a name for itself. They also serve breakfast and standard lunch fare.
Coney Island Hot Dog: Located in Downtown Toledo, this is another Toledo classic that has so much more to offer than a chili dog, including breakfast, Greek specialties, and homemade soups. They are worth a pilgrimage.
Central Hot Dog: Right across the bridge from downtown on Front Street is Central Hot Dog. This probably falls under the "hidden gem" category. Besides hot dogs, they have somewhat iconic breakfasts. One recent review claimed, "best Coney dogs period," which strikes us a gauntlet being thrown.
Monroe's Original Hot Dog Drive-In: Yes, it is in Monroe Michigan and any review of chili dogs would be incomplete without mentioning Monroe's. After all, they bring your stuff to the car so what can be bad about that? Plus, if you want to make a day out of it, just go for a walk along Sterling State Park and you can work up a good hunger for chilidogs.
Jolly's Drive-In: Here is another "worth the drive" type of place. Of course, it is known in and around Tiffin but it probably should be known more broadly. They are closed on Sunday so plan your trip accordingly.
Timbo's Cones and Coneys: Dogs are such a part of their culture it's in the name! Known for their coneys (and ice cream cones), this is a must stop place on the local chili dog circuit. Stay tuned to their Facebook page for seasonal information.
Duecedawgs: Chili dogs are, inherently, the purview of food trucks and carts and Ducedawgs does chili dogs right. Check their website for appearance sites and if you have a random encounter, count your blessings, and grab a dog.
Swig: Located in the heart of downtown Perrysburg and known for charcuterie, Swig has a variety of hot dog choices, including a classic Coney and a Cleveland. You should also try their Chicago dog, which isn't technically a chili dog but still amazing. Also, an argument can be made that hot dogs aren't really charcuterie but hey, its summer and who needs the culinary lesson anyway
Dino's: Probably not known for chili dogs as much as chili mac. However, it's the same chili so it's worth visiting. AND they have tater tots, which strike me as a worthy companion to the chili dog.