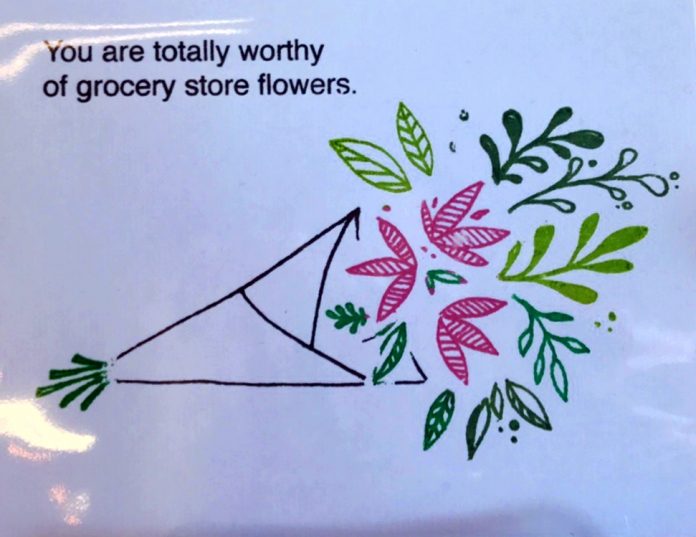 By Candace Byington and Chris Watson
Well, there is there usual. Flowers, chocolates, promises you don't intend to keep.

–Cogsworth, from Beauty and the Beast
Valentine's Day is right around the corner. It is not time to panic…yet. There are a variety of local options for getting your sweetheart a gift that isn't off the rack. Nothing says "I forgot" like a plastic wrapped flowers from the mega mart. However, there are plenty of merchants who are willing and eager to help you with the perfect way of reminding that someone special that they are…well special. From handmade cards and jewelry to local coffee roasters, there are gifts for guys and gals alike. We don't recommend not keeping your promises but we have excellent local chocolate and flower providers as well.
This Valentine's Day if you are looking for a unique gift for your sweetie, check out the House of Dow on 1501 Adams Street. When you arrive you will be greeted by windows dressed with handmade conversation hearts and mannequins in vintage fashions. The store is ready for Valentine's Day! Once inside you will feel like you have stepped back in time! Not only will you find dresses and blouses from the sixties and seventies but also styles from the eighties and nineties. Best of all the owner, Allison Dow creates her own earrings inspired by everything from video games to dinosaurs. Enjoy the nostalgia!
Do you need a special card for your Valentine? Look no further than Handmade Toledo on 1717 Adams Street. The store has a huge inventory of handmade cards, art prints and original artwork. While you are there you will be delighted to find other gift ideas for everyone including the cat. Check out the organic catnip in a felt taco! There are zany stuffed animals, ceramic pieces and Toledo pride t shirts to name a few. The store offers personal gifts like beard care products, handmade soap and oils. In the event that you are still trying to find a date for Valentine's Day, there are magical love spell candles on available. Support local and support the creative spirit this holiday!
Local Gift Options
Gypsy Soul: Located right in Downtown Perrysburg this store is, in a word, "eclectic." Their web site claims: "We hope to inspire women to branch out and wear things that help them to feel confident, beautiful and unique!" Sounds like pretty good gift territory. Located at 123 Louisiana Ave Perrysburg, OH
In Bloom Flowers and Gifts: Located in Downtown Maumee it is important to remember the "gifts" part of flowers and gifts. Interesting jewlery, soaps, plants, scarfs, and many more items to set you apart. Ladies, check out the mens line of personal care products, including all in one shower gels that are perfect for a gym bag or travel. 203 Conant St. Maumee, OH
For Keeps: Located in Bowling Green, this shop has some great and simple ideas to stand out on a day when others are waiting in line at the mega mart. Also, it is really close to Ben Franklin so you can run in and get fudge as well. 144 S. Main St. Bowling Green, OH
Grounds for Thought: As long as you are in BG, check out Grounds for Thought. Ladies, they have comic books, regular books, records, and coffee. Guys, they have comic books, regular books, record and coffee. In general it is worth the drive. 174 S. Main, Bowling Green OH
My Shop on Rugby: Another vintage store with a whole range of products that will set your apart from the crowd. Located on the southend at 3658 Rugby Drive, Toledo OH
Coffee, Flowers, Chocolates and Promises Kept
Georgettes: Gifts and Coffee
Boyd's Retro Candy Store: Candy, old school
Aunt B's: Candy, gifts, and other sweet stuff
Maumee Valley Chocolate: Besides fancy chocolate they have some really unique items to delight. Try the candy coated sunflower seeds.
Beautiful Blooms by Jen: Right in the heart of Sylvania.