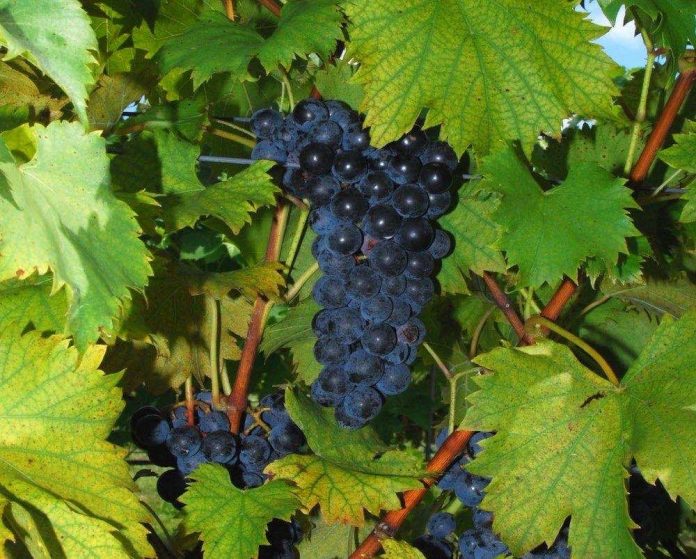 By Chris Watson
Anyone who tries to make you believe that he knows all about wines is obviously a fake.

–Leon Adams, The Commonsense Book of Wine
From almost anywhere in our neighborhood it is around 2300 miles to Napa Valley. That is a demonstratively big trip to visit a winery. Fortunately, we have a respectable number of wineries in Northwest Ohio and Southeast Michigan that are closer.
These wineries are not just respectable but becoming a powerful force for revenue, tourism, and economic development in both states. According to the June 2018 report in Wine and Vines, Ohio and Michigan rank 8thand 9threspectively for number of vineyards nationwide.  According to the same study Michigan produces 1.2 million cases of wine a year; Ohio produces 850,000.
Many of those wineries are located right in our neighborhood, right within an hour or so drive. Whether vineyards or wine producers, they are a growing and powerful force in the world of buy local. Sure, a French Bordeaux or a Oregon Pinot Noir might be the rage, but a visit to our one of our local vineyards or wineries is more fun and less of an investment in capital. Even if you are not a wine drinker, or any kind of a drinker, many of these local places have a rich and singular food culture, offering amazing eating and entertainment by local bands and musicians.
So, go explore wine country…right here in the neighborhood.
Located north of Grand Rapids and due west of Whitehouse, Majestic Oak is an interesting blend of working winery, brewery, and entertainment house. With local music acts every weekend, this winery also is a big supporter of area food trucks, providing a wide variety of entertainment and food throughout the year. They also have cook outs, yoga in vineyard, harvest days, and occasional market days. Check the website or GlassCity Entertainment Online for hours and entertainment schedule.
13554 Mohler Road, Grand Rapids OH
Besides being a working winery, Chateau Tebeau is a respectable restaurant as well. Located in Helena, OH, they have a beautiful outside garden area that is open seasonally. During less clement weather the inside of the winery is reflective of its name…a genuine "Chateau" in the heart of Ohio.
525 State Route 635, Helena OH
Tucked away in Bryan OH is Stony Ridge, 13 acres of working vineyard and a great inside tasting room and bar. Food selection is fairly small but good enough for an enjoyable day. Regional entertainers perform during the weekend and like Majestic Oak, Stony Ridge supports the local food truck culture (kitchen is closed when a food truck is on site). Plenty of seasonal selections in wine as well.
07144 County Road 16, Bryan OH
Mon Ami Historic Restaurant and Winery should be on anyone's day tripping list. This is a full service restaurant with special buffets and menus along with an extensive wine and cocktail list. They also have a great wine bar and entertainment in either The Chalet (outside the main dining room) or outside if the weather permits.
3845 E. Wine Cellar Rd, Port Clinton, OH
Family generations three through five of Heinemans, Louis, Edward and Dustin share the family wine making tradition. The Heinemans and other local growers cultivate 50 acres of grapes on the island. They have a beautiful wine garden and a crystal cave to explore. Besides it is Put in Bay, which lends itself to and entire day or weekend of explorations.
978 Catawba Ave, Put-In-Bay OH 
A more laid back, less pressure and tourist venue, this winery includes a an arcade and child play area for kids. Plus, a cooler full of imported meats and cheeses to enjoy while on the grounds or to take home. They also have a pretty decent menu as well. Kelley's Island is in general a more accessible, less hectic place and this locale is no exception. Wines are produced and bottled on the premises.
418 Woodford Rd, Kelley's Island OH
Don't be scared off by the word "Indiana", this winery isn't very far off from our neighborhood. Located in Freemont, Indiana, Satek is a working vineyard and also has a gift shop and tasting area. Located near Pokagen and the Trine State Recreation Area, a visit to Satek is worth the drive.
6208 N. Van Guilder Rd. Fremont, IN
With two locations north of Toledo this regional venue describes itself as a winery, brewery, kitchen and tasting room. It is a cool place to visit including the one in Onsted which has a 1974 German glider wing for a bar top. Obviously, the rest of the décor is themed appropriately. Plus, regional entertainers perform on weekends. Check the website for details. The main location is Onsted with a tasting room in Jackson.
1200 Pentecost Highway, Onsted, MI
1849 Rives Eaton Rd, Jackson, MI
If you are visiting Chateau Aeronautique you might as well visit Cherry Creek as well. A respectable café, regionally produced wines, and plenty of local entertainment. For those who are interested, Irish Hills Campground is right up the road. Pairing these two wineries is like a mini Napa Valley tour without the long flight or expensive overnight stays.
11500 Silver Lake Hwy, Brooklyn MI
The Wine Flight isn't a winery, but it is a cool place to visit. With an amazing selection of both craft beers and wines, they great thing about this place is that is so LOCAL. It is a great hybrid of bar and retail store with a great staff and enthusiastic owners. There is nothing snooty about this establishment. If you know nothing about wine they are there to help. If you know a lot they are there to discuss. A small menu is available as well. Don't let the location of Elmore fool you. The wine flight is a worthy destination that is a perfect mashup of high end establishment and Northwest Ohio charm