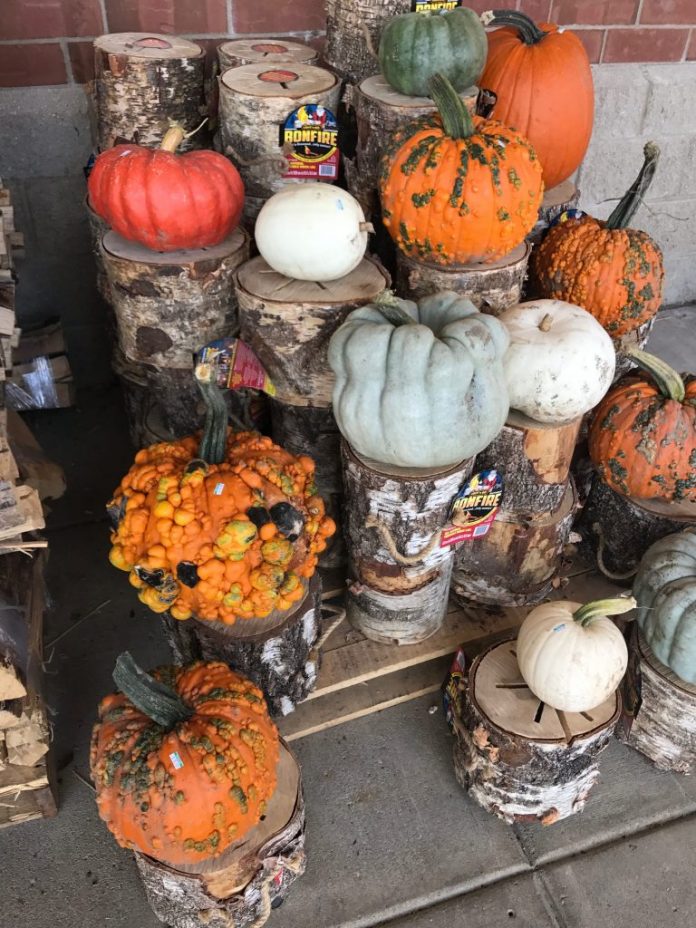 A roundup of the area's fall and pumpkin spice deals
By Candace Byington and Chris Watson
Like John Carpenter Halloween movies, pumpkin spice products seem to return every year and multiply. This year we went on a hunt for the best. Once we got in our great local stores, however, we discovered so much more to enjoy from the fall season.  So go out on an adventure and look for the great products. Fall is all about change and fall products have arrived in abundance. This week our shoppers visited Walt Churchill's Markets, MacQueen's Orchards, Sautter's Markets, and Monnettes (Glendale).
Walt Churchill's Markets
Fall is here and a harvest of apple, maple and pumpkin flavored delights can be found at Walt Churchill's Market in Perrysburg. Apple flavor can be found in chicken sausage, wine and pretzel snacks. Maple and hazelnut make appearances in unique snacks and decadent candy. Pumpkin flavor dominates throughout the store and can be found in pie spice, ice cream, peanut butter, cupcakes and hand lotion. Traditional fall decorations like gourds, Indian corn and pumpkins are available in unusual varieties. Try butternut pasta sauce and black bean pastas for a ghoulish new spin on spaghetti. Look for other worldly flavors of beer and wine including Dead Guy, Purple Haze and Michigan's own Witches Brew.
[cycloneslider id="12403″]
Of course we all think of MacQueen's for apples, popcorn, and doughnuts. Those are just the entry points to the fun and diverse destination shop. We visited on a Monday and it was bustling with kids (on a field trip), shoppers on a mission, and even those casual lookers who were taking a day off. Besides what we think of MacQueen's is a respectable vegetable market and has a ton of hidden specialty foods that are worth a try. Plus they have more seasonal and pumpkin spice stuff per square foot than anywhere in town. If you are one of those who likes to plan ahead, there is a great selection of Christmas stuff in their holiday shop.
[cycloneslider id="macqueens-pumpkin-spice"]
If you're looking for simple reminders of fall Sautter's in Waterville will not disappoint. Upon arrival you will find the entrance covered in yellow, purple and maroon mums as well as this week's fresh produce special. Pie pumpkins, carving pumpkins and gourds greet you along side varieties of squash. There are a few pumpkin spice products to try including a seasonal twist on ice cream, Bailey's Irish Cream and Cheerios. Overall you will not find bizarre pumpkin spice concoctions at Sautter's! Timeless favorites like candy apples and caramel corn are available as well as apple butter and minced meat. If you're craving traditional egg noodles and pasta try the savory wild mushroom fettiuccine for an autumn meal. Best of all get cozy with single serve hot chocolate in varieties including mocha and caramel.
[cycloneslider id="sautters-pumpkin-spice"]
Monnettes (Glendale)
Monnettes is really a hidden gem.  Sure, we expect produce and decorative corn and carving pumpkins. But they also carry a good deal of farm to table produce from local farms and seek out unusual things, like seedless Concord grapes. They also have an eclectic selection of wines and beers, many of them regionally produced and/or seasonal. All three are worth checking out. And of course, their deli is great for grab and go meals.
[cycloneslider id="monnettes-pumpkin-spice"]