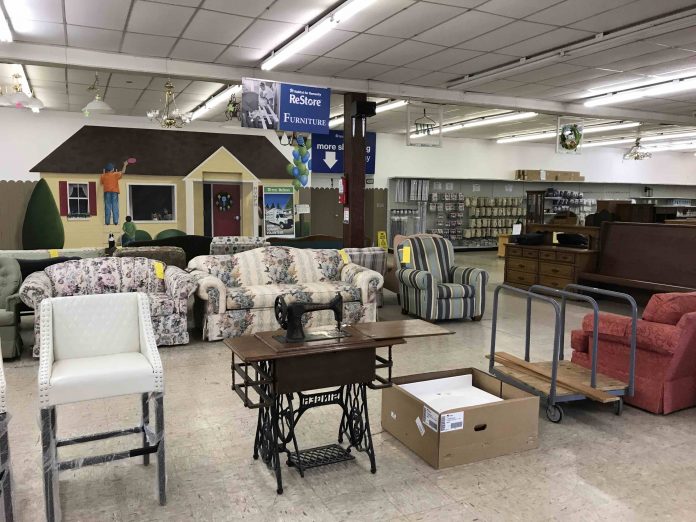 By Nida Ammar
Yes, summer is for vacations. Summer is also for projects…home projects. No matter if you have built a new room, finished a basement, or just decided that bedroom needs a makeover, summer is a good time for home improvement. As we continue our summer series of "explore your neighborhood," we have discovered that our area is blessed with a good selection of local places that can help hold down the cost of such projects. From stores that help with the basic repairs and infrastructure to resale and consignment shops that run the spectrum from subtly tasteful to garishly bold. Many of these stores will help you capitalize on your gently used furniture and home decor as well.
Take some time here in mid-summer to explore the resale and antique stores of our area. Many of these places are just fun visits. Carve out an hour or two to wander around and gawk at the toys, posters, records, products, and other memorabilia from both your youth and that of your parents and grand parents. Getting lost in a resale or antique store may not accomplish a immediate decorating task but it is fun. Plus you never know what you will find. After all,  great ideas for a new home look and feel may be just one lamp or occasional piece away.
Address: 1552 Reynolds Rd Maumee, OH 43537
Phone #: (419) 893-2468
Maumee Antique Mall is, in a word, huge. The 170+ dealers have each created a unique display with all kinds of antique and collectible merchandise. Walking through the building and viewing the over 300 dealer displays is as much a museum experience as it is a shopping one. Make sure to budget some time and bring your walking shoes, though! The store covers over 2.75 acres (more than 110,000 square feet).
For your convenience the store has ramps for wheelchairs, and electric scooters available for customer use. If you find yourself so engrossed that you can't bear to leave for lunch, they have you covered. The in-store café features Nathan's Famous hot dogs and chicken salad sandwiches, as well as many other snack items and Coke products.
Address: 1310 Conant St Maumee, OH 43537
Phone #: (419) 382-1658
Habitat for Humanity ReStore is a nonprofit home improvement store and donation center that sells new and gently used furniture, appliances and home accessories to the public at 25%-80% off original retail prices.Besides some furniture, ReStore also has a good selection of appliances, sinks, windows, doors…the list is pretty extensive. ReStore is an excellent option when redoing a room or rehabbing a whole house. Proceeds from sales are used to build and repair homes with and for our low-income neighbors here in Lucas County. The mission of Habitat for Humanity is to help everyone of our neighbors find a decent, affordable place to live.
Address:  1505 S. Reynolds Rd.Toledo, OH 43615
Phone #: (419) 381-7280
This once ranch style home is now full of beautiful consignment home furnishings available for purchase. Furnishings are displayed in a home style atmosphere, enabling customers to visualize how items might look in their own homes.
This is one of the first consignment shops of its type in the area and is always refreshing its inventory. Consignment terms are very reasonable. Whether looking to freshen up the look of an old room, furnish a new space, or simple swap in a cost-effective way gentle used furniture for something different, ReDecor is a great option
Address: 306 Conant Maumee, Oh 43537
Phone #: (419) 465-7253
Encore Furniture Exchange has been providing the community with great prices and quality merchandise since 2011. They constantly get new items, keeping their selection and your choices varied and fresh. With a staff that is friendly and knowledgeable you can get attention that you need to help with your decisions.  Whether you are decorating a room or looking for that special piece of furniture for your home, Encore is another unique and affordable place to explore and decorate any space in your home
Address: 2036 S. Byrne Road Toledo, OH
Phone #: (419) 214-0151
ReTail is over 5000 square feet of home décor, furnishings, and home products. Like ReStore, this is a shop that serves two purposes. First, it is an excellent starting point for some home décor shopping. Second, it helps with the vital mission of the Humane Society.
All proceeds from the TAHS ReTail Shop directly support the animals at our shelter and help us to fulfill our ongoing mission to lead the community in efforts focused on relieving the suffering of, preventing cruelty to, and providing for humane treatment of animals.
Address: 20 S. Ontario St., Toledo, OH 43604
Phone #: (888) 243-6915
The success of Architectural Artifacts sprang from the desire to preserve architectural heritage from the wrecking ball and make it available for reuse in remodeling and new construction. Their inventory is a unique blend of larger items plus garden and landscaping elements. This is a cool place to look through. No one would claim that you are going to spruce up an efficiency apartment with items from A.A., however if you have a garden, a larger room, or even an office that you want to have both a historic and special feel, take a walk through this store.
Address: 6925 West Central AvenueToledo, OH, 43617
Phone #: (419) 841-4663
Consign-It Home Interiors is a home consignment and resale shop selling an eclectic assortment of pre-owned furniture and home accessories. Styles range from modern to traditional and, according to the store, includes everything from brand new items to "shabby chic." Items are a mix of consignment and straight forward "for sale." They are always looking and evaluating their inventory, which changes very regularly. If you are in the market to move some of your own furniture they will assist you in that process as well.
Address: 1414 S. Reynolds Rd.Maumee, OH 43537
Phone #: (419) 887-0916
Another full service, multi dealer mall with a wide assortment of items large and small. Many items are sold on consignment and like all of these places, patience is rewarded. A slow, deliberate look through the many dealers and stalls can yield amazing results in brightening up any home.