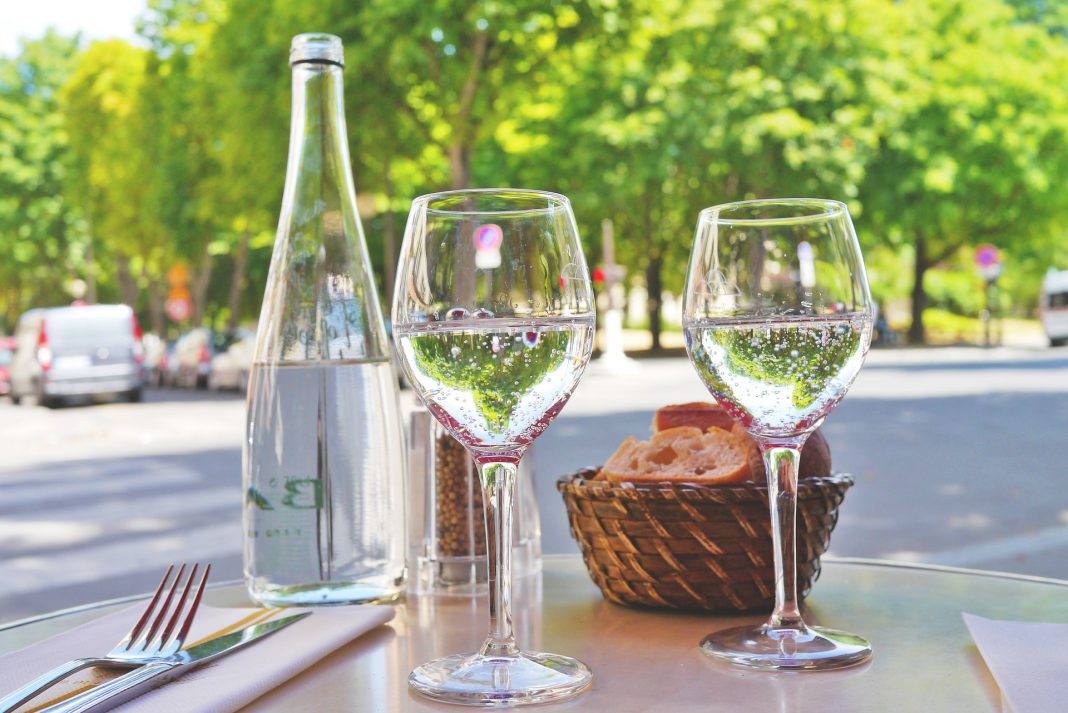 There is something about outdoor dining. First, it is the unique privilege of summer (or at least warm weather). Sure, you can shiver your way through a hotdog at a Christmas tree farm in December, but that is an act of survival not dining. Eating outside during the summer months is leisurely, relaxing, and regardless of the price of the fare, decadent.
Many establishments offer outdoor seating. We have sought out some of the more unique places to visit with well designed outdoor areas. Although a few of our picks offer grand views of the Maumee River (and a reason itself for a visit), many of our choices are simply fun places to visit on a lazy summer evening.
As we continue to explore our community this summer, what are your places for outdoor dining? Let us know and we will add to the list! Summer is here and it is time to get outside and stay outside…even for dinner.
Top Twenty Places for Dining Outdoors
Swig

: A staple in downtown Perrysburg, Swig is more than just pub grub. They have truly innovative items, great outdoor seating, and music late in the week through the weekend. With a tagline like "Charcuterie and Suds for the Curious," who wouldn't want to drop by.

Webber's

: Located in Point Place, Webber's is, of course, mostly about seafood. And it should be, as it has a beautiful outdoor seating area right on the water. If you are not a fin or gill person don't be discouraged. They have a good selection of chicken, salads, and steaks. Now celebrating their 87th year, if you haven't been to Webber's it is a must when living along the western shores of Lake Erie.

Real Seafood Company

: Located across from downtown Toledo on The Docks, seafood is again the theme. However, like any seafood restaurant, RSC also has great selections for land lovers. Many people consider this their go-to place for a birthday. Why wait? It is beautiful in the summertime.

Zia's

: Great Italian fare with a view of the Maumee River. Another favorite on The Docks. Many think that Italian is "too heavy" for summer. Our comment is, Italians eat during the summer as we do, and Zia's is a great place to sit by the water and pretend you're on the Mediterranean.

Social

: Located just down the road from Levis Commons, Social Gastropub has a large outdoor seating area. Besides the usual sandwiches, Social is always changing its menu and tends to emphasize on trendy spins of old favorites. Case in point: their fish tacos are some of the best in the area and are made out of perfectly blackened salmon.

Manhattan's

: Located in the heart of the Adams Street corridor, Manhattan's Pub & Cheer has a great outdoor seating area and music on the weekends. Besides the usual pub grub, Manhattan's offers an extensive Sunday Brunch from 10-2. Afterward, you can take in a Mudhens game or walk off your brunch at

Middlegrounds Metropark

.

Firepit Grill

: There are two things to note about Firepit. First, the firepit. Their outdoor seating area is thoughtfully designed around a big fire pit that takes the chill off when the weather turns cool (which it can at night, even in the summer). They have an extensive BBQ menu (including brisket), decent pub grub, and a Sunday brunch from 10-3. They also offer stuffed baked potatoes, which in of itself is a reason to visit.

Dale's, Maumee

: This iconic bar in Uptown Maumee has a great reputation for a lot of things, including the atmosphere, it's passionate support of the Buckeyes, and excellent drink selection. With a 99 year history, Dale's has recently added to a long lineage of updates/renovations with an outdoor patio expansion. Dale's is a PUB, pure and simple with associated grub to go with the atmosphere. If you haven't tried them, you need to go. Serving breakfast at their Waterville location!

The Mail Pouch,

Swanton

or

Haskins

: There is nothing fancy about the two Mail Pouches, which is a big part of their draw. First, they serve a typical array of pub grub, including "overloaded" tater tots which are, in a word, "comforting". Both locations have outdoor dining that includes an outdoor bar and entertainment on the weekends. Finally, don't hesitate to try the burger, which can be ordered off the menu or just loaded up with your choice of toppings.

Blue Water Grille:

A Mancy's restaurant, which carries with it a great reputation. Blue Water prides itself on seafood and raw bar selections, as befitting its name. Don't let the location deceive you; slurping briny fresh oysters and chilled shrimp cocktail outside will wish you away to an oceanside cafe, leaving Dussel Road far behind. However, Ble Water also brings to the table the backing of the  Mancy's Steakhouse family, so if seafood isn't your thing that is no problem. Finally, do not hesitate to try Blue Water for lunch. Selections like "smoked salmon BLT" are reason enough to visit.

Souk Mediterranian: Although Souk is a relative newcomer to downtown the owners are not new to the restaurant business. Located just across from the Erie Street Market, Souk has a decent Mediterranean menu and a fairly respectable seafood menu as well. A good-sized patio is available for outdoor seating.
Rosie's Italian Grille: This iconic area restaurant is famous for a lot of things, including "Hot Mama Bread". Even though many of us have fond memories of the Rosie's that use to dot the landscape, this eatery nestled on McCord deserves the title of "hidden gem". They have an excellent Italian menu, they still have pizza, Hot Mama Bread, and above all, great outdoor dining.
Ye Olde Durty Bird: Another fixture of the downtown neighborhood, has a fixed and longstanding outdoor patio area and is a continuing favorite. Accurately billed as a gastropub, make sure to check out their meatloaf sliders, California Ruebon, and Confit Chicken Wings. Don't worry about overeating. You can always go for a walk along the river or at Middlegrounds Metropark after lunch or dinner.
Gillig Winery: Located in Findlay, Gillig Winery has an excellent selection of locally crafted wines and a decent bistro menu. Their outdoor seating is perfect for engendering a "get away" feeling and the entire experience is worth the drive. They offer bottles to take home, of course and several flight options for tasting.
The Whitehouse Inn: There is something perfectly Americana about this eatery. Any place that simply boasts a specialty of beef (in this case prime rib) if totally worth a visit. With a rustic exterior and a great outdoor cafe, Whitehouse Inn is worth a casual drive and sit down. For the record one of their sides is "gravy", for which we heartily approve.
Sortino's Little Italy Ristorante: Established in 1974, Sortino's is another one of those "let's go for a drive" destinations right in the heart of Sandusky. A traditional and broad Italian menu with plenty of anti-pasta and salad selections for the lighter eater. Of course, all of Sandusky and the lake is also at your fingertips.
La Roe's: Located in the heart of Grand Rapids and right on the river. The menu is pretty straight forward but what makes this restaurant is the setting itself. Grand Rapids is utterly charming to walk around with plenty of little shops and stops to entertain. The river walk itself is engaging. So, another day-tripping destination with a solid restaurant to sit outside and finish the day

Chateau Tebeau Winery

: This winery features a respectable bistro menu and of course the winery wines themselves. If that isn't worth the drive the setting is. The interior is charming. However, the exterior is both relaxing and beautifully landscaped and surrounded by the vines themselves. The entire outdoor area is picturesque, offering a bit of European charm in the middle of Northwest Ohio. They feature music on the weekends.

El Camino Real, El Camino Real Sky, La Chalupa

: Now with three locations, El Camino has been around town for the better part of two decades serving basic Hispanic and Tex-Mex fare. Both the Sylvania Ave. and Woodville Rd. locations have excellent outdoor seating, including for special events. Although all three locations are located in the "city", their patios are designed to give at least the illusion of a getaway, which is a significant part of their charm.

Stella's: Although many restaurants put a few chairs outside their venue, Stella's has created a nice area within viewing distance of the Commodore Perry statue in the heart of downtown Perrysburg. Most restaurants would find it difficult to offer two separate "atmospheres" while servicing the same food but Stella's pulls off the effect. On a warm, mild night, Stella's outdoor dining skews European outdoor cafe. Call ahead on Farmer's Market nights, where seating and parking are naturally limited.