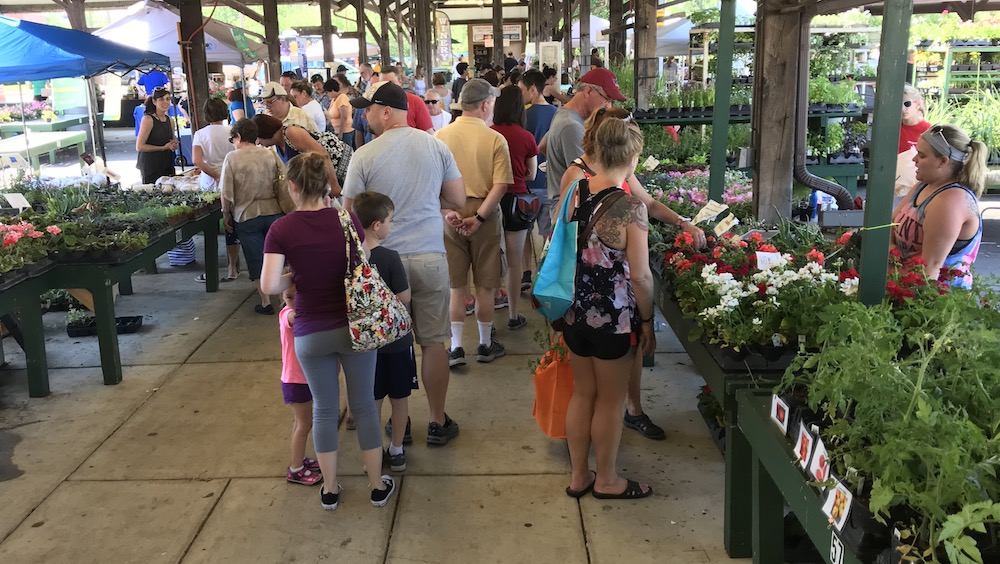 There may be nothing more Americana than farmers' markets. Besides produce, which is obviously where they get their name, any decent market is replete with baked goods, local honey, homemade jams and jellies, soaps, hot sauces, and a whole host of other homegrown and homemade stuff that simply doesn't exist in any other setting.
Certainly, our public health caution has changed the way the markets are doing business. That doesn't mean that they have disappeared. Most markets have some restrictions and are asking that people be respectful in the way they transact their business, including use of face-covering and social distancing. 
These simple rules, however, can't diminish the pleasure of walking around the tent-covered retail bazaars. Below is a list of the area's markets along with some other attractions that surround them.
So grab a mask and a shopping bag and come join us for a favorite activity that is at the heart of summer! See you at the markets!

525 Market St., Toledo, OH
Now open both Saturday and Sunday. Saturday 8 am – 2 pm and Sunday 9 am – 1 pm.  The market has a wide variety of local vendors, farmers, and locally produced products and baked goods. Some food vendors are on site.
201 S. Main Street, Bowling Green, OH
The market is open Wednesdays from 4 pm – 7 pm with the first hour reserved for vulnerable shoppers. A standard market lineup including local farmers, vendors, and products. Located in the heart of Bowling green which allows for some interesting local retailer visits, including Grounds for Thought (locally roasted coffee), Ben's Crafts, Ace Hardware (yes, a local hardware store), and Finders Records and Tapes.
Louisiana Ave, Perrysburg, OH
Now open on Thursdays, 4 pm – 7 pm. Market lines 3 blocks of Louisiana Ave. Farmers, product vendors, and baked goods, food trucks. The market is right in the heart of downtown, with many standing restaurants open including Swig, The Bard's Coffee, Zingo's, Stellas, 5th Street Pub, and Casa Barron.
3408 W. Central Ave, Toledo OH
Open Wednesdays, 3 pm – 7 pm. A popup style market that includes farm produced produce, local products, baked goods, and food trucks. Besides shopping at the market the Westgate area has plenty of local options, including shopping at Basset's Health Food Store and getting takeout from local restaurants including El Vaquera, SIP Coffee, Fusian, Packo's, QQ Kitchen, Shawarmaholic, and Al Smith's Place.
20 E. Willow Street, Monroe, MI
Open on Tuesdays from 3 pm – 7 pm and Saturdays from 7 am – 12 pm. Wide variety of farmers and local produce vendors, local products, baked goods, and some local artisans.
7000 Erie St., Sylvania OH
Tuesdays 3 pm – 7 pm. Several local farmers are represented along with 2 regional wineries, local product vendors, and baked goods. 3 pm – 4 pm is reserved for high-risk shoppers.
Downtown, Fremont, OH
Every other Saturday, 9 am – 1 pm. Each Saturday includes different themes including car shows, repurpose and reuse events, and block parties. Check the website for specifics. Dates: July 18th, August 1st and 15th, September 5th and 19th, October 3rd and 17th.
Marathon Center for Performing Arts, 200 w. Main Cross St. Findlay OH
Thursdays, 4 pm – 6 pm. Featuring local produce, flowers, plants, food vendors and local products.
100 E. Washington St Row, Sandusky, OH
Open Saturdays during the season 8 am – 12 pm. Hours for elderly and immune-compromised are observed between 8 am and 9:30 am. Local produce and products plus food trucks. Located right downtown in Washington Park, this market is located close to the water. If you bring a cooler to hold your goodies you can also explore the rest of Sandusky, including several breweries, cafes, and waterside eateries.
3010 Navarre Ave, Oregon OH
A monthly gathering of food trucks and farmers from 5 pm – 8 pm. Dates include July 15th, August 5th, September 2nd, and October 10th.