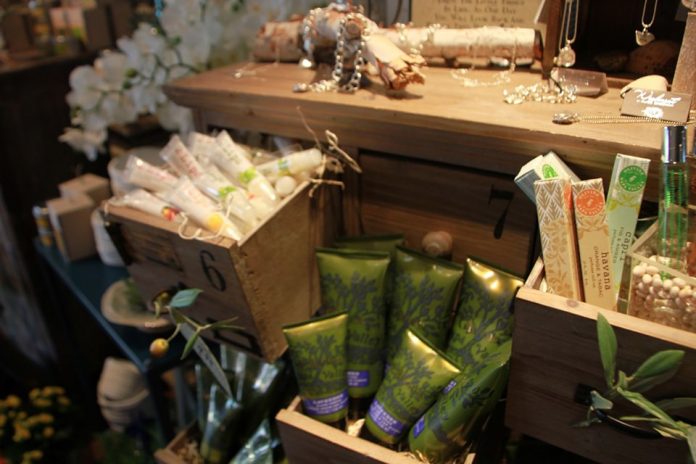 Gift giving is supposed to be fun. Unfortunately, with Black Fridays and Cyber Mondays, much of our gift giving has become routinized list fulfillment.
Shopping on line and in mega marts has become chore like. In many respects, it has all the charm of doing your taxes. This, unfortunately, if the world that national chains and mega on line sellers want us to live in.
But, it doesn't have to be that way. Our local merchants, shops, and markets are coming to our rescue with a great selection of specialty gifts.
"A lovely thing about Christmas is that it's compulsory, like a thunderstorm, and we all go through it together." –Garrison Keillor
Thinking Outside the Shipping Box
Once you have exhausted (or become exhausted) with the off the rack, the time is ripe to explore our local retail culture.
Consider first our local markets. Many of them have baskets, specialty chocolates, cookies, baked goods, sauces, spices…the list is actually endless. Shopping for specialty gifts at a grocery store is more productive than you think. It is also thoughtful. Finally, don't hesitate to give a gift certificate. Many grocery shoppers never explore anywhere but they localized mega mart. You might be the inspiration that breaks the cycle.
Besides markets, our 2021 gift giving guide is a full plate of amazing shops and stores ready to serve you. And don't hesitate to explore. Most florists, for instance, have a wide variety of other gift giving options that are both personal and beautiful.
Finally, don't hesitate to seek out local products, like chocolates and coffees. These are perfect gifts.
Exploring the Local Specialty Landscape
Even with all of those options you still may need to seek something really special. Fortunately, our local boutiques and shops have your back.
Below is a list of the more eclectic shops and boutiques around the area. They offer an amazing variety of interesting options for finding specialty gifts.
More importantly, they are worth exploring in their own right. Even if you have you list filled, these shops are all great ways to wile away some holiday time off.
Local Boutiques, Markets and Shops