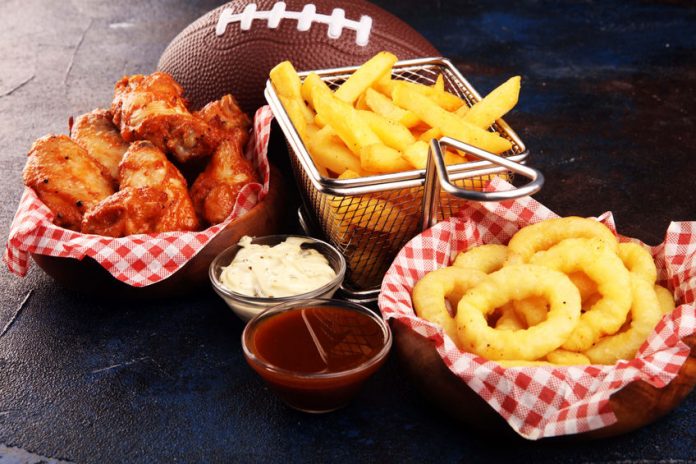 The Super Bowl is Americana at its most kitsch and fun.
The food, the commercials, the half time show with its endless "malfunctions", the Puppy Bowl. Somewhere in there is a football game called the Super Bowl. With all of the activities, for many, the most important aspect is the food and here along Western Lake Erie, we know how to throw a party. 
We have so many great local places that are absolutely ready to help you out and make your Sunday satisfying, local-centric, and above all, tasty.
Oh, and there's football as well…
Wings
Yes, there is something about wings and football and here in the region, we have plenty of places to get wings. Here is our top 10 places to get chicken wings. You might want to check both their hours and their availability. It is one of those weekends that ordering early will be rewarded.
Pizza
Ok, there is something about pizza and football and here in the region we have plenty of places…. you get the idea. Check out this roundup of local pizza places that will be happy to satisfy a Super Bowl Craving. Trust us, they are waaay better than frozen…or national chains.
Beer
At the risk of sounding pedantic, there is something about beer and football…
We have amazing local brewers in town with enough variety to serve any taste. Anyone can pick up a 6-pack at the grocery. However, to truly impress (and perhaps get the first pick when you put your money on the scoring number board), pick up some local craft beer.
Party Food
You can't have a real party without food. Cooking for a bunch of people can be a daunting task. Rest easy, many of our local delis and markets have excellent party food. Check out our top local picks for party food. 
Places to Watch
No party to go to? Or perhaps you prefer to just watch the game instead of hanging around the snack table talking politics? Then a sports bar may be your best bet. Although any bar will probably have the game on, (as well as some coffee houses, churches, and regular restaurants), these local establishments are known for sports themes and will gladly make sure you get to watch the game in comfort.
Sidelines: A local favorite with a very respectable menu. The Sidelines family is a good restaurant as well as a great sports bar. Locations include Lambertville, Sylvania, Telegraph, Mellwood, Maumee
Ralphie's: One of the longstanding area favorites, Ralphies is pretty well known for burgers along with other pub grub. Locations include  Perrysburg, Holland, Sylvania, Oregon, Findlay
Cheers Sports Eatery: Obviously with sports in the title Cheers has much to offer. If you are not in the mood for the usual pizza or wings, check out their selection of Grinders.
Dale's Bar and Grill: The downtown Maumee favorite is more known for college football than pro. However, their TV's won't be blank and it is almost iconic as a sports bar when big games are on.
Inside the Five: As football as it gets, Inside the Five is owned by former NFL players Chris Morris and Brandon Fields. However, don't just think its all about football. Their craft beer is excellent and they have a menu that will stand up to that brew quality.
Frickers: Started in Dayton Ohio and locations up and down the I-75 corridor, Frickers is a well-known sports pub. It is also known for wings and a whole bunch of sauces that accompany those wings. Area locations include Toledo, Sylvania, Perrysburg, Maumee, Findlay, Fremont, Bowling Green
Fleetwoods Tap Room: A growing trendy place in downtown at Hensville, Fleetwoods is a great taproom with 48 brews on tap. Plus, it's in Hensville…about as sports-themed as it gets.
Jed's: Probably best know for chicken chunks, Jed's is truly a sports bar with typical pub grub. Nothing fancy here. Just sports and finger food. Locations include Sylvania, Downtown, Northwood, Barbecue and Brew (Perrysburg), Holland-Sylvania