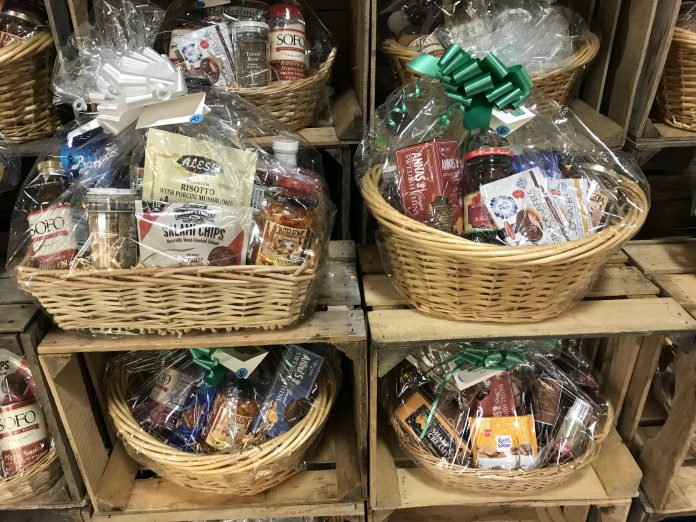 By Chris Watson
From the Publisher: Over the next two weeks

RightSizeLife.com

will be promoting our local business community in a series we are calling The Local Revolution. Each article will highlight our great local merchants who, like so many local businesses, are struggling to complete in this current Public Health Environment. Check out our local directory for a full listing of local shops and businesses and sign on to our Facebook Group:

The Local Revolution

for regular updates from our partners. 
I love local grocery stores. I admit it. I also love giving gifts from local markets. I will own that as well. Gift-giving from the grocery has two advantages: it is local AND personal.
Useful, Practical, Tastey
Whether we are talking about Walt Churchill's Market branded spaghetti sauce, Perrysburg's own Garlic Expressions Salad Dressing, or basically anything from Sofo's, shopping for gifts at a local grocery or market is, at least in my mind, is the ultimate act of gift-giving. 
First, our small markets and groceries are packed with useful items that, in many cases, our friends and families may overlook. Shopping for those special sauces, spices, and locally branded products is simply something that most of us don't do on a regular basis. However, to get special olive oil, soy sauce, seasoning, pasta, or a hundred other ideas may unlock the culinary adventurer in even the most naive of eaters.
Creative and Special
Certainly, most of our local markets and specialty food stores have baskets ready to grab and go. However, why not build one of your own. First, you get to explore the store which may unlock the culinarily creative in you. Second, anything that is tailored toward whom you are giving to is way better, regardless of price, than a generic basket ordered from a mega web site.
And don't forget these store delis and bakeries. Many have amazing baked goods that, although perishable, are a welcome relief at a time when so many of us feel trapped at home. Couple these products with a bottle of wine or a pound of locally roasted coffee and nothing will stand out for the season like the care and thought you put into something that is so simple.
Finally, building a personal gift box? Why not theme them? Consider:
Movie night: Include in a basket a bottle of wine, a six-pack of local microbrew, popcorn, and locally baked cookies or candies (You can get high-end Chocolate like

Dietsch Brothers

or drop by local candy stores like

Maumee Valley Chocolates

,

Christie's Candies and Mints

, or

Boyd's Retro Candy Store

)

Date Night: Again, sticking with a bottle of wine or microbrew, then pick up fancy pasta, sauce, and something from the bakery at Sofo's. Or, book the night and drop by any great market deli for snacks and popcorn. It's the holidays so watch a holiday double feature, It's

A Wonderful Life

and

Die Hard

.

Ethnic Exploration: No matter the country, we have great specialty markets here in town. Putting together a basic basket of spices, supplies, and staples from a Hispanic, Asian, Italian, or Mediterranean market is a perfect gift for someone to begin experimenting with new flavors.