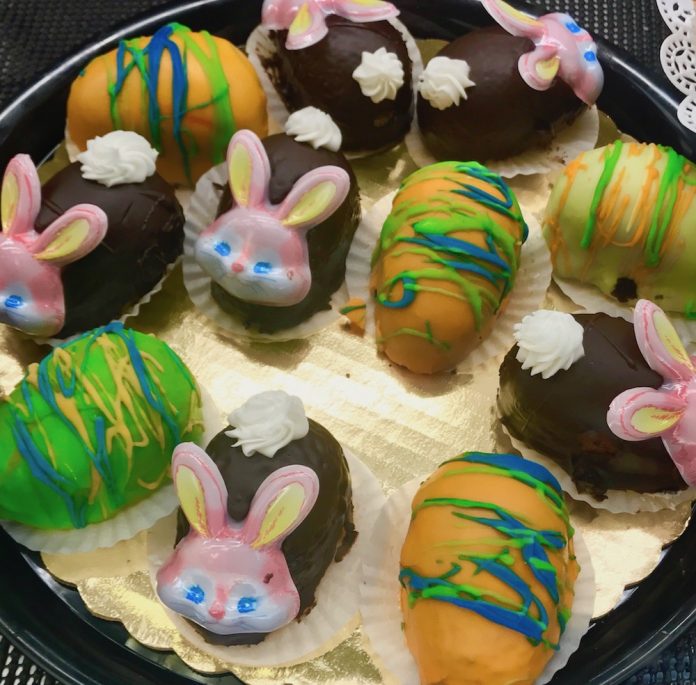 No winter lasts for ever. No spring skips its turn. –Hal Borland
By Candace Byington and Chris Watson
No other holiday lends itself to shopping local like Easter. Bakeries, candy, flowers, and general markets all can bring out their charm in a dramatic and technicolor fashion. Our area has some great merchants and markets who have rolled out the multicolored carpet to welcome spring. This week we "hop" around the area in search of some special picks. Don't "hunt" for your weekend supplies at the megamart. Regardless of the weather, spring and Easter have come to our area!
Sautter's
Sautter's Markets, both at their Waterville location and their downtown Sylvania location is a great example of a true local supporter. You can find locally and regionally crafted beers and coffees for your weekend along with other local favorites. A decent produce section and solid deli round out a solid locally driven market. Then there is the bakery and deli and not to miss cheese balls shaped like…you guessed it…bunnies. Useful, playful, local. What's not to like?
Monnettes
With 3 locations across the area Monnettes is a great stop on your Easter/spring shopping tour. Besides great produce all 3 locations have great Spring baskets and flower pots to brighten up a home even if the weather is dreary. In addition to produce the deli is first rate and they have a decent selection of "hidden" items like candy, breads, and canned goods, many locally sourced. Monnettes is a perfect place to ring in spring.
Christies Candies and Mints
Hidden on the south end is a local legend…two legends actually. They have been delighting us during holidays and special occasions for two generations and they never disappoint. So, give the gift of fine chocolate this Easter! Visit Christie's Candies & Mints on Glendale where you will find delicious handcrafted chocolates. Enjoy milk or dark chocolate eggs filled with fudge, maple cream or raspberry to name a few. Fill your Easter basket with eggs and bunnies in colorful wrappers. Delight the coffee lover on your life with chocolate covered espresso beans! You will also find chocolate covered Oreos decorated with Easter motifs. Gift boxes of chocolate decorated like flowers are available. You can even have your candy box gift wrapped in the store. Best of all enjoy the excellent friendly service.
Wixies Bakery
Worth mentioning is Wixey bakery on Glendale. Besides, it is right across the street from Christies so there is no reason not to stop by both. You will find plenty of sweet treats for your guests this Easter at Wixey's. Indulge in their fresh baked pastries or take home an Easter themed dessert! Cookies shaped and decorated like Easter eggs, cakes in the form of fuzzy bunnies and elaborate cupcakes are in abundance!
Spring has sprung at Walt Churchill's Market in Maumee! Whether you are shopping to prepare a holiday feast or make a basket, the market is an ideal one stop. You will find colorful lilies for your home and spring bouquets! If you need breakfast pastries, dinner rolls or dessert for your Easter feast the bakery has a variety of treats! As always they have fresh bread, rolls and decadent donuts. Try lemon cupcakes decorated with a yellow daisies! Enjoy seasonal cutout sugar cookies of eggs, bunnies and butterflies! Stuff your Easter baskets with premium choclate from Ohio's own Diestch's!
Do Not Miss
There are always too many markets, bakeries, and candy stores to cover in one edition. Don't let these other great shops slip by without a visit.
2725 W. Central Ave, Toledo OH
8926 Lewis Ave Temperance MI
5400 Monroe St. Toledo, OH
127 E. 2nd St Perrysburg, OH
1806 Madison Ave, Toledo OH
3302 Stickney Ave, Toledo, OH
4427 Secor Rd Toledo, OH
6636 Bancroft St. Toledo OH
2306 Starr Ave Oregon, OH
Country Grains Bread Company
6808 Sylvania Ave Sylvania OH
So Sweet Lebanese & French Pastries
4038 Talmadge Rd Toledo OH
3723 N. King Rd Toledo OH
The Cookie Jar
130 E Court St, Bowling Green, OH
101 E. Wayne St., Maumee, OH  [maxbutton id="4″ url="https://goo.gl/maps/Qsj86381NAB2″ ]
954 Phillips Ave, Toledo, OH
154 S. Main Bowling Green, OH
5658-A Mayberry Square Sylvania, Ohio