Cooking in the summer is always difficult. It takes too long, it heats up the house, and our go to home meals generally feel too "heavy". Even grilling out may seem like too much of a production when we are coming back from hot and tired from a long summer day. One answer that melds speed with the availability of summer ingredients is the stir fry.
Wok This Way
Many think that stir frying is the purview of Asian cooking and spice palates. Certainly Asian cuisine is known for great stir frying. However almost any flavor profile will lend itself to the stir fry technique. Italian and Mediterranean ingredients are particularly adaptable. And if we think about it, fajitas are just south of the border stir fry. Even solid middle European cooking, like sausage and cabbage, can be adapted into a stir fry.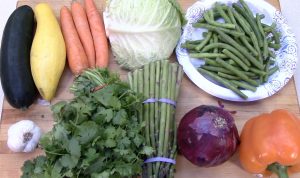 We have to talk equipment when talking stir fry. You can, if you have a good pan, use a regular skillet. Just make sure it is a heavy skillet that will take to high heat well. However, this disadvantage is that you have to work in batches and this can lead to a lesser result, in particular the texture of the vegetables will not be a good. So, the answer is, buy a good wok. And not an electric wok. They do not get hot enough. An old fashioned metal wok. And don't worry about wok "pans". That is what we used in the test cooking. They are fine a well. Unless you have a gas stove the woks with the "rings" to place the wok on are hard to manage on an electric or induction stove. So stick with a heavy, metal, wok pan. And invest. You will be using it a couple times a week.
Knife Play
When it comes to basic ingredients almost anything will lend itself to the stir fry process. The key is to remember that size matters when cutting up things for stir fry. Meats, like pork, chicken, or beef, should be thinly sliced. The same is true for firmer vegetables like carrots, cabbage, celery, and bok choy. Vegetables that cook quickly, like zucchini, summer squash, onions, peppers and mushrooms can have some thickness to them. Finally, veggies that are already thin, like green beans, pea pods and asparagus, are pretty much ready to go. Also, uniformity is important.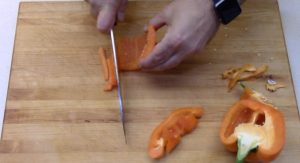 Like in any Asian restaurant, try and cut things the same size. By size we mean length. The thickness can change to help with equalize the cooking time (very thin carrots for instance but thicker zucchini). Just make sure things are relatively the same length. This will, of course, take some practice. However, in our size households basic stir frying is a go to meal a couple of times a week. Developing some skill at cutting has a great return on investment. Some things, of course, will not be the same length. Mushrooms, for instance. Again, that is no problem. The rule of thumb is "in general" on cuts. Stir fry's are supposed to be playful, not regimented.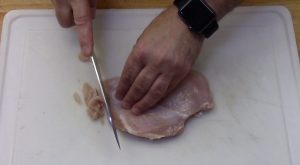 For those who don't like "crunchy" green beans or asparagus you do have an option. For very firm vegetables you can take the step of "par boiling" the vegetable right before you stir fry it. The process is simple. Cut the green beans or asparagus the way you want them in the stir fry. Bring a small pot of water to boil and salt the water like you would for pasta. Drop the veggies in the boiling water for 1-2 minutes then drain and rinse with cold water. Pat the veggies dry and stir fry as normal. Remember, you have partially cooked these veggies so add them later in the process.
Here is a particularly important note about oils. There are many types of oil available. What we need for stir fry is a clean, high heat, oil. This does not mean extra virgin olive oil. This means oils like canola, grape seed, sunflower, safflower, and peanut oil. The key here is the word "refined" not "virgin". There are refined olive oils that will do for stir frying. However, the safest thing to do is to have a straightforward, high heat oil always available in your kitchen and save your flavorful, virgin oils, like high end olive oil, as a finishing touch or for low heat cooking.
Fast and Furious
Basic stir frying is really very simple. Start by getting your wok good and hot. It might even smoke a little, this is OK. Remember to ventilate your kitchen area well as stir frying will produce smoke. Once the wok is good and hot first add your marinated chicken. It will cook quickly so keep it moving in the bottom of the wok. Once it is done cooking, usually just 3 or 4 minutes, remove it from the pan. For our Italian style stir fry we have thinly sliced up one small piece of pancetta. This is a great flavor enhancer to any stir fry. Once it is fully rendered remove it from the wok as well. Add a bit more oil then begin to cook the vegetables. Sequencing is important here. Vegetables that need longer to cook, like green beans and carrots need to go in first. Then onions, peppers, mushrooms cabbage. Finally, quick cooking vegetables, in particular summer squash, zucchini, and spouts, go in and cook for about a minute. Add back in the chicken and finish with what ever garnishing you might like, including things like olives, vinegars, soy or other sauces, and fresh herbs. The whole process for two people should just take minutes.
The Stir Fry (Written)
Prep time:
Cook time:
Total time:
A basic Italian themed stir fry
Ingredients
½ boneless skinless chicken breast (sliced thin)
¼ inch slice of pancetta (sliced thin)
1-2 cups fresh cut green beans
½ red, yellow, orange or green pepper (or a combination) (sliced)
1 small white onion, sliced
1 small summer squash, sliced in strips
For Marinade:
2 tbs oil (high heat like safflower)
1 tbs red wine vinegar
¼ tsp garlic powder
1 tsp basil leaves
salt and pepper to taste
2-3 tbs Balsamic, red wine, or sherry vinegar
Additional oil for stir frying
Garnishes such as fresh chopped parsley or basil, olives, green onion, capers, and fresh grated cheese.
Instructions
Slice the chicken breast, pancetta, and veggies as for a stir fry
Combine all the marinate ingredients and coat the sliced chicken breast. Let set for about 30 minutes.
Heat the wok on medium high to high. It may smoke a bit. Add a touch of oil (a tbs or two) then cook the chicken breast. Remove from wok and set aside (3-4 minutes)
Render the pancetta fully in the wok then add to the reserved chicken.
Add an additional touch of oil and cook the vegetables in the order listed. Allow the green beans to get almost fully cooked before adding the other veggies. Salt and pepper the veggies as you cook them.
Add the cooked chicken and pancetta back into the wok and toss to combine and reheat. Splash the final dish with a tablespoon or two of a high end vinegar
Finish by garnishing. Serve with pasta, bread or just in a bowl.
Of course you can take your Italian stir fry and serve it on top of pasta. However, if you use hearty vegetables you can get away with a good bread and top the stir fry with some fresh parsley and grated parmesan reggiano cheese. This is true for almost any flavor profile in the stir fry. Cooked starches like potatoes, beans, rice, quinoa, and pasta can be added to the side or right at the end. However, they are not necessary. Especially in the summer lighter is better. Plus it leaves room for ice cream at a local soft serve shop….
Don't forget to experiment with flourishes and toppings at the end of the stir fry. You can add olives, capers, fresh squeezed lemon or lime juice, a bit of wine, fresh herbs….the list of possibilities are endless. Once you have the basic technique of quick cooking, or stir frying, mastered you will have opened a gateway into an amazing method of cooking that is timely, healthy, and above all won't heat up your house on hot summer nights.