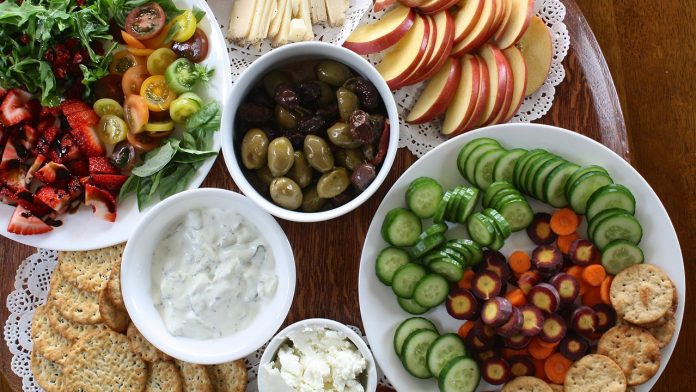 Walk into any mega mart this time of year and you will be assaulted with party food. Chips, dips, grab and go wings, take and bake pizzas, processed hummus sealed in plastic bowls and the dreaded (but for some reason always available) hacked up cheese and meat log product. It is convenient, last minute and is equal parts tasteless and expensive.
Fortunately, for card gatherings, movie nights, tailgate parties, and other indoor gatherings, our local restaurant landscape is dotted with magnificant places to turn any snacking occasion into a culinary delight. With Fall in full swing and big games right around the corner, there is no reason to settle for inferior, heavily processed snack food. Regardless of your gathering, from formal to frivolous, our local restaurateurs and markets will make your next get together a winner.
Local Sources for Party Trays
Tiger Bakery: There is a lot to say about Tiger Bakery, and we mean a lot. First, they have great hummus. Second, they have amazing meat and spinach pies. And hummus of course. Plus a whole lot more. Forget the sausage balls jalapeno poppers. Tiger will make your next tailgate or card party an event.
Oasis: Oasis has two fundamental advantages. First, they have an extensive catering menu that isn't just about pizza (although they do deliver pizza). Second, if you really can't get everybody on the same page about what to eat, just call Oasis. They deliver pizza AND hamburgers plus a whole host of other munchies.  
Sofo's: Perhaps the best thing about Sofo's is that you don't have to just choose one thing. If nothing else you can go in and indulge in their deli and itailian meats, cheeses, and of course their olive bar. But why stop there? They have amazing take and bake pizza and calzones along with all of the makings to build your own pizza ready to grab and go. You can indulge in their bakery (and by bakery we mean cannoli). And finally, Sofo's has a respectable wine selection to complete any quick warm up party before the game.
City BBQ: City BBQ is pretty standard BBQ but has some real options when it comes to trays and menu, including a smoked turkey salad and other healthier options. Although not indiginous to Toledo it is an Ohio based company. Some of their packages are simple, including selection from their smoked meats which include brisket, chicken, turkey, sausage and pulled pork.
Deet's: Since sneaking onto the scene with a small shop in Maumee, Deet's has become something of a sensation.  Now with 4 locations and a 5th coming to downtown, Deet's is solid BBQ perfect for any tailgating or sports party. They have an extensive catering menu that includes great sides, sandwiches, wings, and ribs all the way up to a whole hog. No longer a new kid on the block, Deet's has indeed arrived.
Le Petit Gourmet: Many of us show our age since we remember this amazing deli when it was in Southwyck Mall (that is right…the mall that is now a paved over space on Reynolds Road that is growing weeds in the concrete). Now located in Maumee La Petit has an excellent selection of salads and sandwiches that will make any tailgate party a snap. More importantly, these trays are pretty upscale moving well beyond the foot long chain store hogie to mini croissants, sliced wraps and their signature (and very cool) Hoagie in the Round.
Grape Leaf Express: Not the biggest menu but a perfect way of a quick grab and go for a party of if joining friends for a game day. Simply order the "party platter" and the food problems are done. They have locations in Perrysburg and Toledo. Convenience isn't the only reason they make our list. It is solid mediteranian cuisine.  
Sautter's Market: Yes, Sautter's is a grocery store and a great one. However, like Sofo's it has some real great selections for your party. First, it has amazing deli salads that are completely worth diving into. Second, it has a very respectable selection of local beers. Third, it has a bakery worth indulging in. Finally, they are very friendly. This is a solid, locally focused business willing to help you get ready for any fall party.
Barry's Bagels: Sometimes you have to get a party rolling early (many game starts are at noon) and Barry's is more than happy to help you do that. Anything that you would get for a morning breakfast meeting is available catering sized. Plus they are pretty good at the whole sandwich and salad gig as well. Finally, if you are feeling really spiffy you can order the Lox…then control your guest list. It is an area favorite and no matter how much you order it won't last long.
Big Apple Deli: This may be one of the best gems in our region. Tucked away on Woodville Road in Oregon, Big Apple is a perfect catering choice for a party small or large. Inherent in their catering menu are packages, including one called "Game Day". It doesn't get any easier than that. However, don't stop with that simple choice. This small shop is truly "big" in its selection of salads, trays, and sandwiches.