By Chris Watson
Fish for Lent. We know, it is cliché, it is common, it is fried, it is frozen, it is fishy, it is boring, it is a hundred other complaints that fish on Fridays seems to invoke in most who celebrate the Lenten tradition.
Fish is, at its core, very simple and very, very good for us. Unfortunately, most of us either don't know what we are doing with fish or we over think it to the point of a fish dish being too difficult to prepare. However, unlike other cuts of meat, fish is almost tailor made for the smaller household.
Right Size Fish
Besides the ubiquitous cuts of salmon available at most fish markets, the flakey white fishes uniformly available, like cod, hake, haddock, and grouper, are either easily cut down at the fish market or naturally come in smaller serving sizes. Shrimp and scallops are the same…it is easy to buy what you need right out of the case.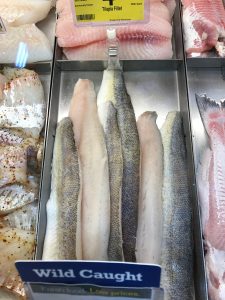 Although frozen fish is available, there are enough good markets around to get fish that is either fresh or has been thawed by the fishmonger for you (and it is better to have the fishmonger do the thawing). Yes, fish needs to be bought the day you use it but so what?  Given its health benefits and the fact that it comes in great sizes it is worth a quick pass through the grocery on the way home.
For most of us, 4-6 ounces of fish is plenty.  A 6-oz. piece of salmon is quite filling for most appetites. Same is true for cod. When it comes to scallops or shrimp many of us can eat a bit more. Shrimp comes in "counts" which is basically how many shrimp per pound. So, 20 count shrimp is 20 per pound. As in all things, size matters and the larger the shrimp (or smaller the count) the more expensive.
Finally, many fish cuts come with skin on. With this preparation, the skin doesn't matter just place the skin side down on the paper and then don't eat it.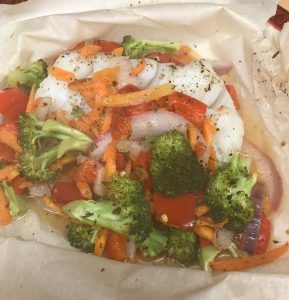 Playing with Paper
En papillote, or in paper, is a classic French preparation that sounds way more difficult (not to mention fancy) than it is. Basically, cooking in paper is a quick and easy way of baking fish and is particularly suitable for the light white fish types like cod. The fish both bakes and steams and never has time to dry or get a rubbery texture. The fish will pick up whatever flavors you put in the paper with it (like onion, garlic, lemon, and herbs such as thyme) and if you add a few julienned or thin sliced vegetables (carrots, onions, mushrooms, peppers, broccoli, and zucchini are all ideal) you have a complete meal. In this case the salad bar is once again your friend, as it has onions and carrots, as a minimum, ready to top your fish.
Anytime you do this preparation the only thing you should adjust is time. Thicker cuts of fish, like the loin end of cod or salmon, will take about 15 minutes. Thin fish, like sole or grouper, will probably only take 10. If your fish doesn't have skin (most cod comes skinless) you can take the thin ends and stack them to increase the thickness. It is just that simple.
The Paper Heart of the Matter
Remember making paper hearts in grade school?  That is how you prepare parchment paper for cooking your fish. Cut a big piece, as it is much better to waste some paper than starting over with something too small, and fold the paper in half. Then make a paper heart. One half the heart is the top and one the bottom. Butter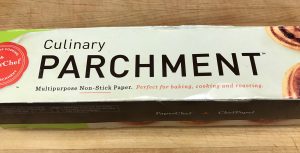 or cooking spray the bottom. Salt and pepper your fish and place in the heart. You can also experiment here with herb blends, lemon pepper, or fish rubs. Just remember to be gentle with amount. It doesn't take much to over season most white fish.
At this point you can be done. You can top your fish with a couple of lemon slices and a a bit more butter or olive oil (or just the oil) and bake. Many of us, however, make something to go on top. Take your julienned or finely sliced vegetables and give them a coat of olive oil, salt and pepper (or more of your herb blend etc.). Place that on top of your fish and seal. Whether simple (just the fish) or with the veggie blend don't over stuff. Make sure you leave enough room for the fish to steam in the packet.
When sealing start at the round end of the heart and make small but frequent folds working along the heart. These folds will seal the packet. As a word of caution don't try and "roll" the packet closed. It won't work. Just make progressive folds until you reach the pointy end of the heart. When you do simply twist the end of the packet closed and tuck the twisted end under the package.
Now bake the packet on a cookie sheet at 375 for 10 minutes for thin fish, up to 15 for thick loin style fish. It is just that simple. It is also pretty and festive and frankly a heck of a lot better than frozen fried fish. It is also perfect for our sized household. There is also a bonus…the baking dish is disposable. So, try some light, flakey, and healthy fish en papillote for Lent!  You won't regret it plus it is fun to say.

Fish En Papillote
Prep time:
Cook time:
Total time:
Fish en papillote, or fish in paper, is an excellent way to take much of the trouble and mess out of cooking fish. It is healthy, flavorful, and festive.
Ingredients
5-6 oz fish (like salmon, cod, grouper or other white fish)
Lemon Slices (about 4 sliced very thin)
Julianne vegetables (up to 2 cups of onions, carrots, broccoli, red peppers, zucchini) optional
½ tbs butter (to smear at the bottom of the paper)
salt and peper to taste
Fish rub, herbs, or other spice blend (optional)
½ tbs olive oil (enough to coat vegetables)
Instructions
Preheat oven to 375 F
Cut a large piece of parchment paper, fold in half, and make a "heart shape"
Butter one half of the paper and place fish in the middle of the half, near the fold. Salt and pepper fish (or use rub/herb blend)
Place any veggies in a bowl (make sure the size is uniform and small). Salt and pepper and coat with a small amount of olive oil (just enough to make "shiny")
Place veggies on top of fish and top with lemon slices)
Close the paper "heart" by brining the top to the bottom and sealing with small, continuous folds, starting at the round end
Finish closing the packet by twisting the pointed end of the heart and tucking underneath
Place the packet on a baking sheet and cook 10-15 minutes (low end for "thin" fish, up to 15 minutes for thick cuts)