We all love pizza. It is one of those perfect combinations of bread, condiment, and ingredients that lift our spirits and warm our souls. Like a sandwich it is versatile lending itself to an almost infinite array of possibilities. However, it is way better than a sandwich. It is hot, bubbly, salty, and feels like a meal. It turns out that if we learn a couple of techniques we can easily make pizza at home, stovetop and leave the take and bake and delivery pizzas in the past.
Substandard Deliveries, Pizza Shop Excellence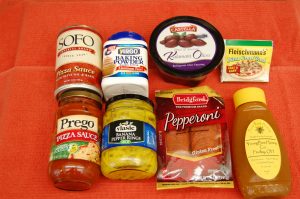 There are two fundamental problems with delivery and/or take and bake pizzas. The most obvious problem is size. For most of us living solo or in pairs these pizzas are just too big. And no matter what anyone says, commercial pizza warmed up just isn't as good. Speaking of good, delivery and take and bake pizza isn't much good for you either. To hold the cost down these pizzas are replete with substandard items and use a good deal of unhealthy fats and oils. In other words, they're only upside is convenience.
When making pizza at home it is important to control our expectations. Stove top pizza will not, in any way, replace a good pizza shop in our life. The pizza that comes from a dedicated and well run pizza shop has two advantages: heat and dough. Those pizzas that we love come from very hot pizza ovens designed for that purpose and are made from amazing fresh dough. Although this process won't replace those wonderful pies we can make a great pizza meal right on our stove.
Tools and Toppings
To make a stovetop pizza we will need a couple of important things. First we need a non stick pan that is about 10 inches in diameter. If you don't have a non stick pan of this size in your kitchen invest in a good one. It is one of the workhorses of the small kitchen. Second we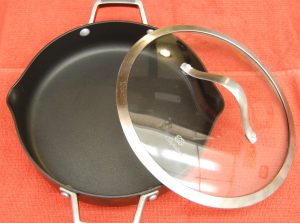 need to be able to cover and seal that pan either with a lid or in a pinch, with foil. If your pan is like many of this type it has vents built in. That isn't a problem. When the recipe calls for sealing just cover the vents with a bit of foil.
A brief word about ingredients. First, you do not have to buy an entire jar of yeast. Packets are available. It turns out they even have specially formulated packets for pizza. Each packet contains a little over two teaspoons of yeast. Or, put another way, one half a packet will make a stove top pizza. Second, commercial based sauces are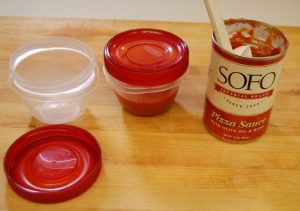 fine. We aren't using very much sauce anyway. You can also take what is left from a can and freeze it for the next round of pizza. Or do what I do and just use the squeeze kind. It stores in the refrigerator just fine.
As long as we are talking ingredients let's talk toppings, Since we are making our own pizza we don't have to stick with the normal, pre packaged, boring toppings. Any deli will have, at the very least, mozzarella and sandwich pepperoni. Just get a few slices of each and forget the pre packaged stuff. However, don't stop there. Good deli's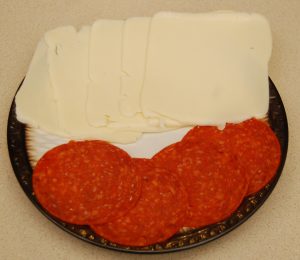 carry a wide variety of cheeses and specialty Italian meats which make wonderful pizza. Also, don't hesitate to try different ingredients, including things like fresh onion, mild or hot peppers and olives. Just make sure that you pat the ingredients down well with a paper towel. Above all her adventuresome. The idea is to experiment and create, not imitate or replicate.
Stove Top Pizza
Here is the basic recipe
1 cup flour
1 tsp salt
1/2 tsp baking powder
1 tsp (1/2 package) rapid rise yeast
1/2 tsp honey (or sugar)
1 tsp olive oil (plus some to cover your hands)
1/2 cup very warm water
Put the honey and olive oil in with the warm water and stir to combine. Place all of the dry ingredients in the non stick pan, stir to combine, then add the water. When the dough comes together moisten your hands with oil and pat the dough uniformly around the pan.
Add in order
No more than 1/3 cup sauce
Mozzarella or good, melting Italian cheese blend
Toppings of your choice
Make sure you do things in order. This is a cheese on the bottom pizza. DO NOT over sauce. Think of the sauce as a condiment like mayo or mustard. In fact, be wary of overtopping any pizza. Too much just makes the pizza wet and heavy.
Put a lid on the pan and make sure it is sealed (use foil to seal vents if you pan has them). Put is on the stove on medium (or just below medium low depending on your stove and pan) for five minutes. After the five minutes vent the pan (or just remove the foil) and cook vented for an additional 10 minutes.
Once the pizza is done slide it out of the non stick pan and onto your cutting board. Then let it rest for 3-5 minutes before cutting. This pizza easily serves 2 with a side salad or one with some leftovers. Just remember to not over sauce the pizza and remove excess moisture from your toppings. Finally, don't be boring. Try a wide variety of toppings and be as creative as you desire. After all we have thrown off the shackles of delivery and take and bake. We can top our pizza any way we like.