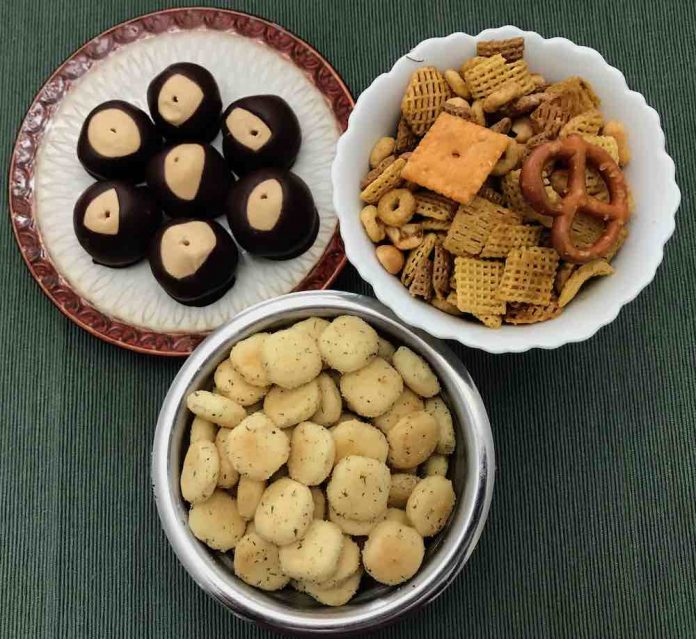 By Chris Watson
There are certain treats during the holidays that demand to be produced. They are so simple, so pervasive, so addictive that the real mystery isn't that we make them but that we don't make them every day of the year. Each of these treats will, in some form or another grace a party that you will be attending from now through the Super Bowl. They are, in some form or another, available "commercially" and those massed produced products are far inferior to the homemade version. No matter whether you live in a studio apartment or have the 8 burner, two oven, granite counter top kitchen of your dreams, these treats are easily made. They combine the tasteful triple threat of salt, fat and sugar. And, you will always be welcome through the door with a bowl or plateful. In no particular order these treats are: Basic Chex Mix, Ranch Crackers, and Buckeyes.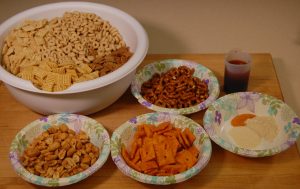 Basic Chex Mix
RightSizeLife.com has done a video on this very subject. Yet, it is still amazing that so many people buy a bag of pre-made cereal mix or try to make this holiday snack in a crock pot. Sure, it works but why?  If you make Chex Mix in the oven it makes your whole house or apartment complex smell delicious and it is almost guaranteed to get you invited somewhere.  There is only one critical ingredient:  BUTTER.  Real, salted, no nonsense butter. The rest of the ingredients are entirely negotiable. However, the basics are simple.  You need 9 cups of "cereals" and 3 cups of "special stuff". The recipe below is our basic recipe that has been devoured for several years everywhere we go. It makes about a gallon bag.

Basic Chex Mix
Prep time:
Cook time:
Total time:
A basic cereal snack mix recipe.
Ingredients
3 cups corn Chex
3 cups rice Chex
2 cups wheat Chex
1 cup toasted "o's"
1 cup dry roasted peanuts
1 cup cheese crackers (like Cheeze-it's)
1 cup bite size pretzels or pretzel pieces
2 tbs Worcestershire sauce
1-2 tbs hot sauce (like Red Hot)
1½ tsp season salt
1½ tsp garlic powder
1 tsp onion powder
Instructions
Preheat oven to 250 F.
In a large roaster pan melt the butter in the oven
When melted add all the seasonings and combine completely
Add cereals, nuts, crackers, and pretzels. Stir gently to completely coat
Bake for 1 hour stirring every 15 minutes. Cool entirely before storing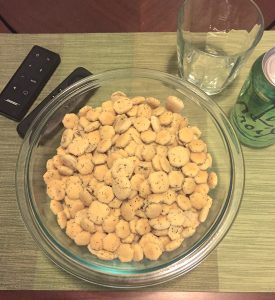 Ranch Crackers
This is one of those recipes that is so good and so simple it is a little frightening. It is particularly good when you float the crackers on top of soup. All of that ranchy goodness tends to bleed out to the soup making the broth extra salty, or as we like to call it, "comforting". You don't need to spend any real money on ingredients here. Generic or store brands are just fine. The key, like all of these recipes, is to use the oven and bake the crackers. Any other recipe that says to simply let them sit around won't have the same effect.

Ranch Snack Crackers
Prep time:
Cook time:
Total time:
A simple party snack
Ingredients
2 ten oz bags of oyster crackers (some bags are 12 oz which is fine)
1 packet dry ranch dressing
¼ cup oil (like vegetable or canola)
½ tsp dill weed
¼ tsp lemon pepper
¼ tsp garlic
Instructions
Preheat oven to 250 F.
Combine the oil and seasonings and mix completely
Place the oyster crackers in a large roasting pan
Pour the oil/seasoning mixture over the crackers and stir to coat
Bake for 30 minutes, stirring after 15. Depending on your oven you may need to bake an additional 15 minutes.
Cool completely and store in a gallon zip lock bag
Buckeyes
No offense to that company that makes peanut butter cups, but this recipe has been around a lot longer than that buckeye wannabe mass produced candy. The recipe below is a "small batch" version of several that are running around on the net.  There are two keys to making a decent buckeye.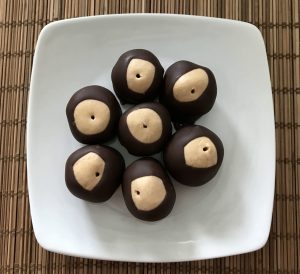 First, you must refrigerate them at every step of the process to get a good coating. Second, you have to get enough powdered sugar in the peanut butter/butter mixture for it to be almost crumbly, like a good cookie dough. Many novice buckeye makers don't put enough powdered sugar in the center mix and the buckeyes don't hold together very well. Finally, don't make the centers too big. This small batch recipe will make about 30.

Small Batch Buckeyes
A small batch version of Buckeye candies
Ingredients
1 cup smooth peanut butter
¼ cup butter, softened
½ tsp vanila
1-2 lbs powdered sugar
1 12 oz packaged semi sweet chocolate chips or dipping wafers
½ - 1 tbs shortening (just enough to thin the chocolate)
Instructions
Combine peanut butter, butter, and vanilla with a mixer.
Begin to add the powdered sugar, on cup at a time. Be careful with the mixer. If you have a stand mixer use the cookie paddle. If using a hand mixer move to using your hands once the mixer begins to labor
One pound of powdered sugar will most likely be enough. However, do not hesitate to use more.
The mixture is ready when it is crumbly in the bowl but hold together when pressed and rolled into balls
Form 1" balls and place on wax paper. Cool in the refrigerator for at least 2 hours
Melt the chocolate over a double boiler or use a small bowl over water. Add a small amount of shortening to make the melted chocolate smooth.
Using a toothpick dip each ball into the melted chocolate and place on wax paper to cool. Place the coated buckeyes back into the refrigerator to set. They are best when stored in the refrigerator.