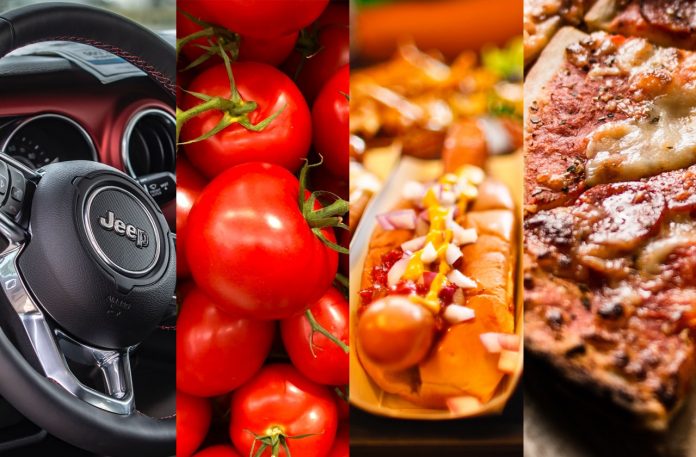 One of the great blessings of living along the western banks of Lake Erie is that we are surrounded by an overflowing cornucopia of products that are made in our own backyard. Cars and candy, pickles and pizza sauce, cookware and candles; the list of local products is pretty extensive. Sure, every location has its "home favorites" but our area is particularly rich in food products and manufactured goods, owing in no small part to our diverse cross section of manufacturing and agriculture.
This season why not go DEEP into our local economy. Besides buying at a local store purchase locally made products as well. Below is a guide to some of the great local commodities made or created right here in our community by folks who live next door. Although some are mega companies with household names, many of these businesses and products are the essence of where small batch meets small business. Buying locally produced or created products is supportive, economical, and downright neighborly.
---
Don't just go for the tomatoes, which are a great locally produced pantry product. Check out their sloppy joe sauce, pizza sauce, salsa, spaghetti sauce, and sauerkraut. Yes, Silverfleece is a Dei Fratelli product. One of our favorites? The Fire Roasted Pizza Sauce.
---
With humble beginnings in a restaurant in downtown Perrysburg, Garlic Expressions Salad Dressing now has a national reputation and is distributed worldwide. It is a clean, simple, and gluten free product that should be in every household.
---
What else can we say: It's a Jeep thing.
---
Most of the logo wear and other team gear isn't made here and the teams are attached to a national system, but our local teams have a national and event international brand recognition. Plus they may be the best entertainment bargain in the city…or perhaps anywhere. NOTHING says Toledo like the Mudhens and their aquatic cousins the Walleye.
---
Thank you M*A*S*H for putting this on the national map. However, those of us here in the know in the great Black Swamp have never questioned the validity of Packos. These are fun products. Be careful with the uninitiated. They may find some of the products to hot or as Packos enthusiasts call them: "amateurs".
---
Staring in the heart of Toledo Ohio in the 1960's, Calphalon is now international and has branched way beyond pots and pans. Small appliances, kitchen knives and bakeware now populate the Calphalon community.
---
Although headquartered in Chicago Il, it is fair to mention them as a Toledo area company since they opened their first retail store right here in 1959. Most of their business is done online and via catalog but as part of our regional history, Hickory Farms deserves a mention.
---
Now located Alpharetta GA, Honey Baked is an original Detroit Michigan company that has operated since 1957.  Many of us here still claim it as local and it certainly has a wide local presence. The company itself is still family-owned.
---
Most of us think of them in reference to their charming retail store on Monroe Street. However, Sofo's is one of the Midwest's largest commercial distributors of Italian products. You have probably already had their pizza sauce on a pizza at some local pizzeria. Their proprietary products are the best and you can get them right in that very same store on Monroe.
Out of Perrysburg OH, their buckeyes. Peanut butter and chocolate goodness.
Starting in Holmes County, their original farm is in an effective center of a triangle with Toledo, Cleveland, and Columbus as points. They have an amazing catalog of products and they still sell mostly to small local markets. You can find their products scattered throughout Toledo's small market landscape.
Chocolate. Yummy Chocolate. Sold throughout the area and directly in Findlay.
Candy Canes and Dum Dums since 1906.
Bean to bar chocolate that meets and exceeds expectations of even the most discriminating choc-o-holic.
There are a ton of great products made locally and regionally. This is by no means the only products out there. Our great local markets are the best at ensuring that many of these products are carried on their shelves. Here is a quick list and their links:
Of course, tons of cool stuff is made locally, including amazing work by local artists and craftsmen. Many of these artisans do not have websites or aren't well marketed. Here are a few places to catch some of their work and when shopping at local shops check out other great local goods and art from around the area.
It is easy to forget that local authors are local "products" as well and we are blessed with a virtual library of local writers who run a spectrum of topics. Although many of these books (particularly out of UT Press) focus on Northwest Ohio, many also range time, location and even space as it were. The bottom line, giving the gift of a local read is not a bad way of supporting our local writing landscape. Authors are listed along with their latest projects (many have multiple books to explore).
The University of Toledo Press, Professional quality books with relevance ot readers in the Western Lake Erie Region.
Sherry Stanfa-Stanley, Finding my Badass Self
Mark I. Cramer, The History of Karate
Patty Slupecki, Suddenly Widowed
Barb Roose, Winning the Worry Battle
Kelly Jean Lietart, The Cat Named Ron
Jill Kemerer, Her Cowboy till Christmas
Dyrk Ashton, Paternus
Rebecca Regnier, Resting Witch Face
Debby Peters, Tell Me Exactly What to Say
 C.P. Morgan, Dorthy Claes and the Prison of Theneimi
Kyle Csortos, Scaredy Bat
Pat Nowak, The ABC's of Widowhood
Genevieve G. Kirkbride, Carmen
Kelly Meister Yetter, Sorry Honey the Critters Come First