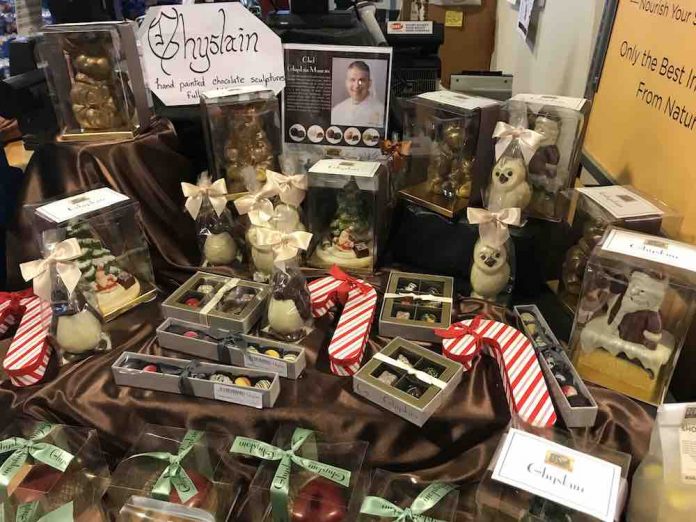 By Krisi Vadnais and Chris Watson
Given the bulk of amazing places to shop locally this season, it is hard to chose a few. Although our Holiday Guides have dozens of cool places listed, we wanted to highlight five as great examples of getting out of the malls and megamarts and into our local retail community. Whether you call these staff favorites, local icons, or really fun places to shop, our staff this week meandered around Walt Churchill's Market on Briarfield, Bartz Viviano, Muna Market, Sofo's, and Georgettes. Don't limit yourself to our five choices this season. Our community is packed with great local shopping!
We could just start and end with "The Big Cheese", an amazing holiday tradition at WCM. Or we could just stop at the wine department, one of the best in town. But really what we should talk about is their cool selection of food items that will satisfy the most refined cook, from gourmand to backyard griller. Add in coffee, coffee syrups, craft beers by the dozen and WCM is a great place to buy gifts.
Sure, Bartz does flowers. But dotted throughout their store is an eclectic selection of gifts fun books about Darth Vader (Vader is fun?) to interesting brick a brac that will brighten any home, condo or apartment. But let's not downplay the flowers and plants. They do that really well and it is an excellent place pick up those holiday flowers, hostess gifts, and centerpieces. Bartz is a stuffed retail space. Don't just browse…explore.
One of our great Middle East Markets in town, Muna has plenty to offer. Our problem is it is hard to get past the deli. Why shop the store when we can grab takeout and go home and stay warm. Our suggestion? Order you takeout then get them to hold it hostage until you look around. That way you only need to pay once.
Well…Sofo's goes without saying here on the west bank of Lake Erie. Sofo's has got to be the best use of a small grocery space in the history of small groceries (obviously Chris LIKES Sofo's). At the holidays they carry all their usual Italian imports. Buy all of it. Then, check out what they bring in for the season, including their Italian holiday breads that they sell by the case load. Then go to the deli for holiday snacks. Then go the bakery…and the wine area…and the olive bar…
In other words, just go to Sofo's.
Fair trade, locally involved, great little coffee house and sandwich shop, plus cool gifts in the back, Georgettes pushes about every holiday button. If nothing else, pick up teach and coffee as stocking stuffers and hostess gifts. However, if you want something a little more interesting that has a story behind it, check out their gifts shop.