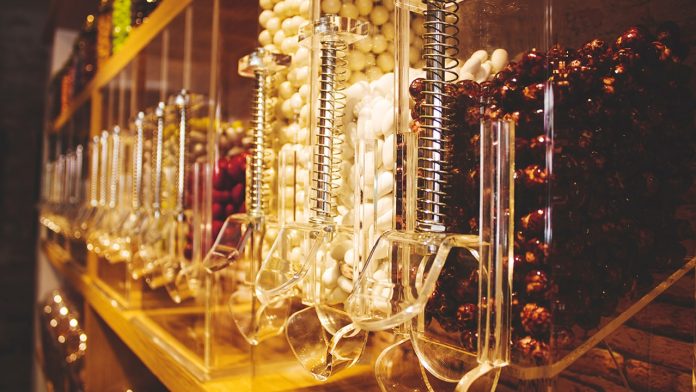 Halloween was confusing. All my life my parents said, "Never take candy from strangers." And then they dressed me up and said, "Go beg for it."
There is something about candy that demands it be eaten…unfortunately in quantity. This is what makes Halloween the perfect storm. Bite-sized, glittering packages conveniently placed in a dish or stashed in our kids' rooms. Its proximity alone ignites the sweet tooth. Then, out of nowhere, on a table next to our chairs, while binge-watching something on Netflix or returning from a haunted house, we have a pile of tiny wrappers and no way to hide the evidence.
The problem isn't a love of candy; that can't be cured. Halloween is a season of treats and we all deserve treats. The problem is the beat-up, squished, probably state Halloween candy that is sold at mega marts. Most of those little bits of sugar are either unsatisfying or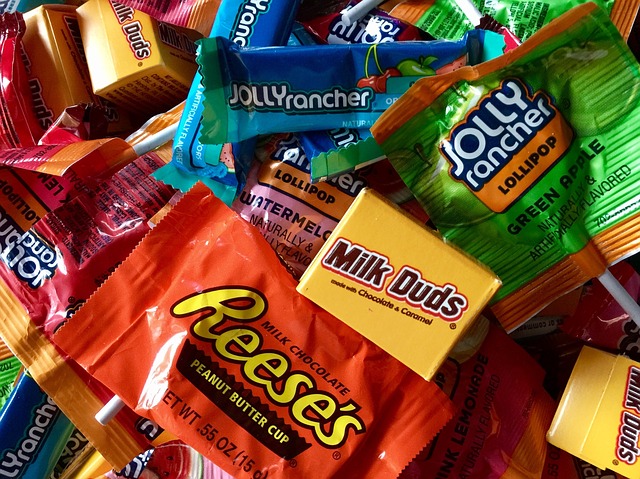 are different than we remember as kids.  If we are going to indulge in treats, why are we raiding our childrens' stashes?
Below is a list of several local companies that produce treats…real treats. The kind of treats you can count on and feel good about. They encompass the spectrum from sinful to sublime, retro to robust. They make the adult in us feel sophisticated, educated and even nostalgic while delighting the kid still lurking beneath the surface.
So, stop prying open all those little packages. Get yourself some local grown-up treats. You are worth it.
Boyd's Retro Candy: Let's face it, kids these days don't know anything about candy, with all their fancy flavors and glitzy marketing campaigns. Thankfully, Boyd's is here to keep candy real and keep it retro. With that being said, don't let the retro part of Boyd's fool you. They have chocolate foil wrapped footballs, caramel candy corn, and dark chocolate cherry slices. They also have regular candy corn, Necco candy buttons, taffy, Pez, Atomic Fire Balls, and everybody's favorite, Wax Fangs. The bottom line: this is a candy Mecca. Bring only what you want to spend, however, because regardless of your age you will be…well…a kid in a candy store.
Christie's Candy and Mints: Perhaps the longest and most well known local candy store around, now serving well into its 4th generation of kids. Not big or flashy, Christie's has a decent selection of candies but is particularly known for its chocolate. If you must, buy the chocolate for yourself then buy the kids off with their foil-wrapped candy coins.
Maumee Valley Chocolate and Candy: Rapidly becoming a fixture in Uptown Maumee, M.V. Chocolate and Candy is a great visit while downtown. They have very high-end chocolates, clusters, and covered pretzels and all are beautiful and luscious. Hidden around the store are other treats, including a selection of candied nuts. Of particular note are the candy-coated sunflower seeds.  Don't question them (or how they coat those little seeds); just try them.
Schakolad Chocolate Factory: Locate in Levis Commons, this nationally recognized franchise is still very local. The chocolate is made on-site and from the top of the franchise to each individual owner, the storefronts are referred to as "retail boutiques". And so they are. These are beautiful, hand made on-site treats that are worth waiting for the kids to go to bed before you even bring out the box. 
Royal Cravings: Located unassumingly on Reynolds, Royal Cravings has great ice cream to be sure. However, their nuts and popcorn should not be overlooked. Finally, they have an amazing selection of Candy and Caramel Apples, all it the old school fashion. Even if you don't like apples, you will like these. We are not sure how much these apples will keep physicians at bay but they will definitely satisfy the adult in you while delighting the hidden child.
The Village Candy Shoppe: Another great candy store caring novelty and retro candy, The Village Candy Shoppe is more boutique and less "in your face" than other stores of its ilk. That doesn't mean they don't have gravitas in the candy department.  
Bassett Nut Co.: A Toledo staple since 1028, Bassett has become a great example of bulk and gift candy done right. Although many people rightly think of Bassett as a corporate or personalized gift company (and they certainly do that well), they also have an outlet store where you can pick up their chocolates, caramel corn, clusters, and covered nuts. It is another great place to satisfy your Halloween sweet tooth without scrounging around at the bottom of the candy bowl.
Ben's: Located right downtown Bowling Green, Ben's has been providing bin candy along with house-made fudge since the '70s. The entire store is retro, to be sure. However, it has particular charm during both Halloween and Christmas. If you are looking for decorations and crafts they can help you as well. As long as you are downtown, don't forget to stop in at Grounds for Thought, one of the areas best local coffee shops and used book store. Grab some fudge, coffee and a Stephan King novel and you are all set for a great Halloween
Bulkfoods.com: Yes, they ship all over the country but we are fortunate to have them in our back yard. They have a great selection of chocolate nut clusters, nuts in general, and other candies and dried fruit to make a great fall party. They also offer spices, cooking and baking supplies, and other bulk cooking items.
Marsha's Buckeyes: This Perrysburg company basically does one thing and it is a regional favorite. The beauty of Marsha's, besides the fact that it is local, is that you can count on both their quality and dogmatic support of the humble Buckeye. Selling from 2 packs to tubs of 50, these treats are a great way of avoiding stale and crushed peanut butter cups. If you are really in the spirit, call them "monsters eyeballs" instead of Buckeyes.
Dietsch Brothers: This iconic ice cream and chocolate shop in Findlay is worth the drive. Their ice cream is to die for. If you don't feel like a pilgrimage Dietsch is sold locally at Walt Churchills Market, Kazmaiers, Sautter's, and Schramm's Flowers. From basic chocolate covered pretzels to high-end chocolates, clusters, brittles, and barks, Dietsch has been helping adults avoid bad Halloween candy since 1937. 
The Next Sweet Thing: Although ostensibly a bakery, TNST has chocolate covered Oreos and they are a great treat to indulge in while the kids fighting with packaging to get half a bite of a Twix bar. If you have an adult-themed party, check out both the Buckeye or the Pumpkin Oreos for something that does double duty as a table decoration and a tasty treat.