By Chris Watson
It's not easy being green…

–Kermit the Frog
At least one day a year Kermit, Elphaba, the Grinch, and the ubiquitous goblin or orc are joined by those whose skin pigment sports less verdigris in celebrating green. Certainly, our local shops, churches, and hangouts are celebrating green, Irish, and basically anything that has to do with Leprechauns.
St. Patrick's Day is one of those holidays that, when looked at through the lens of "big" holidays, is just a playful excuse to eat great food and look forward to warmer weather. And if you are like most of your neighbors, St. Patrick's Day is like a port in a storm. Winter still ways heavy and a decent oasis in the desert that is post New Year is a welcome relief.
There are tons of ways to celebrate locally. Take a gander at the list below and offer up your own options. Whatever you do, don't stay in and hide your verdant mood. It is easy to be green!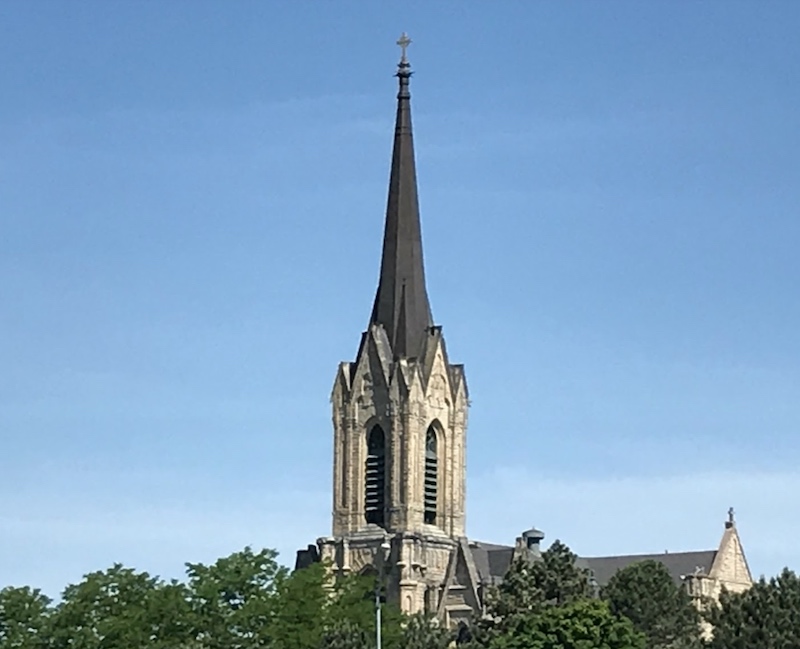 Obviously a good place to start any roundup of the area for St. Patrick's Day. This amazing gothic structure majestically reigns over the city from its perch on Avondale. When traveling north on I-75 it and its companion house of worship, the Greater Toledo Islamic Center are two of the most visually captivating aspects of our area. If nothing else, grab a selfie in front of this picturesque and historic downtown icon.
With a heated beer tent and live DJ's running all day, Jamo's is a great place to just hang out and be green. Free breakfast and the festivities begin at 10 AM. For those of you still in mourning over football season ending think of this as a tailgate party without the logo wear.
The term "kegs and eggs" may be the best brunch tag line ever. Starting up at 11 AM Local Thyme in Whitehouse will host an all day party for the greenish inclined. Ben DeLong begins playing at 2:30 PM.
Get in the mood one day early (then take Sunday off) at Holy Toledo! Irish beer cheddar soup, corn beef sliders, cottage pie, plus Irish whiskey. Music starts at 1 PM.
As long as you are down at Hensville stop by Fleetwood's and celebrate with them both Saturday and Sunday. Music starts at 4 PM and doors open and noon.
A little less intense, no less green, Majestic Oak will offer up a St. Patrick's day afternoon starting at 2 with Big C BBQ on sight and Acoustic group Distant Cousinz starting at 2 PM. What's not to love about an afternoon at a winery. It may not be the green hills of Ireland but it is a good start to the week.
Another great downtown Toledo location. Check out traditional Irish music from Toraigh An Sonas starting at 1 PM.
Don't feel like going out? Don't feel like cooking an entire corn beef? Really really like Jiggs dinner? WCM has you covered. Serving on both Saturday and Sunday this is an easy grab for one of two people to go home, enjoy a taste of the holiday, then move one with no muss or fuss.
InstaPot – Anytime
Corn Beef is on sale. This is the perfect time to drag out that Instapot that you haven't yet used and discover its joys and nuances. The reason we don't make Jiggs dinner at home is because it is a pain. However, if you own an Instapot (or have been secretly looking for an excuse to buy one), this is your chance. Here is one of several dozen articles on prepping Jiggs Dinner at home.