The basic stir fry, famous in Asian cuisine, is a perfect meal for those of us living solo or in pairs. When we think about it, all stir frys are made to order in restaurants and take outs to begin with. It is as if they are designed for the smaller household. The problem, of course, is that we can quickly get tired of the soy, sesame oil, garlic, and ginger flavor profile. (Author's note: I never get tired of that profile but I understand the joys of variety). Add to the fact that stir frys are quick, one pan and a cutting board type of meal that fits into almost any diet, budget, or kitchen size. So, how do we expand the stir fry to other meals and favors?
The first and foremost thing to remember is that you need a couple of basics for stir fry. You need a good metal wok (wok style skillets and pans are fine. The old fashion "ring on the stove" woks are hard to work with unless you have a gas stove.). Invest in one then take care of it. Once you get good at stir frying you will use it several times a month. Second, invest in at least one good sharp knife. Unlike a wok, you will use it all the time. Finally, invest in one good high heat oil. Peanut, safflower, and sunflower are at the top of the list. You won't need a lot of oil for stir frying so buy a small bottle. Yes, it will look "expensive" at first but the results are well worth it. Many even go so far as to invest in organic, non GMO high end oil. Again, it is used by the tablespoon so it is worth the expense. Finally, figure out ventilation in your kitchen. Something as simple as a small fan to help circulate air by the stove (the kind of fan someone might place at their desk) can go a long way to keeping smoke detectors at bay.
Now we get to the structure of all stir frys. Much like the Mongolian or Hibachi grills it upscale restaurants and popular in some Asian grills, our stir fry works the same way. At any of these grills they ask you to "build" your bowl with 5 basic things: Protiens (optional), aromatics, basic veggies, starches (optional), flavorings/sauces. Here is the breakdown:
Proteins: If you are choosing to use meat these include thinly sliced meats like chicken breast, lean pork (pork loin chops work really well), lean beef (sirloin is cost effective, flavorful, and stir frys well), ham, bacon/pancetta, and seafood like shrimp and scallops. You can also use tofu, which in a stir fry is an excellent alternative to meat. And don't think it is just for Asian cooking. Tofu, like chicken, will pick up any flavors we assign to it.
Aromatics: These are the same for almost any cooking, including stir fry. Aromatics are onions, peppers (hot or sweet), garlic, celery, ginger, and aromatic vegetables like fennel. A brief word about garlic. It burns and burns quickly. So, rather than add garlic at the beginning, like with sauteing, add garlic near the end of the stir fry process or use garlic powder or garlic juice.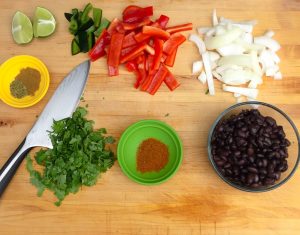 Basic Vegetables: The sky's the limit here. The rule is to cut uniformly in length but thickness will be determined by the cook time of the vegetable. For instance, a one inch piece of carrot vs a one inch piece of zucchini will have different thicknesses (the carrot being think and the zucchini being thick). Different thickness, same length and general shape (as for shape we do the best we can. Mushrooms will not be able to be "stripped" like a carrot unless they are portabella). As for the type of veggies be creative. Besides the usual veggies like carrots, bok choy, and cabbage, get bold with things like baby beets, green and yellow beans, pea pods, and asparagus. Always use fresh. Period.
Starches: Many stir frys will call for adding starches at the very end. The most famous is "fried rice". It is also very common to add pasta at the end of many flat pan dished in Itailian. There is also Lo Mein. In other words, if you want to incorporate a starch rather than use your stir fry to "top" a starch, by all means do so. Just a couple of notes. Starches will fall apart (canned beans in particular, which are a wonderful add). So, when we say the very end we mean it. Also, if you plan your stir fry right you may not need a starch at all. Green Beans, cabbages, and frozen peas (again right at the end) provide an excellent way of given bulk to your stir fry without gluten or other refined starches.
Flavorings/Sauces: There are, of course, many different flavorings and sauces available. In Asian cuisine any good specialty market will have a whole host of options. There are also a wide variety of flavored vinagers available, which are good for both marinading and finishing the stir fry. And don't neglect "mixes", like grill seasonings. Like vinagers, these will work in throughout the stir fry process. Today there are significantly more grill seasonings available than the traditional "steak" seasoning (which is a wonderful combination of salt, cracked black pepper, and coriander). Besides grill seasonings there are the more traditional seasonings, like chili powder, curries, five spice powder, traditional Itailian seasoning, Herbs Provenance, the list goes on and on. Again, this is a go to meal so a little investment goes a long way to quicker, healthier, and tastier eating.
Mexican Inspired Stir Fry
Prep time:
Cook time:
Total time:
A Mexican inspired stir fry
Ingredients
½ marinated chicken breast
1 red pepper
1 jalapeño pepper
1 medium onion
1 can black beans, washed and completely drained
2-3 tbs chopped cilantro
1 tsp chili powder
½ tsp cumin
½ tsp dried oregano
Juice of one lime
Salt, pepper, and red pepper flakes to taste
Instructions
Prepare all vegetables and chicken for stir fry
Get wok to smoking hot
Make sure you use a high heat oil (like safflower or peanut)
Stir fry chicken first then remove from wok and reserve
Stir fry onions and pepper adding the seasonings during the stir fry
Add back in the chicken
Add the back beans and cook until beans are just warm
Add the cilantro and lime juice and serve
Additional Ingredeiants can be roasted corn, grean beans, and asparagus
Toppings can include olives, tortilla chips, salsa, guacamole
German Inspired Stir Fry
Prep time:
Cook time:
Total time:
A German inspired stir fry
Ingredients
1 lbs smoked sausage (or kielbasa/polish sausage that is fully cooked)
1 medium onion
1 red pepper
2 large carrots
½ small cabbage thinly sliced
1 tsp caraway seeds (optional)
½ tsp celery seeds (optional)
2-3 tsp vinager (red wine or balsamic)
2-3 tbs chopped parsley
Instructions
Prepare vegetables for stir fry
In a hot wok with a small amount of oil cook and brown the sausage (it should be fully cooked going in so this is a color and "crisping" step
Remove and reserve sausage. If necessary remove any excess oil except a couple of tablespoons
Stir fry vegetables in the following order: carrots, peppers, onions then cabbage.
Add seeds (if using) when adding the onions
When the cabbage begins to wilt add back in the sausage
Add parsley and splash in the vinager. Stir to Incorperated and serve
Additional vegetables include grean beans, asparagus, root vegetables like parsnips and turnips
Serve with a bit of mustard, horseradish, and mashed potatoes if desired