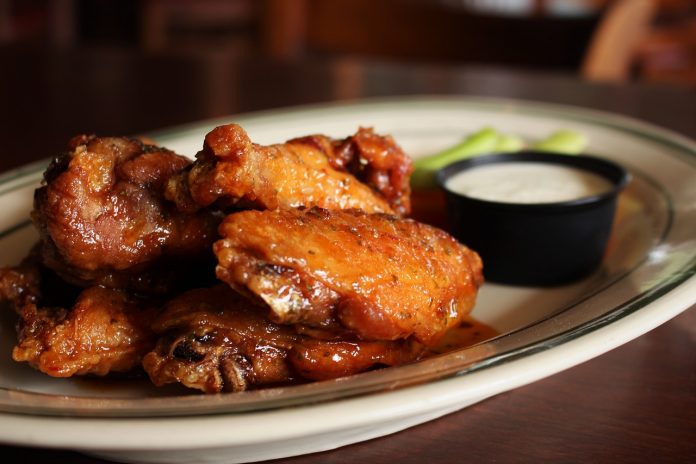 Left Wing. Right Wing. Chicken Wing. —Woody Guthrie
Chicken wings do not have a long history. The traditional story told is that the wings we know today as "Buffalo Chicken Wings" were created by Terresa Bellissimo at the Anchor Bar in Buffalo New York. Depending on which member of the family you talk to, the invention was either an inspired culinary creation or a desperate move to use up an over order of chicken.


Regardless of the wing back story, we are now the inheritors of some seriously great eating. With chicken on the rise as an American protein favorite, both wings and chunks in particular have become a staple of pub grub, tailgating and party snacking. 
Our list includes area favorites that are well known for their wings and chunks. Embedded in this list are a few lesser known places that add to the wing landscape, including BBQ joints and smaller grab and go sandwich shops. Plus, chicken wings and chunks have become a central feature of before game tailgating. With so many games on our schools and universities calendar, many on our list will prepare large quantities to fuel up fans before any big game.
Wings are all about preferences. Like our roundup of top ten local places for chili dogs, our wing and chunk highlights are not a complete list. Where is your favorite place to get wings? Let us know in the comments or on social media and we will add to the list!
Ralphies: A long standing area business with five local restaurants to serve you. They of course have wings but they also have some pretty interesting chicken chunks as well. Of particular note are Italian Sausage chunks, which of course have no chicken in them at all. You can also get from 6 to 100 actual chicken wings breaded or bare plus lots of sauce choices. Several of those sauces are gluten free. 
Inside The Five Brewing: Located in the heart of Sylvania, Inside the Five Brewing is an amazing local brew pub. If you're in the mood for chicken wings and beer look no further. They have delicious wings and a wide variety of brews on tap to help wash them down.
Swig: This is another pub that has made its reputation in charcuterie (sausage and cured meats to those of us without a culinary degree) and they do an excellent job of serving up a wide variety of tempting appetizers. However, don't discount their wings, in particular their reverse wings and double fried Korean wings. Both are foodie spins on the wing classic. Music four nights a week as well.
Fricker's: Started in Dayton in the mid 80's, Frickers remains a small regional franchise and many people love their wings. They get served up in 10, 20 or 50 pieces and have a wide range of sauces to toss in. There are seven locations in our neck of the woods. Although we have excellent wing producers here in our area, Fricker's has the brand recognition and for many they deserve it.
Deets BBQ: Deets have one style of wings…sweet and smokey. And why not, the Maumee based BBQ experts have been expanding across the area with four restaurants but also have a thriving catering business. Smoked wings are amazing and well worth the time and trouble to order them ahead of time. Plus, smoked chunks.  
Ye Olde Durty Bird: Of course The Bird is known for being a strong downtown hotspot with music several nights a week. Their menu is a vast, upscale pub grub and well worth a visit. Tucked away in the center of that menu is something called "Confit Wings". This is a very different process for cooking poultry (and yes, for you foodies it is normally associated with duck). Thinking outside the box gets The Bird a mention.
Sidelines Sports Eatery and Pub: One of the area leaders in pub grub, Sidelines has undergone quite an expansion over the last few years, growing to a total of six restaurants. Wings can be ordered from 10 up to 50 at a time with ten sauces to choose from. Their chicken chunks are called "fowl balls," which rates low on the pun scale but high on the food scale. Check out the country balls which feature mashed potatoes, gravy, cheese and corn. 
Nick and Jimmy's: There are a lot of things that Nick and Jimmy's is known for, including their breakfast hours. However, they also have chicken chunks and wings in a wide variety of sauces and toppings (for the chucks). Wing orders up to 50 and chunks in a 5 ¼ pound party pack. 
Local Thyme: A gastropub in Whitehouse with a creative menu, Local Thyme isn't the most natural place to think of for wings. However, besides the ubiquitous chicken chunks and regular wings, they also have in house smoked wings which is definitely a step in the eclectic direction. Great location with music and a wide menu for the non-wing enthusiast in your group.
Gyro King and Wings: Obviously Gyro King and Wings has Gyro's. Truth be told their menu is huge and well worth exploring. However, located right at the heart of that menu are wings, with order sizes up to 50. Plus fried chicken, subs, a wide variety of appetizers and something called Hala Hala Bowls. We are not sure exactly what those are but based on the menu and fun name alone they are worth investigating.
Wild Wild Wings: First, you have to admire any place that lists regular, whole, boneless and jumbo as options for wings. This a place for some serious wing selection. However, they also have a great Mediterranian feeling, including grape leaves, humus and gyros. Oh, and fried mac and cheese wedges. They offer up to 36-piece combos for cash and carries.
Wing Express: Small shop located on Byrne and Heatherdowns and a favorite of those attending the UT Medical Campus, Wing Express is a pretty straight forward cash and carry wing place. With orders up to 100 for those who are feeding the masses, they are a great, small local business. If you browse the reviews you may also want to try a Gyro, which is a whole other article.