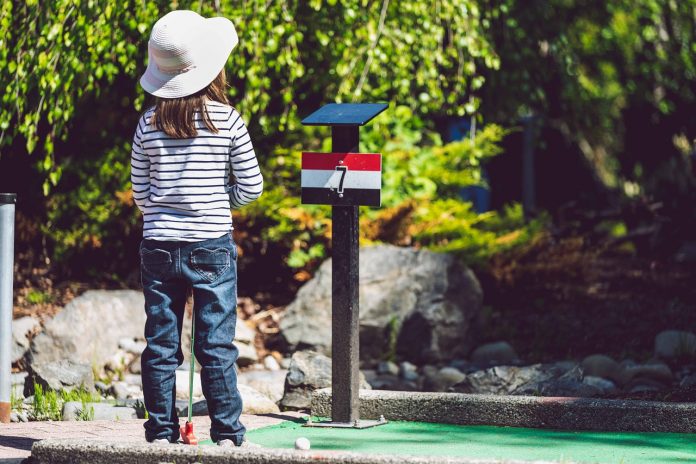 It can be hard to find things to do that cross generations. For many families, especially when guests are visiting, looking for affordable, accessible, and interesting things to do from 60 months to 60 years is a challenge. 
Fortunately, there are interesting activities in our area that can appeal to any age group. The beauty of these local pursuits is their proximity. Plus, many carry a nostalgic feel, granting an instant appeal and making us feel like we are on vacation rather than just enjoying a day off close to home. 
Couple any one of these micro activities with a stop at a local diner or soft-serve place, and for a few dollars you have a summer treat in the heat. None of our suggestions require much of a drive or a big time commitment, making them perfect for a wide range of ages. 
Thanks to our local attractions, you never have to listen to "I'm bored" this summer. These local businesses have your back.
Located on Angola right in the middle of town, Sportway has miniature golf, batting cages, and go carts. Event packages for tickets to all the activities are available for a larger party, since not everyone is a Masters level putt putt golfer. For after game treats there are a couple of soft serve places on Angola, including Netty's west of Sportway.
Both locations (Heatherdowns and Alexis Rd)  have been in operation since the mid 70's and have been renovated several times. The Heatherdowns location has both miniature golf and an arcade. The Alexis Road facility is more extensive, including mini golf, go carts, bumper cars, batting cages and an arcade. For an after play treat,  Shivers Ice Cream is down the road from Heatherdowns and Netty's is west on Alexis. 
There must be something about the Reynolds corridor for putt putt, as the Maumee SportsMall is the third along this stretch of South Toledo road. Besides batting cages and miniature golf, this facility is an excellent practice range for bigger golfers, has in house pros and offers both grass and synthetic hitting stations. For soft serve try Penguin Palace on River Rd. in Maumee.
South of Perrysburg and on the way to BG, Perry Falls states boldly that they don't have windmills or loops. However,  there are water hazards on almost every hole. There is something deliciously over thought about a miniature golf course where water comes into play. If making a day of it, Levis Commons is right up the road as is Mr. Freeze.
Just over the Michigan border is Quarry Ridge. Besides being a 9 hole course with a driving range, Quarry Ridge Putt Putt is a  par 3 rather than a par 2 course, presenting a bigger challenge. Regular golfers don't sneer…it takes a true putt putt aficionado to master a par 3 course and even a scratch golfer will have to bring their A game to this miniature golf course. Scoops Ice Cream is close by, as is another Netty's.
Remember arcades…real arcades? Large bulky machines with one joystick and maybe a fire/jump button. Black on the exterior with a three colored logo on the side of the machine  and video graphics that were, at best, "sketchy". That's NickleWorld and we love it. A cover charge gets you through the door, a few nickels gets you some games, and quick reflexes get you high scores. Don't let the "classic games" moniker fool you. Kids of any age like arcades.
The Maumee Indoor is a cool place to see a movie. Sure, it isn't as modern as the megaplex cinemas but it is more affordable and easier to navigate, especially with little ones who may still be squeamish about the movies (including the size of the screen, the dark, and of course the volume).  The Maumee Indoor is a classic and affordable way to introduce kids to the movies and has enough history to add a bit of nostalgia to the experience. 
Drive ins are the ultimate summer throwback. Sundance offers first run movies and they emphasize on kids. Although we are sure it is hard for anyone under 50 to conceive that this was a STANDARD way to see a movie, Sundance is an awesome multigeneration way to be lazy on a summer evening. The only thing missing from the experience is the speakers that hang from the windows.
Books…the ultimate summer adventure. There isn't any age group that can't get lost in a bookstore. Grounds for Thought has two advantages over conventional used book stores: coffee and a play area. If the kids aren't quite reading yet (or haven't yet caught the bug) there is a play area to occupy little ones while you find your next summer read. If you have a reader on your hands, there is coffee to occupy you while your reader explores the stacks. This BG icon is well worth the trip.
One of the last standing independent bookstores in the region, Gathering Volumes caters to readers of all ages. They have book clubs, activities, games, and of course lots of books. They are a charming local retailer standing vigil against downloadable e-books and mega store book sections. With a broad selection across all reading levels. Royal Coffee House and Bakery is close by and O-Deer Diner is up the road for ice cream.
Besides taking in specific activities you may just want to get out of the house.  Check out our lists of other things to do this summer :