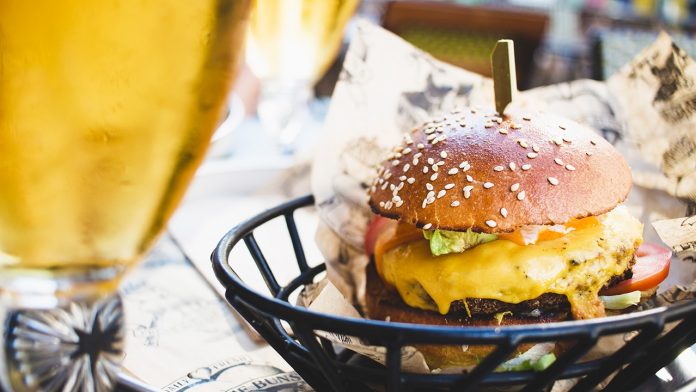 Looking hard for a drive in, searching for a corner cafe, where the hamburgers sizzle on an open grill night and day.
There is something about getting back to school and a slight nip in the air that tells us to stop eating salads and start eating burgers and fries…that and obsess over all things pumpkin spice. Or maybe it is fond remembrances of school days when a burger and fries were the best thing ever (along with pizza). Or perhaps if you are on a strict diet and you have reached your "forgiveness" meal/moment/day/whatever, nothing says "off my diet" like a cheeseburger. It could also be that if the hot dog is the purview of the baseball diamond, the more hearty burger and its accompanying fries seem to pair better with the football gridiron.
This is all speculation, of course. There is nothing wrong with hot dogs, salads, healthy eating or really any food that is served here along western Lake Erie by a local restaurant. Nor is there any "perfect" time for good food, be it a burger or sushi.
Burgers, however, have a particularly local bent. Yes, there are national chains and some even have respectable burgers (Publisher Chris Watson is particularly fond of Steak 'n Shake when not looking for the perfect local joint). However, if you want to experience burgers in all their glory, go to a local place. And yes, someplace that serves amazing burgers has earned the right to be called a "joint". 
Below is a list of some of our favorites around town, broadening our growing list of eateries including breakfast places, craft breweries, and regional wineries. Don't hesitate to add to the list and certainly join us in the hunt for the area's best burger!
Top Places to Grab a Burger
Berger's Bar & Grill: There are many who would claim this to be the burger joint to beat. What we love about this place is that it is not overthought. It does not have a huge menu. Just great burgers served straight up with pretty basic condiments. Yes, they have some specialty burgers that are certainly worth trying. However, when you do the basic burger right, why fool around with frills.
Grumpy's: We begin with the fact that what most of us know, at least in passing, is about Grumpy's salad dressing which accompanies their amazing garbage salad. But we are here to talk about burgers and Grumpy's serves up some of the best meat and bun combinations in town. They also have several vegan options that are really appetizing even for the carnivores among us (particularly the "Goldie Lox" which is really carrots, which is old fashion clever culinary crafting). Their food trucks dot the mobile food landscape as well.
Bar 145: Selecting a burger at Bar 145 is a bit like buying clothes on the internet…lots of steps and choices. And each one is worth it. These upscale burgers can, of course, have actual beef patties. Or you can select chicken, cod, salmon, veggie, and turkey. Then pick a bun (for which you have several choices), then pick your toppings. This is a true burger bar with selection and construction wide open. Half the fun is creating your own burger in the first place. The other half is eating it.
Perrysburgers: Locally owned and run right in the heart of downtown Perrysburg. Obviously the name says it all. They are about burgers, shakes and fries. Many recommend the sweet potato fries and we can't argue with them. If you feel like walking off your burger the downtown area has a lot of shops open during the day or you can go visit the statue of the Commodore and gaze out over the Maumee after your burger fest.
Ye Olde Durty Bird: Many places that call themselves a "gastropub" can be overselling. This is not the case for the Durty Bird. They know exactly what people expect from a gastropub and they deliver. They have a wide variety of burgers to satisfy even the most burger obsessed and they take the food on a bun further with great chicken, lamb, turkey, and veggie options. We are particularly taken with the Pimento Cheese Burger.
Rose and Thistle: Two things you have to know about Rose and Thistle. First, you have to have reservations. Second, they don't do a burger every night. However, when they do, it is the highest quality beef patty around and they cook it perfectly. Plus, if you are on a date, you can still have a burger and feel classy. When their burger is on the menu, Rose and Thistle is a hidden gem. It might take some effort (and waiting for the burger to be on the menu) but the work is totally warranted.
Table Forty 4: This downtown bar and restaurant is not necessarily known for burgers but it should be. They have five solid selections accompanied by either hand cut fries or homemade potato chips. 
Beckett's Burger Bar: This Bowling Green icon has 20 types of burgers and they all sound cool. They also have both chicken and a black bean veggie option for all of their burgers. We recommend The Falcon (named of course for BGSU) because it has 4 different cheeses to go with the 4 pieces of bacon they pile on top. The epitome of "go big or go home…."
Doc Watson's: Toledo's south end watering hole has a solid selection of burgers befitting any pub menu. In fact, they have an excellent beer list, massive center bar, and live music on weekends. Check out the Jon Boy Burger, which is served on Texas Toast.
Fowl and Fodder: For the more discriminating among us, Fowl and Fodder has made a reputation for being the up and coming farm to table restaurant in the region and their burgers reflect their commitment. Besides grass fed beef they have alternative burgers as well. Not a huge selection but what they lack in variety they more than make up for in locally driven quality.
Schmucker's: It is easy to disregard diner burgers, especially in a world where burgers have become art forms. However, Schmucker's has great food in general and their burgers are worth the trip. Their Wimpy Burger has a decades long reputation. Also they have pie…really really good pie. 
BG-Burgers: At first glance BG-Burgers seems like a typical college town eatery. However, it really deserves a second look. They source their meats from BG's go to butcher shop, Belleville Market, which puts them high up on the local support scale. Plus they have excellent bread options along with other menu items, including the inheritor of BG favorite DiBenedetto's subs.