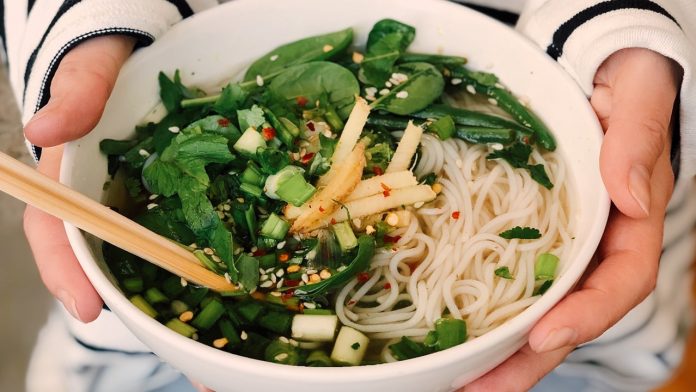 Every since Campbell's released its slogan, "Soup is Good Food" in 1975, soup has done nothing but grown in popularity. According to a 2017 survey conducted by Campbell's, fully 95% percent of Americans claim to "love" soup. Statistica reports that the soup industry is currently at $7 billion. Given the cost of your average can of soup, apparently, we really do think soup is Mmm Mmm Good.
Fortunately, with the wide variety of restaurants, diners, and markets available to us here in the greater Toledo area, we don't have to put up with canned soups for lunch. Our list doesn't include "specialty soups" that many excellent restaurants offer. That is a whole other list. What follows is a list of dinners, soup counters, sandwich shops, and markets that carry basic, comforting and above all mood-elevating soups. And if you want to concoct your own salty and comforting elixir, check out our article on Salad Bar Soup.  
Zingos: This Mediterranean diner is known for many things but it should be lauded for its soups. Zingos always has a fabulous chicken and rice, which is gluten-free. They also always have red lentil, which is both gluten-free and vegan. If you get past these two fabulous selections don't hesitate to jump on their soup of the day, which is both inventive and playful. Locations in downtown Perrysburg and Secor and Central
American Table (Perrysburg): As with so many diners, chicken soup is on the menu. However, the chicken rosemary at American Table is top-notch. They also have a wide variety of other soups, including an old school cabbage soup. The bottom line, this is a place to sit and relax for a cup or carry out a bowl. 
Zoup: Started in Southfield MI, Zoup is now a national franchise. However, unlike so many restaurant franchises Zoup allows its owners quite a bit of leeway in their selection and presentation. The tomato, spinach and brown rice soup is not only good but really healthy (along with being vegan and gluten-free). However, if you are feeling in a comfort food mood, try the chicken pot pie soup. Now with locations in Maumee and Sylvania Ave.
Walt Churchill's Market: WCM has grab and go soups that are, to be frank, the heart of their take out deli selections. Sure, they have salads, sandwiches, a full deli, even sushi. The house-made soups, however, are the crown jewel of their take out. Selections are constantly changing, which provides both a variety and playfulness to grabbing lunch on the go. Locations at Briarfield and Perrysburg.
Glendale Garden Cafe: Moving just up the road from their original location at Detroit and Glendale, one of the best things about this Toledo favorite remains its soups. The chicken noodle soup is particularly hearty (and you can get it with a yeasty dinner roll, adding to the comfort factor). However, they feature ham and bean soup that seems to fly out of the kitchen at a steady pace. 
Reynolds Garden Cafe: If moving the original location had no effect on GGC's soup quality, either did opening a second location. Same soups, same comfort.
Jing Chuan: Sure, family-style service and upscale Asian is what Jing Chuan is known for. However, you absolutely must try their soups. Do what ever it takes to get the sizzling rice soup. Also worth investigating is the Snow White Deluxe and the Three Ingredient. These are dinner selections but a great way to bring home Asian comfort after a long day. 
Georgettes: A fixture in downtown Maumee and a great soup and sandwich lunch counter. The cause that Georgettes is equally worthy of our attention. They are a lunch-only restaurant and of course have takeout. Don't forget that they have parking in the back as well as on the street. 
Clara J's at 219: A hidden gem in Maumee and certainly worth a visit. Their soup selection isn't vast but it is special as is the rest of the menu. Plus the teas, the sandwiches, the quiche, the scones…and the teas. Many of their herbal teas our locally sourced. This is a charming addition to downtown Maumee and offers soup comfort on many levels.
Barry's Bagels: This may be the first place people think of around town when it comes to lunch soup. Although having expanded to locations throughout Ohio and Southeast Michigan, Barry's is still known for its great chicken noodle and of course Matzo Ball soup. 
Pho' Viet Nam: Located on Upton Ave, Pho' Viet Nam should rank on any list of great soup places because it is, in essence, nothing but noodle soups. Yes, they have other great Vietnamese dishes. However, the noodle soups are both comforting and transformative. During a long week of drudgery, treating yourself to Pho Ga (chicken) or Hu Tieu Chay (vegetable) will elevate even the dourest mood. Except on a Tuesday. They are closed on Tuesday…
Kermits: BG's favorite breakfast place should not be overlooked for lunch nor for soup. Rumor has it that the ham and bean soup is worth the drive.
Monnette's Secor, Monnette's Glendale: Both of these market delis have great options for grab and go lunches (or just general shopping). They should not, however, be overlooked for their take out soups. A quick grab for lunch. Be aware, though. They make limited quantities that normally don't last long.