By Chris Watson
Soups are good food, That isn't just a tag line, it is a fact. With cold and flu season, general wet and nasty weather, even just dark and dank nights, soups lift our spirits and can be strong, stand alone meals, The problem is that commercial (read here as canned)  soups are filled with stuff we don't want, Making soups for ourselves can be an exercise in wasted ingredients(what do you do with the other 12 stalks of celery?), The answer is to make use of something that appears in several markets, the salad bar.
History of Soup
Soups have a culinary history as long as we have had pots, and according to culinary historians, that is about 20,000 years, Soup has certainly been a mainstay since metal pots have been developed. It was, in essence, a way to break down stuff we couldn't eat into softer, more digestible bites, Frankly it still is, The word itself comes from the Latin "suppa", meaning bread soaked in broth (French Onion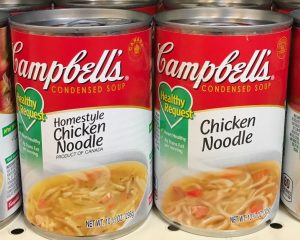 anyone?), It also has roots in the word "sop" from early German, Obviously softening bread was a big deal.
Here is another little known fact: the term "restaurant" is early French (16th century) for a concentrated cheap broth that, supposedly, cured exhaustion. It was sold by street vendors as a sort of a medieval Red Bull.
Canned "condensed" soups, developed by (you guessed it) the Campbell's Company in 1897, have been a kitchen staple practically since their inception, According to Campbell's, Americans three favorites are Tomato, Cream of Mushroom, and Chicken Noodle, How much do we like it?  Well, we eat 2.5 BILLION bowls just of these 3 soups each year.
Making Soup at Home
With all due respect to the undisputed monarchy of soups, canned soups just aren't that good for you, Oh, they make "healthy" versions (available by "request") and there are other low sodium, low fat, gluten free, non GMO, vegan…the list of what ISN'T in these soups is longer than what is actually in them.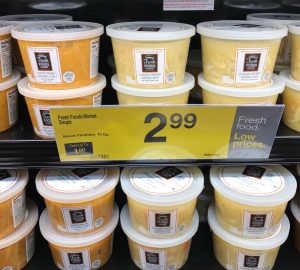 One alternative is to buy soups locally, Several markets carry an excellent selection of in house made soups, There are several restaurants that make good choices as well, These are better but not necessarily what we want, Soups are supposed to be distinctive and personal, not mass produced like work out protein supplements. So how do we make soup without a ton of leftovers, either ingredients or the final product?
Shopping the Salad Bar
The obvious answer is to make soup at home and it surprisingly easy, One of the best resources for making soup is the salad bar at local markets, Walt Churchill's and Fresh Thyme both have salad bars, as do some of the larger Kroger's. Here you will find, as a bare minimum, cut up carrots and onions which are a great basis for basic chicken soup, Add to this celery, spinach, broccoli, cauliflower, mushrooms, and sometimes green peas and you have the perfect basis for chicken vegetable soup, Just buy a little bit of each of the veggies you want (no more than a cup of each or a couple of "tongs" full), The salad bar is sold by weight so it is easy to get what you want, Salad bars are "ready to eat" so the only thing you may need to do in prep is run a knife through the ingredients to make the sizes uniform.
The other things you will need is a box of chicken stock, two bone in chicken thighs from the meat counter (or one bone in breast), and either a handful of noodles (about an ounce by weight).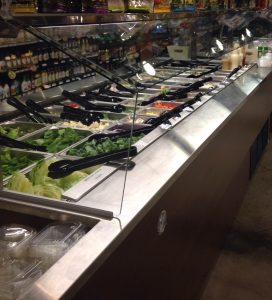 The rest is easy, All you do is cook the chicken in the boxed stock, When it is done (20-30 minutes depending on the size and whether it is thighs or breasts) remove the chicken to cool, Increase the liquid to between 6 and 8 cups and add the onions and carrots and return to a low boil, After 5 minutes add your pasta (we think angel hair is the best because it cooks in about 4 minutes) and cook to the low end of the cooking time, Remove the skin and bones from the chicken and shred, Add back to the soup to finish, Adjust the seasonings as necessary.
A word about salt, Most of us like salty chicken soup, You can, of course, add salt, You can also add bouillon. Dry bullion is pretty much just salt so don't waste you money, The paste style bouillons (we recommend the brand "Better Than Boullion") are pretty good. Use a couple of teaspoons INSTEAD of salt it will not only be your salt component but add richness, This is a good trick for gravies as well, Paste bouillons come in a wide variety of flavors (Chicken, beef, vegetable, mushroom ham, and seafood to name a few) and are a great staple to have in the fridge.
Finally, looking to get out of gluten or carbs?  Chicken vegetable soup our chicken and rice soup is just as easy, For vegetables use your salad bar as a go to again then pick up a couple of small red potatoes, Make sure to dice the potatoes and run a knife through any vegetables that are too big, Cook the potatoes and any "tough" vegetables first, then proceed with the carrots, onions, etc, For chicken and rice add the rice up front (if using brown rice this will take some time), Once the rice is cooked proceed like chicken and noodle or vegetable.
So, make your own soup, It is easy and painless. If you haven't check out our poaching chicken method, This is a perfect way to use on of the chicken breasts and the poaching liquid.
As an alternative, don't hesitate to use your InstaPot! Many of these recipes are there same as ours BUT we are pulling some of the ingredients from a salad bar AND we are reducing the size. Sure, 8 quarts of chicken noodle soup SOUNDS ideal but then when it dominates your freezer for a month…not so much. Here is the key:most InstaPot recipes call for you to simply make the stock portion of the soup under pressure. They then have you move to the sauté function to finish with the noodles and lighter veggies. So, skip the boxed stock, follow their directions for making stock and/or soup. InstaPots are great way make stocks. Add a few salad bar veggies and some rice or noodles and you are set.
Most of all, it is a great treat when you don't feel good or to make for someone who needs a pick up, Actually, forget about being sick, Soups are great meals, When you make them at home and control the ingredients they soups are, truly, good food.

Salad Bar Chicken Soup
Prep time:
Cook time:
Total time:
Make use of the salad bar to make chicken soup at home. Healthier, tastier, and easy
Ingredients
2 bone in chicken thighs (or 1 bone in chicken breast)
1 box (large) chicken stock (low sodium if desired)
1-2 oz of dry pasta (like angel hair, orzo, or pastina)
½ to 1 cup carrots, from the salad bar
½ to 1 cup onions, from the salad bar
½ to 1 cup celery, from the salad bar (optional)
1-2 tsp paste style chicken boullion (optional)
Instructions
Place chicken in a heavy pan and cover with box stock. Bring to a boil then simmer until the chicken is done.
While chicken is cooking adjust the size of the salad bar vegetables if necessary by cutting with a knife. Uniformity is desired.
Remove chicken to cool and add water to broth to a total of 6-8 cups.
Add onions, carrots, and celery and bring to a boil. Reduce temperature and simmer for 4 minutes.
Add pasta and cook as the box directs.
Remove skin from chicken, debone, and shred. Return to the soup when pasta if done.
Adjust seasonings and check for salt. Use boullion instead of salt to taste.
Substitute rice for the pasta but add the rice FIRST and cook to package directions. Then add vegetables
You can make a vegetable version of this soup. Use a couple of small red potatoes and dice instead of the pasta. Use other vegetables from the salad bar as additions (broccoli, cauliflower, green peas, mushrooms, etc)