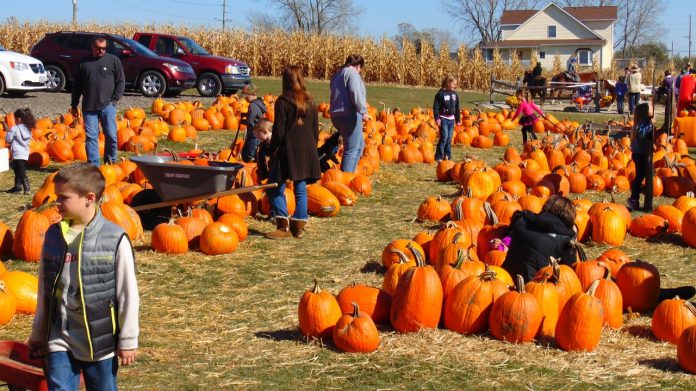 Each year, the Great Pumpkin rises out of the pumpkin patch that he thinks is the most sincere. He's gotta pick this one. He's got to. I don't see how a pumpkin patch can be more sincere than this one. You can look around and there's not a sign of hypocrisy. Nothing but sincerity as far as the eye can see.  —Linus van Pelt, The Great Pumpkin
If there is one thing we have along the western shores of Lake Erie it is sincerity. We also have lots of pumpkin patches, much to the delight of both Linus and pretty much anyone else who likes the fall.
From iconic apple orchards like MacQueen's to working family farms who are opening their homesteads to the community, pumpkin patches abound in our area. Besides the usual "pick you own" allure, many of these locations offer simple kids activities that provide inexpensive, yet enriching outdoor fun for the whole family.
As the weather turns colder and the days get shorter, capitalizing on our outdoor family time becomes a priority. Thanks to our profuse agricultural heritage, fall is a great time to get outdoors and explore our farming neighbors.
Pumpkin Patches, Corn Mazes, Hayrides and Farm Tours
Fleitz Pumpkin Farm – Oregon OH
Open Daily

Pumpkin patch

Kids Maze

Snack shack including cider and donuts
MacQueen Orchards – Holland OH
Open Daily

Large working orchard for "pick your own" apples

Farm Market includes a wide variety of locally grown produce and locally made products

Outstanding bakery and sweet shop (many people drive out just for the donuts)

Gift shop and boutique on site
Stevens Gardens – Monclova OH
Open Daily

Pumpkin patch

Hayride, petting zoo, corn maze and other family-friendly activities

Farm market shopping

Host of Field of Fear haunted attraction
Johnston Fruit Farm – Swanton OH
Open Daily

Pumpkin Patch

Pick your own apples

Hayrides, petting zoo and working cider mill
Jason's Pumpkin Patch – Oak Harbor OH
Open Daily

Pumpkin Patch

Kids activities including hayrides, pony rides, slides, straw maze, pedal go karts, pedal tractor track, corn box

Concession stand
Pumpkin Peddler – Bowling Green OH
Open Daily

Pumpkin Patch

Kids activities include pumpkin maze, ride through the tree farm

Craft store has decorating items including Indian corn, hay bales, corn stalks, gourds
Gust Brother Pumpkin Farm – Ottawa Lake MI
Open Daily

Pumpkin Patch

Large farm market with pre-picked pumpkins, squash, jams, jellies and butters

Fall decorating needs including decorative corn and squirrel corn, wreaths, corn stocks, decorative gourds, wheat and oat shocks

Concession stand

Petting zoo and hayrides
Kackleberry Farm – Monroe Mi
Open Thursdays through Sundays

Pumpkin Patch

Corn Maze

Bonefine (reservations required)

Shopping and restaurant on site.
Trabbic Family Pumpkin Farm – Erie MI
Open Daily

Pumpkin Patch

Corn Maze, hay ride, pumpkin train ride, pony rides, children play area

Large farm store including pumpkin, fall decorating items, gourds, straw and hay bales

Food items include apples, cider, fall breads, honey, fresh pies, donuts