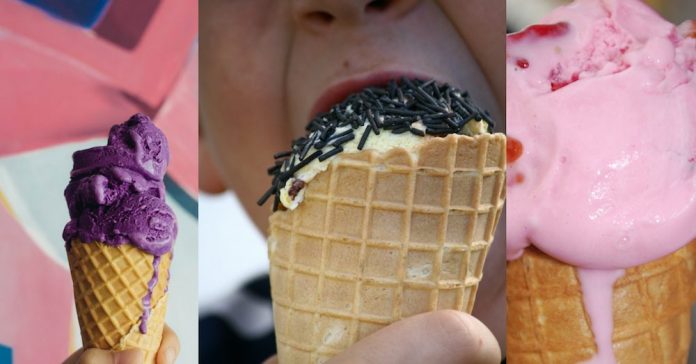 Publisher's Note: We published this list earlier in the summer. Now, at the last "official" weekend of summer, we thought it would be a great reminder that these bastions of local confections and culture deserve another place on our front page. Eat, lick, and visit with your neighbors. Summer is waning….
By Chris Watson
There are many wonderful things that return in the Summer.  Corn dogs, Mudhens baseball, camping, farmer's markets, flowers, outdoor music, grilled (or burnt) brats…or really anything on the grill…the list is as personal as it is endless.  But there is one thing above all that forms a yearly line of demarcation between warm and cold, winter and summer: the return of soft serve ice cream.
I realize, of course, that you can get soft serve ice cream any time of the year. There are places that offer soft serve as a matter of course.  Buffets tend to have soft serve machines.  There is still a Dairy Queen or two around.  And Sonic. And the ubiquitous Wendy's.  However, these commercial products are substitutes.  They are, at best, Band-Aids on the winter wounds of desire that pacify us until the real deal returns to our community.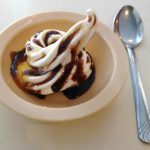 No other product has quite the charm, the adventure, and the deep sense of satisfaction that comes from buying a soft serve cone out of the window of a small building.  Usually the person taking your money is young, often at their first ever pay stub producing job.  On the menu, besides straight up soft serve, are blizzards and shakes, sundaes and malts, plus a whole host of "special" toppings and concoctions with a dizzying array of names like Superman, Bart Simpson, dirt, mud, krunch kote, gummy worms, and moose tracks.  Above all there are sprinkles in which the only purpose is to add a festive color to the ice cream.  If you have ever seen a sprinkle you know that those colors are as artificial as a packet of Kool aide.
A brief note here about "Krunch Kote". This is an original DQ concoction that is as elusive as it is delicious. There are other ridiculous ways to spell it (like the proper "crunch coat"). You can get food service quantities from suppliers. You can even find "recipes" for it so you can sprinkle at home. However, the only proper way to eat "Krunch Kote" is dripping from a cone on a really hot day where there is a race between your tongue and the melt rate of ice cream. The ingredients are a mystery and should remain that way. 
But the best thing about these wonderful gathering places is that they are the epitome of LOCAL.  They are locally owned, locally run, locally staffed, and live or die by the local community coming out for a cone or malt on a hot day. They dot the local landscape like rest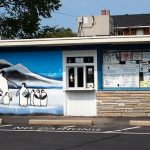 stops on the Interstate and they provide respite to any traveler who needs to cool down, relax, or just stop for a moment and regroup.  It is impossible to be sad or grumpy or even "indisposed" while eating a dip cone.  The relief might be fleeting and the joy may melt as fast as the ice cream but who cares?  At least in the moment, soft serve ice cream is the universal panacea.
Beyond the delight of the ice cream, ice cream stores are also places of community involvement.  When standing in line, if you pay attention, an amazing tableau of life will play out before you.  It is at the ice cream window where many children get their first real taste of eating freedom.  They get to choose what they want.  Many kids get their first taste of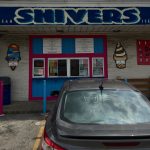 financial decision making as well.  They must calculate, carefully, how much money they have and what it will purchase.  Behind the window there is also some financial issues happening.  For many teens, this will be their first encounter with the direct relationship between hours worked and pay.  It will also be their first encounter with pesky issues like taxes.
So let us all get out there and support our favorite neighborhood ice cream stand.  They are pillars of our community, staples of summer, even havens from all that harass.  Above all they are the most feel good purchase you will make.  They are small, locally owned and operated beacons in a globally dominated economy.
And if all that local support isn't enough they also serve ice cream…which is its own cool and delicious reward.
Mr. Freeze
627 W. South Boundary, Perrysburg OH
2106 W. Sylvania Ave, Toledo OH
416 Louisiana Ave, Perrysburg, OH
750 W. Boundary St., Perrysburg, OH
Igloo Ice Cream(opening soon, new ownership)
990 W. Poe Rd, Bowling Green OH