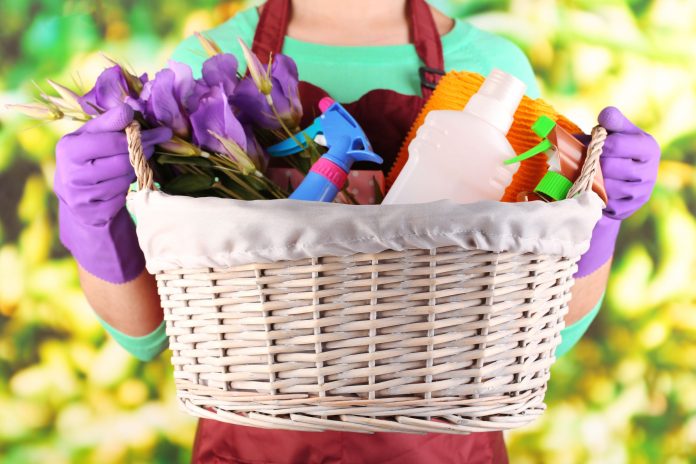 Yep, it's Spring out there. And that means that every single speck of dust is now visible and in living color. Dust bunnies are threatening to become dust buffalo, peeling paint is obvious, the stuff that you stuffed in the basement is threatening to take over the house, and in general, it is time to clean up our stuff.
The great thing about Spring cleaning is that it gives us an opportunity to give our houses, cars, wardrobes, and in general our lives a much-needed makeover. Plus if we get our chores out of the way now it leaves the entire summer to do what we want…i.e. play.
Don't wait! Check out these local places to get your seasonal makeover on the road!
Top 10 Places to Help with Spring Cleaning
ReStore (Habitat for Humanity): Like all resale shops, Habitat is a "two-fer". Not only can you donate your gently used household items but you can shop for the ones that you might need. In essence, ReStore is actually a "three-fer". All proceeds benefit Habitat for Humanity. Check there website for what they carry and what they accept in donations. And don't forget to check with them for your household repairs and remodels as well.
Jdog Junk Removal and Hauling: Veteran owned and operated, Jdog is the perfect place to begin a project or finish one. They have a large list of services and are definitely focused on reuse, recycle, and doing their jobs in an environmentally friendly way. For your larger spring cleaning projects, Jdog is a great place to start.
ReTail (Toledo Humane Society): Similar to ReStore but more focused on smaller items, ReTail is another "three-fer" when it comes to spring cleanup. Great way to reuse and recycle plus a great cause.
Honey Do Property Management: When it comes to lawns and spring/fall cleanup, these guys rank at the top. Besides the usual landscaping services, Honey Do also specifically lists in their services irrigation and drainage and cleanup. They are a great place to start if you feel overwhelmed with your yard.
Expresso Car Wash Services: Be honest, your car is probably a mess. Winter is rough on people and their vehicles so a clean up is in order. Expresso has 6 locations throughout the area for an outside wash or a full detail. They are great local companies and will make any vehicle feel like new.
Waterville Hardware and Paint: There are a variety of reasons to love this place. The biggest reason is that the guys inside will help you solve problems, not just sell you stuff. If you are fixing up stuff around the house or apartment, go ask these guys for advice.
Tractor Supply: Although not strictly local, Tractor supply is a great "small" chain that has some amazing options for outdoor, clothing, pets, and of course farming and gardening. With locations and Toledo and Bowling Green, this is one of the good guys that is national.
Two Men and a Ladder Plus: The quintessential "handyman", or women for that matter, these folks will help you solve problems. Is there something in your house that has been bugging you? Needs fixed? Or needs installed? Let these guys come in and get you past the "hump" of getting stuff done. You have better things to do with you springtime fix a door.
Sydewyrk: If you need help this may be a real option. Sydewyrk connects local workers with people who need, well, local workers. Think Uber for labor. You pick the worker and the job and all of the cost and transaction is handled via the website or app. Local folks providing local help to their neighbors. This is the future of picking up odd jobs.
Just Take It LLC: Since 2007, Just Take It has specialized in local, commercial, and residential demolition as well as hauling in these same categories. They pride themselves on safety and training to protect employees and customers.
BONUS
Spring cleaning can be such a large and daunting task. It's no surprise that there are a ton of great places to help with your cleaning. So many that we couldn't list just ten. Here are a couple of bonuses. Check them out!
Stoll Rug & Furniture Cleaners: A family-owned carpet cleaning company for over 100 years, Stoll Rug is the perfect option for all of your carpet, tile/grout, rug, and furniture cleaning needs. Focused on both residential and commercial cleaning, they can help with you home and business!
Bin There, Dump That: First, you have to love the name. Second, the franchise is owned by a couple of firefighters from NW Ohio. Emanating out of Perrysburg they have dumpster options starting at 4 yards (which is completely manageable as it is only 2 ft high). A great local franchise that can help with any cleanup job from yard to the basement, to that outbuilding that you swore you would finally get organized.