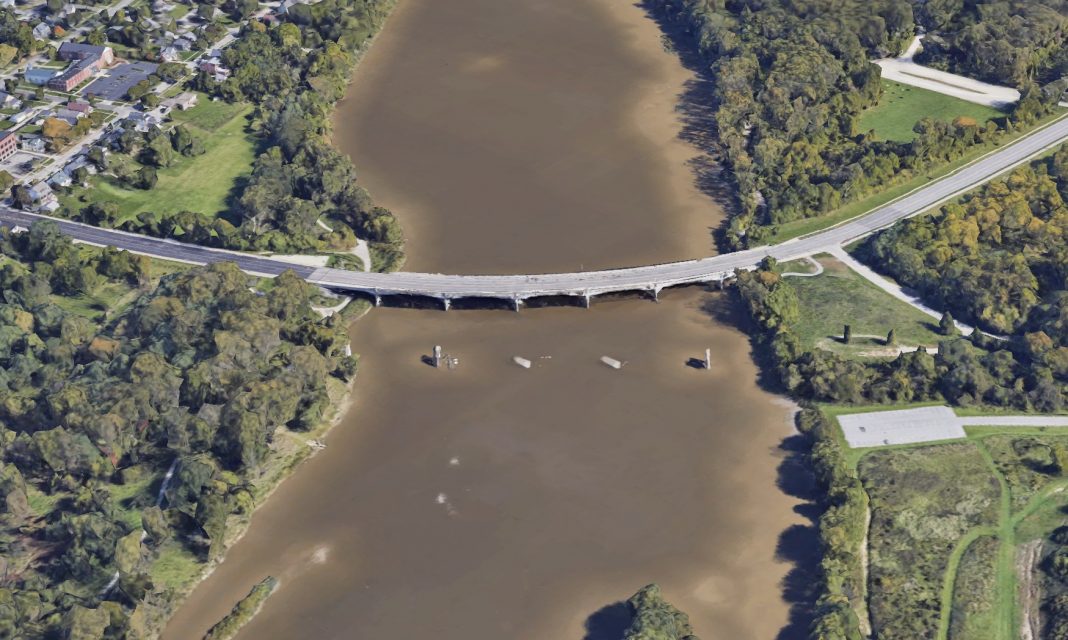 Nestled right along the Maumee River at one of its most lush points are two cities that are distinctive yet equal, unique yet welcoming, separate but connected. They are the twins of the Maumee and their charm is undeniable: Maumee and Perrysburg. 
Of all the stops along our river cruise, from the islands to downtown, to the East Bank, these twin cities are the most activity-rich on the journey.
A Rivalry of Sorts
It is true that in high school sports these two communities consider themselves a rival. And why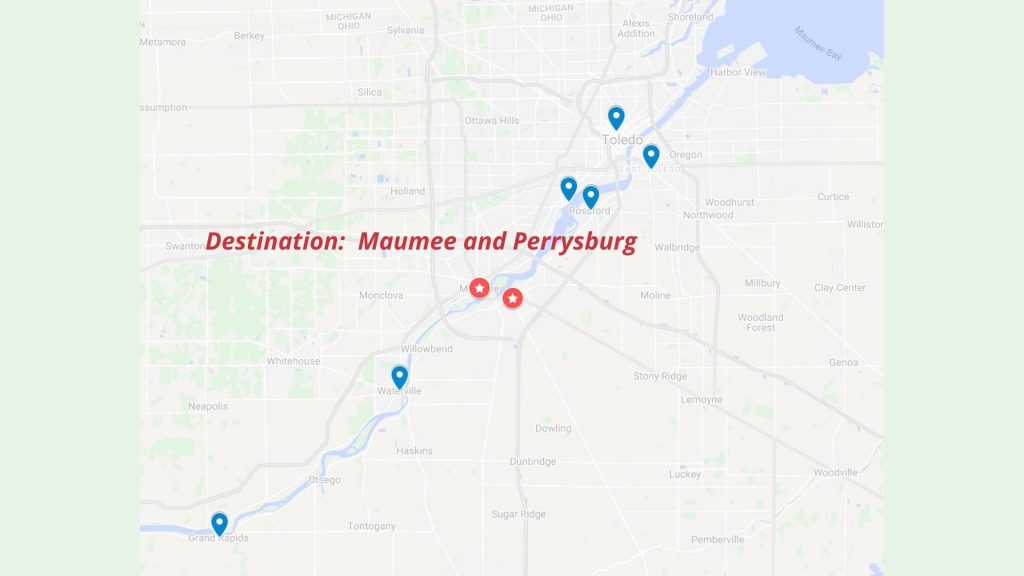 not? Given their proximity it is natural. There is probably some business rivalry as well. Both have charming downtowns with an excellent selection of shops, eateries, and coffee houses. 
Take Maumee. It has a chocolatier, a Movie Theater, a cigar shop, and a diner. Perrysburg doesn't have that.
Take Perrysburg. A Mediterranian Deli, two fine dining restaurants, several antique stores, and soft-serve ice cream joint, and a charming grocery right downtown. Maumee doesn't have that.
In other words, both areas have a distinct character and are a mile apart.
Twins in Common
Don't let their rivalry fool you, Maumee and Perrysburg have a lot in common as well. Both have excellent coffeehouses, iconic bars, florists, and historical sites.
Then there is the river and parks themselves. Maumee is an entrance to Sidecut Metropark, which meanders all along the river. Perrysburg hosts the charming Orleans Park (you can visit the statue of Commodore Perry) along with one of the highest quality city parks in the region, Woodlands Park, complete with its 18 hole frisbee golf course.
Cast a wider net and both towns sport full outdoor malls (Fallen Timbers and Levis Commons), excellent local restaurants, additional outdoor space (particularly the amazing W.W. Knight Nature Preserve), and additional local-centric shopping. 
So no matter which side of the bridge you are on, both of the Maumee River's "twin" cities deserve a visit.
Must Stops, Downtown Maumee
In Bloom Flowers and Gifts: A charming flower and gift store that has become a regular fixture of Downtown Maumee. MUCH more than just flowers.
Maumee Valley Chocolates: Besides house-made chocolates, MVC has a wide variety of vintage candies and other treats as well. A great way to pick up something sweet to take home from you mini "vacation"
Dale's Bar and Grille: Perhaps one of the most iconic bars in the region, famous for football and other sports watching. Check out their outdoor area complete with TVs.
Georgette's Grounds and Gifts: One of the businesses run by the Sunshine Communities, Georgettes has great coffees (with excellent roasts to take home), sandwiches, desserts, and a fair trade gift shop worth exploring.
Sidecut Metropark: A narrow, meandering Metropark snaking along the Maumee. All the usual amenities with plenty of room to walk, hike, run, fish, or bike.
Maumee Indoor Theater: Just because this theater is old doesn't mean the facility hasn't been updated. The Maumee Indoor hosts movies and live events. It is also incredibly affordable.
Clara J's at 219: What is more "I need a break" than visiting a tea room. Clara J's is just beautiful. Their food is fantastic. And they have a deep retail area for taking tea home.
Dino's Dinner: Just off the downtown corridor, Dino's has typical breakfast and lunch fare. However, if visiting you should probably try the chili mac. 
The Cigar Affair: Sure, this isn't for everyone but it is amazing that this hyper focussed retail shop is parked in the heart of Uptown Maumee. For the aficionado, this is a must stop.
Must Stops, Downtown Perrysburg
The Bard's Coffee: Coffees, estate blend teas, Italian sodas, and rapidly becoming known for in-house baked breads and scones. It has outdoor seating and is a perfect stop for refreshments during a walkabout in downtown Perrysburg.
Zingo's: Perhaps one of the best sandwich shops in the area. Although Mediterranean themed, don't let that deter you. They have an excellent menu with sandwiches (or wraps), top-notch salads, and serve some of the best hummus in town, all at very affordable prices.
Swig: Pub grub with attitude. We can't recommend the grilled cheese enough. Plus check out the house-made charcuterie. 
Vintage Groves 116: A charming hidden gem of a resale shop right in the heart of downtown. The frontage doesn't do justice to the size of this antique store. Drop by and visit the sisters and find out what makes this one of the best antique experiences around.
Fallen Timbers Battlefield: There is something pretty and haunting about this battlefield. Sure, it probably would never rank in the top ten of any historical battles, especially for the American Revolution. However, there was a battle, its sight has been preserved, and if nothing else the historical battlefield sits in a beautiful park-like setting to explore.
Stella's Restaurant and Bar: Another choice for dining in the downtown corridor of Perrysburg. Stella's is upscale Americana. They have a great outdoor seating area.
Kazmaier's Market: One of only two truly downtown markets left in the area (the other being Sauder's in Sylvania), Kaizmeirs is the perfect blend of regular grocery and small-town old school market. Make sure to check out their local products that are dotted throughout the store. 
Riverside Park (and the River Walk): The park itself isn't very large but it sits right on the Maumee and has a gorgeous view. If you choose to stretch your legs further, the entire walk along the riverside of downtown is quite charming and should include a visit to the statue of Commodore Perry.
Local Roots: Check out this hip and healthy purveyor of excellent drinks, juices, and smoothies. Just off the downtown corridor, you should definitely check out what they have to offer. If you are walking about shopping, getting healthy and energized with Local Roots is a great start to the day.