Our final summer stop along our Maumee River cruise ends as activity-rich as it began. Both Waterville and Grand Rapids are quaint river towns with amazing history, shopping from elegant to kitsch, and singular food stops.
Besides the usual stops, both towns have some of the best views of the Mighty Maumee, perfect for picnics, walking, biking, or floating. So grab a good pair of shoes and end your Maumee cruise in style as we visit Waterville and Grand Rapids!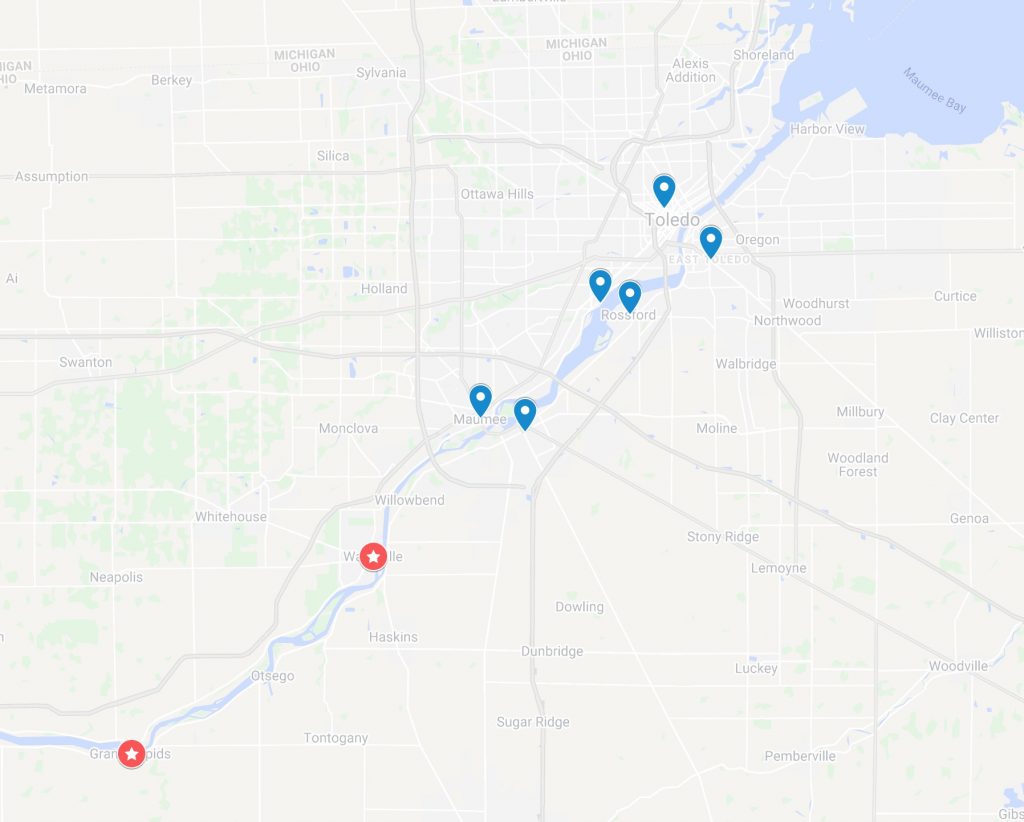 What's in a name? For Waterville, Ohio, everything! Beginning in 1843, the city served as a hub for interstate commerce, travel, and entertainment all thanks to the opening of the Miami and Erie Canal. The waters bustled with boats carrying goods from Toledo to Cincinnati, hotels and stores along the banks buzzed with customers, and the canal brimmed with boaters and fishermen/women in the summer. Now, over 175 years later, Waterville is still honoring its namesake. 
Float On For Fun 
Whether you enjoy reading a good book, taking the kids to a playground, walking a trail, having a picnic, or getting in some exercise, you can get your kicks in the Waterville parks. Farnsworth Metropark is a narrow park along the Maumee River overlooking Missionary, Butler, and Indian islands. Set sail on the waters of the Maumee with a rental from Farnsworth Kayak Concession. Bring a fishing pole, or simply sit back and enjoy the winding waterway. Both Baer and Waterworks Parks are perfect if you want to tire out the kids on the playground equipment while you sit back and relax on a bench. The Conrad Park gazebo offers some highly-sought-after shade during a summer picnic, while the big limestone outcrop near the center of the Maumee River called Roche de Boeuf provides the perfect backdrop for a keepsake photo. If you've got your bike in tow, be sure to check out the scenic Towpath Trail for a leisurely cruise through the wilderness. And after a long day of exploring, kick off your boots and crawl into your tent pitched right next to the calming river water at Farnsworth Campground. 
Food
Dale's Diner has been a Waterville institution for nearly a decade. The locals are powered by coffee and pancakes, and burgers and pies are always served up with a side of family-owned pride. It's happy hour every day at Shawn's Irish Tavern where they hang their hats on "good food, healthy portions, big pours of your favorite cold draft beers, and friendly service." Classics from across the pond like Reuben balls and shepherd's pie collide with burgers and loaded mac & cheese on this outstanding menu. Add a little spice to your life and some "Olay!" to your stay at Cocina de Carlos Smedlaps. Enjoy fresh authentic Mexican eats and signature margaritas in an energetic atmosphere. After that spice, add something nice from the Sweet Retreat. Frozen favorites like banana splits, slushies, and unique soft serve ice cream flavors are guaranteed to produce a grin, even under a mask. 
Shops
Antiques, curiosities, and oddities abound at this quirky little shop in Waterville. The Old House is chocked full of one-of-a-kind vintage treasures that are sure to spark a conversation and a smile. American sculptor George Carruth is the artist behind another local shop, Carruth Studio. Here, whimsical stone designs are masterfully handcrafted with love and care. These items make for the perfect joy-inducing additions to your home or garden. Wardell's Garden Center will also help get your landscape looking lush. In addition to hanging baskets, house plants, and other garden supplies, Wardell's is also keen on fresh produce, canned goods, concrete statuary, and gifts. 
Destination: Grand Rapids
Quietly nestling along the southern bank of the Maumee River exists the village of Grand Rapids, Ohio. The historic canal town harbors memories of the past while modern pleasantries have helped establish it as a fun-filled destination for today. With plenty of restaurants to choose from, shops and boutiques galore, a beautiful and walkable downtown, plus colorful attractions, Grand Rapids is the perfect getaway. 
Family Fun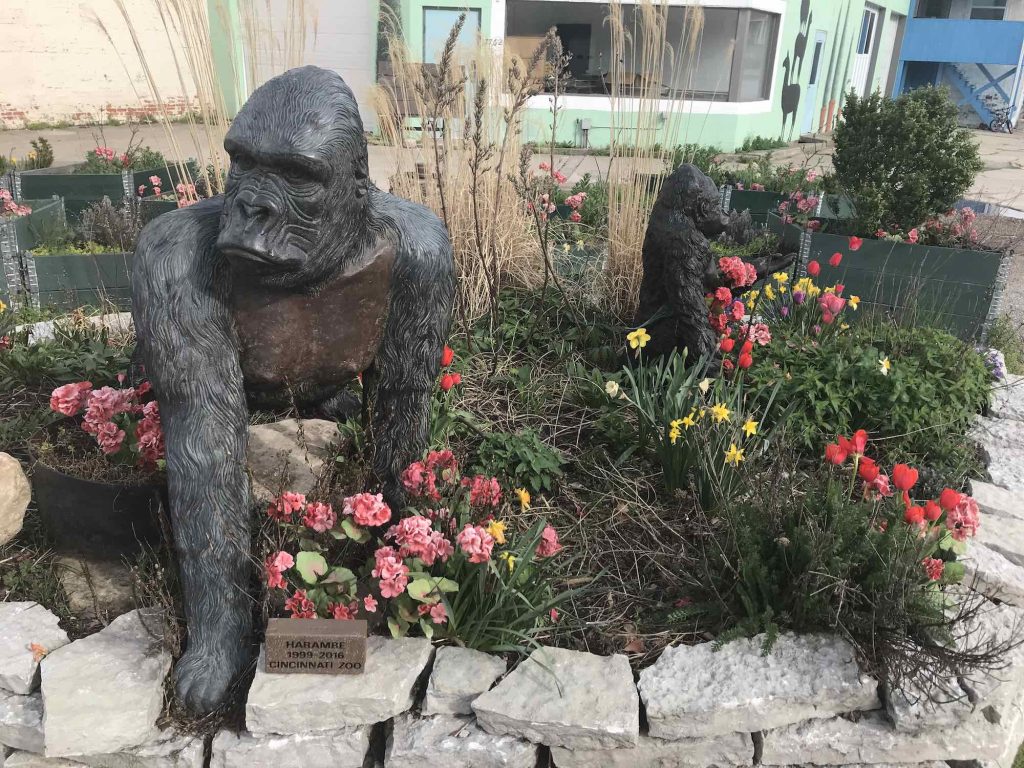 A trip to Grand Rapids calls for unplugging and reconnecting with nature. It's many parks and recreational possibilities will replace likes and comments with landscapes and conversations! Step back in time to the 1870s at Providence Metropark in Grand Rapids, Ohio where authentic mule-drawn canal boats pull you right through history. It is along the Towpath Trail where Ohio residents of yesteryear would haul goods down the Miami and Erie Canal to the sawmill and gristmill. The Volunteer recreates this experience for visitors, so mark your calendars for next year when they hope to reopen it. Also at Providence Metropark, visitors can hike trails including the beautiful River Bluff Trail, get hooked on walleye fishing, paddle the Maumee River Water Trail, and picnic and play in one of its many grassy areas. Just a few miles outside Grand Rapids is McClure, home to Mary Jane Thurston State Park. By day, the campground is enjoyed by bikers, boaters, fishermen and women, hikers, and picnickers. And at night, delight in your camping experience with the soundtrack of the Maumee River lulling you to sleep in the background.
Eat, Drink, Be Merry
When dining in Grand Rapids, it's quality over quantity with a magnifying glass on local restaurants rather than large conglomerates. For hot tacos and cold tequila, Fernando's is the only option. This lively Mexican restaurant keeps it authentic and delicious. But perhaps Grand Rapids' most-distinct dining option is LaRoe's Restaurant, which serves upscale American food with an affinity for fish. Steeped in Victorian atmosphere, this restaurant boasts a cozy dining room, tavern with booths and bar stools, and a beautiful patio overlooking the Maumee River. Local chain Snyder's Pisanello's Pizza has staked a crusty claim in Grand Rapids with its delicious pies, subs, and salads. And for some good old-fashioned home cooking, Miss Lily's has you morning, noon, and night with made-from-scratch omelets, sandwiches, pies, and more. Craving a creative bite and a crafted beer? Look no further than Wild Side Brewing. Top-notch tavern snacks and Detroit-style pizzas are served up with condensation-covered ales to guests already eager for their next visit. 
Get In, We're Going Shopping
Forego that outlet mall you passed on your drive and save your spending money for Grand Rapids' unique shopping experience. Just For You Shoppe offers an eccentric selection of clothing, home decor, antiques, accessories, collectibles and so much more. Stop into Library House Gallery for some coffee and culture in their beautiful art gallery and used book store. And right along the riverfront on State Route 65, you'll find Lally's Marine- River Rat Racing Collectables where the selection of the Nascar Diecast Replicas, matchbox cars, and racing memorabilia is plentiful. Angelwood Gallery brings Grand Rapids and its visitors an eclectic collection of fine art, pottery, jewelry, paintings, prints, sculptures, mixed media pieces, and unique gifts. And for you or the special lady in your life, Yesterday, Today, Tomorrow is open by appointment only to bring you today's new and gently-used women's fashions trends, as well as favorites from years gone by.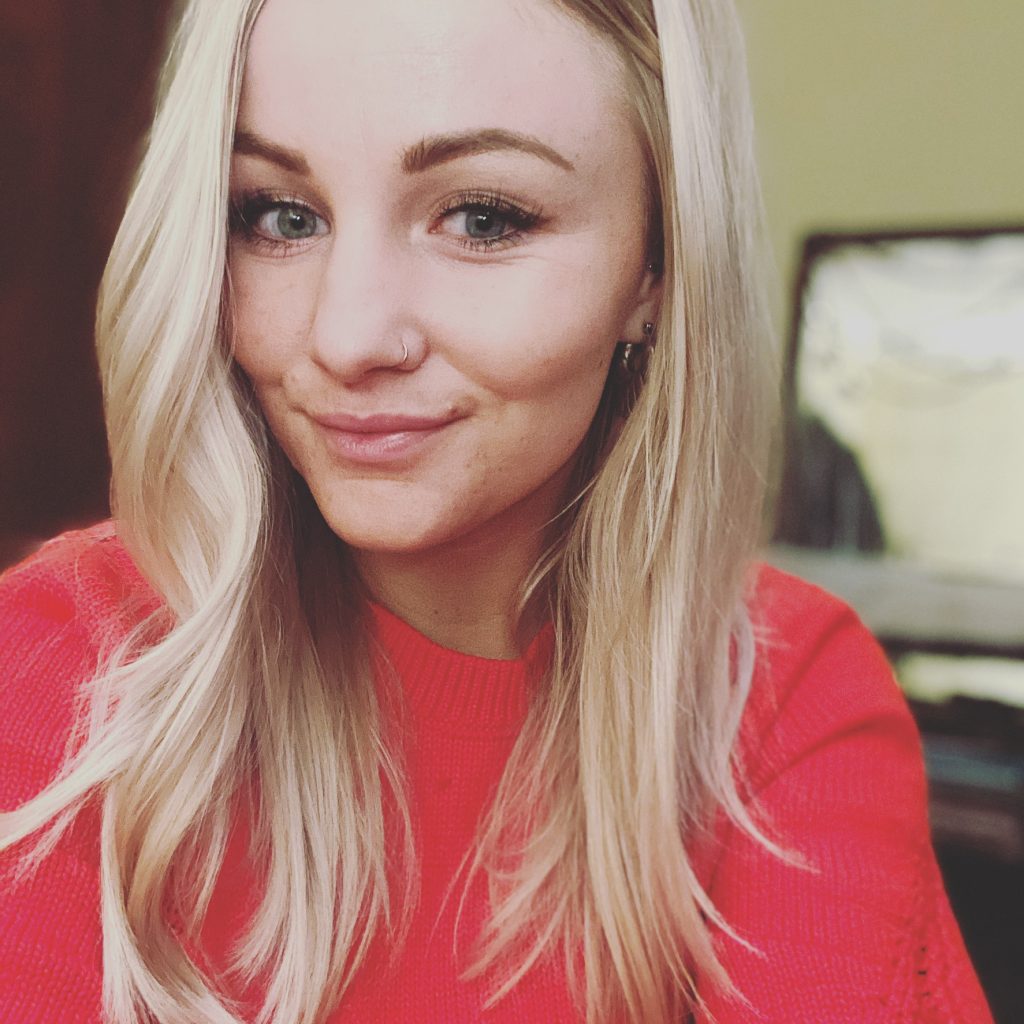 When this small-town girl with an "Almost Famous" dream isn't weaving a beautiful tapestry of words with all the correct usages of "their," "there," and "they're," you can find her digging through vinyls and jewels at an antique shop near you. You can contact Regina at reginafox3@gmail.com