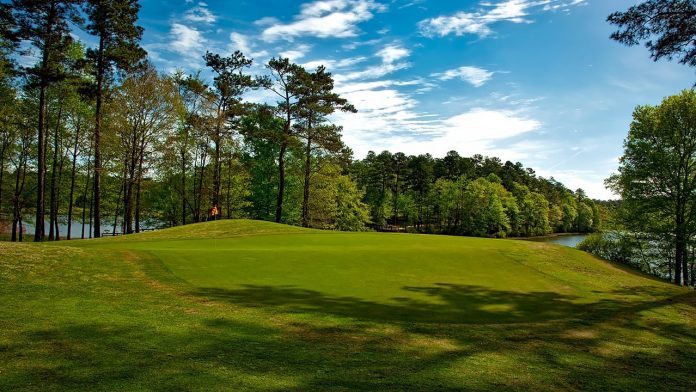 Golf is good for the soul. You get so mad at yourself you forget to hate your enemies.

–Will Rogers
We all watch the Masters or the British Open and wonder what it is like to play, or at least walk, along these picturesque courses. How would it feel to tee off to an iconic island green or attempt a determined carry that is a make or break challenge?
In truth, most of us may never play these courses. Not for lack of want but for lack of resources or access. Many of these courses are private and the public venues are booked for months.  Plus, green fees are traditionally astronomical. These courses know they are iconic and aren't afraid to charge appropriately.
Fortunately, here in Northwest Ohio and Southeast Michigan, we have amazing local golf courses that are both affordable and accessible. From historic and short to lengthy and insanely challenging, golfing in our region is rewarding. Below is our top ten list. Don't be limited by these golf courses, however. There are plenty of great links across the region to explore this season. See you on the greens!
Top Ten Local Golf Courses
Ottawa Park: One of the oldest public local golf courses in the country, Ottawa Park is utterly charming. This is a must visit for any golfer. It has a good amount of challenge yet feels like a step back into the era of plus fours.
Maumee Bay State Park: A true links course located right on Lake Erie. Don't be deceived, this is a challenging course with plenty of wind and hazards to keep you on your toes.

South Toledo

:

Located right in the heart of city, one of the best things about South Toledo is its location. No matter where your foursome is driving from, South Toledo is central to your group.
Stone Ridge: Located in Bowling Green and just twenty minutes from both Toledo and Findlay, Stone Ridge is an Artur Hills designed course with plenty of rolling hills.
Bedford Hills: There are several things that are great about Bedford, but let's start with 27 holes. Playing this course offers inherent variety and is located just over the border in Temperance.
Fallen Timbers: One of the newer courses in town, Fallen Timbers is and affordable golf course located around a residential community. It is also pretty easy to get to right off of 475.

The Legacy

:

This is one of the most challenging courses in the region. Two hundred acres of championship holes. Located over the boarder in Michigan, The Legacy is a course to challenge even the scratch golfer.
The Riverby: Just off of Route 65 on the Maumee River, Riverby is both enjoyable and affordable.

Giant Oak Golf Club

:

Established in 1969 and designed by Arthur Hills, water comes into play on 6 holes and of course, check out the giant oak on number one.
Eagles Landing: Another courser located on the east side, Eagles landing is on the southwestern shore of Lake Erie. Like Fallen Timbers, this is a beautiful residential course well worth a drive. It was rated one of the "Top 100 Must Play Courses in Ohio" by Ohio Golf Style Magazine 4 years in a row.
Fore Golf Indoor: Believe it or not, it does rain in Ohio. Fore Indoor golf offers golfing fun and practice without that pesky wind, rain, heat, or cold. Plus you can experience courses that you would never be able to get a tee time.
Cottonwood 9 Hole: Not every golf course have to be long and eighteen. Cottonwood is an excellent executive style course that offers a shorter yet still challenging experience.
Maumee Sports Mall: Maumee Sports Mall has great practice facilities. Heated stalls, batting cages, lessons, and excellent putting and chipping practice.
Valleywood: Located just west of Toledo Regional Airport, Valleywood is one of the older courses in the area. Originally designed in 1929, there are plenty of challenges yet still achievable for the less experience golfer, offering 4 sets of tees to every player.