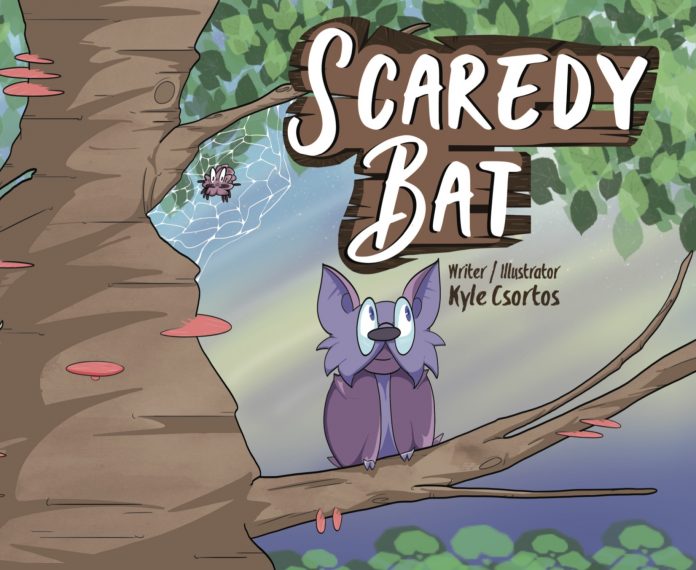 Being an artist is a constant battle between knowing ones strengths and daring to venture forth in a new direction. Local illustrator Kyle Csortos has done a bit of both with his new children's book, Scaredy Bat.
"I admit that it was a bit of a stretch," says Csortos, who as an illustrator has over 17 book projects to his credit. "To start from scratch, think about the text, the pictures, and the message, it was definitely a new adventure."
Bullying, Bravery, and Bats
Adventure is, after all, at the heart of every great children's story and Scaredy Bat is no exception. Scaredy Bat is a book about bullying, bravery, and naturally bats. "Benji is a scaredy bat," says Csortos.  "Because Benji's vision is not so good, he is frightened by many things. It is not until he goes on an adventure and gets help from a surprising new friend, does he face his fears and learns what it means to be brave." 
Csortos and his partner have recently started a fostering adventure of two very young children, both boys. "Having these two amazing little guys in my life has changed my entire view of the world. I want so much for them and I know they deserve it. It might sound cliche, but I never knew I could love this deep and much."
That statement is what makes both Csortos work and his personality so charming and engaging. Children's books neither write nor illustrate themselves and like any other work of art, they take knowledge and effort. His previous work with other authors has served as a great foundation for his first solo effort.
Work and Play
When not occupied playing with his two little boys, Csortos is also a major graphic talent in the area, helping businesses, restaurants, and other organizations visually brand their products and services. He has major clients across the region and his portfolio continues to grow.
"I am very lucky to have found my passion," remarks Csortos.  "Certainly there are days where it seems like work. However, on balance, most of my days seem more like play. Every project has its charm and is fun. I try to bring that sense of playfulness to each and every client and project."
Scaredy Bat is available on Amazon and will soon be available at local retail outlets.
Kyle Csortos is a graphic designer, visual branding specialist, and illustrator. He grew up in Millbury Ohio, attended Lake High School, and has an associates for Owens. He collaborated as an illustrator on 20 published books. He and his husband now reside in Perrysburg OH. Scaredy Bat is his first solo publication.
For More Information
419.494.2641