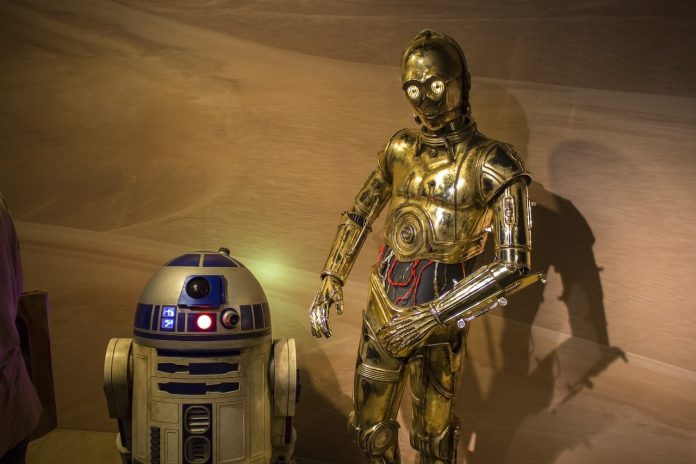 Sorry about the mess…
–Han Solo 
It might be the silly, it might be contrived, it might even be too much of a celebration of the capitalistic success of George Lucas and Walt Disney. But this year the fourth day of May falls on a Saturday and that means several great local businesses and organizations will be…well…out in force for the day.
May the Forth be with You has become, in trendy vernacular, a "thing". And frankly, we could all use it some silly and contrived. Spring has stayed stubbornly hidden. April can best be summed up as wet and cold. Basically, the Dark Side. And as we all know, the force is best when in balance. So, a little Light Side joy and silliness seems in order.
Listed below are a regular Galactic Senate of weekend activities to enjoy this weekend. Most have Star Wars themes and some just seem appropriate. If there was ever a time to climb out of our caves on Dagobah or our sand huts on Tatooine and climb aboard our transport ships, the first weekend in May is that time.
See you around the Galaxy!
TRRC May the Fourth be with you 4K and Wookie 1K: Hosted by Toledo Road Runners and Second Sole, both walks/runs start at Second Sole in Levis Commons. Registration Opens at 8:15 AM
Literacy in the Park: Literacy in the Park celebrates the importance of literacy in our lives–using language to make meaning of the world around us. Star Wars is nothing if not about reading, so this annual Literacy event comes at a perfect time. Children and families have the opportunity to engage in hands-on learning activities around reading, writing, art, music, computer coding, language and culture, financial literacy, health & nutrition, physical education, pet therapy, science and nature, and many other forms of literacy that can be found in our lives and communities. The event is hosted at Perry Field House in BG, is free and runs from 10 AM to 2 PM.
The Amazing Race May the Fourth be with You *SOLD OUT* Join the Way Public Library for a Star Wars edition of the Amazing Race. You'll participate as a team to solve clues and do challenges that will take you through downtown Perrysburg. Registration is required for this program and space is limited. The maximum amount of team members is 4 and at least one team member must be 18 years of age or older. Team members not accompanied by a parent must have a permission slip.
Star Wars A New Hope: In Concert with the Toledo Symphony: Coming to Toledo from a galaxy far, far away—experience Star Wars: A New Hope like never before as the Toledo Symphony Orchestra performs the live accompaniment to John Williams' Oscar®-winning score on the big screen! Bring the entire family out for this once-in-a-lifetime event during the Toledo Symphony's 75th anniversary season. Live at the Huntington Center. 8 PM
Star Wars Day, Imagination Station: Young Jedi and Jedi Masters alike will learn about light saber fencing – a sport growing in popularity that features the iconic weapon from a galaxy far, far away. Representatives from The Saber Legion will present exciting dueling demonstrations at 12:30 pm, 2 pm and 3:30 pm. Those interested in learning more can get a close-up look at the sabers and safety equipment of the sport. Stop by the IDEA Lab to experiment with circuits as you build a jitter Jedi and practice your storytelling and videography skills as you direct your own stop-motion saga with Star Wars action figures. Downtown Toledo from 10 am – 5 pm.
Star Wars Weekend, Toledo Mudhens: Personally, I think baseball using lightsabers would be cool but the players might not be so keen. Both Saturday, May 4 and Sunday, May 5th games will be Star Wars themed. Get your tickets today!
May the Fourth Mini-Con (plus night out) – Pride of Toledo Foundation: A day of workshops devoted to taking time to focus on Diversity, Inclusion, and Intersectionality. Going on from 12-6 at the Collingwood Arts Center.
First Outdoor Toledo Farmers' Market: The Toledo Farmer's Market bursts forth from its rebel winter base and explodes into empire like proportions. And if the Star Wars references aren't enough to get you out of your M. Falcon for the day, certainly the market itself is enough of a draw. A great way to begin the market season on a fun day to do it.
Free Comic Book Day: Yes, May the Forth is free comic book day and yes there have been Star Wars comics. We have no idea if there is a current season running but what a great way to get out and visit your local comic book store. We have several great shops throughout the area. Check here for a list of local participating stores and then follow up with the shops themselves for hours of operation and details.
May the 4th Meet and Greet – Indian Creek Zoo, Lambertville MI: Come out to celebrate May the 4th with Rey, Kylo and our Storm Trooper!! All included with Indian Creek Zoo park admission. Come dressed as your favorite Star Wars characters. Just over the state line in Lambertville, Indian Creek is a smaller zoo and animal experience that is often less overwhelming for little ones and adults alike. Cozy, friendly, and prides itself on being family friendly.