The minute you walk through the door of American Kenpo Karate everything about the studio feels different. On the day that we visited a class was ongoing with an encouraging and uplifting blend of ages. It was a refreshing demonstration of community, fitness, and lifelong learning.
That energy and balance comes, in no small part, from Sensei and Owner Adam SoRelle. With 32 years of martial arts experience, SoRelle brings his passion, life experience, and as a working musician, artistry to everything he teaches.
We caught up with SoRelle for a quick discussion about himself and his work.
5 Questions with Sensei Adam Sorelle
Before we talk specifics, what motivated you to first get into martial arts and, just importantly, achieve such an amazing level of expertise?
I've been fascinated and mesmerized by the beauty of martial arts from a very young age. However, as a bullied kid in school, I also had a need to learn how to defend and stand up for myself. After being awarded my 1st-degree black belt in 1993 I was asked to become an instructor for our school and found that passing on my knowledge was both natural for me and very rewarding. I am currently a 6th-degree black belt in American Kenpo Karate and a 2nd-degree in Ryu Kyu Kobujitu, an Okinawan weapons style, and have 32 years of experience in martial arts.
The world of martial arts is a culture unto itself. What disciplines and techniques do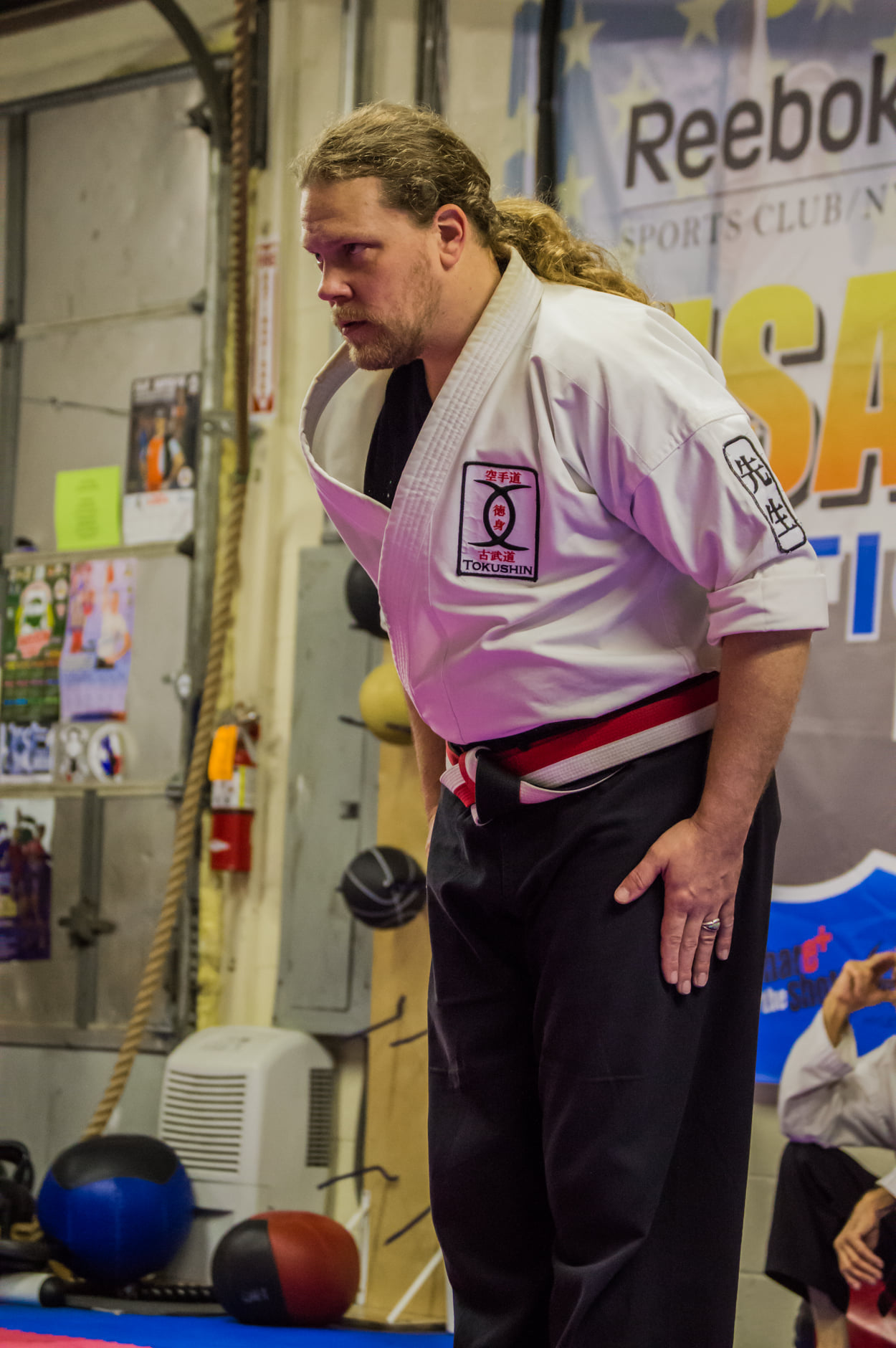 you teach and how do they differ from other studios?
Yes, it is! American Kenpo Karate is primarily a self-defense style designed to be quickly and easily picked up by anyone. Our core techniques teach how to defend against a wide variety of punches, grabs, holds, and more. Our kata system is Shotokan style Kipon and Pinon forms which are very well known and beautiful. Our fighting system is a mix of many martial arts including some Tae-Kwon-Do, boxing, Kenpo, and other tactics. We also have Ryu Kyu weapons training at our school, so it's possible to achieve a second black belt from us. I believe we are the only school in the region that offers this. I've found that our black belts who travel around the nation are well-rounded enough that they can fit in and thrive at just about any style or school.
Many people are looking for healthy exercise alternatives to gyms and running and walking. Can martial arts fit into a healthy lifestyle (or can it be part of someone who is trying to get healthy)?
Absolutely! We have students from all walks of life at our school. You can go at your own pace, working hard and pushing yourself to your limits, or taking it easy because of injuries or just getting back into shape. Our memberships include unlimited class attendance, so it's possible to come in every day for a class, or set a 3-day a week schedule. Plus you are not only doing something healthy, but learning a skill that will benefit your entire life!
You aren't just a martial arts sensei. Tell us about your music!
Sure! I've been playing music professionally in the Toledo Ohio area since 1998. I've released two full-length all-original albums and my duet partner and I are currently writing and refining the next one which we hope to release sometime in 2021. My dad is a folk musician and writes his own songs, so it must be in the blood!
When you aren't teaching in your studio or performing yourself, what are your favorite local things to do?
Walking my St. Bernard Red Cloud in the park. The Toledo Metroparks are the best and I am a proud member!!