By Candace Byington
When we think of camping we think far away, hard to get to, and inconvenient. Some would call that rustic, other would call it a formula for disaster. Thankfully, we live in an area that is replete with beautiful parks and recreation areas  has been rated by US News at one of the top ten areas in the country for outdoor enjoyment. Surrounding Toledo are four state parks plus three metroparks that offer tent camping and other activities without spending hours on the road or a fortune in camp fees.
Maumee Bay State Park offers camping, electrical hook-up and modern amenities (showers and toilets) as well as a view of the bay, bike rental, bridle trails, canoeing, horseshoes, swimming, the lodge,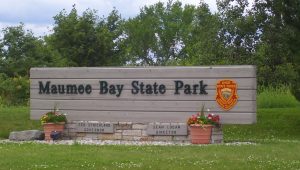 and a links style golf course. In addition, the park is near two unique attractions, a drive-in movie theatre, the Sundance, and Magee Marsh Wildlife Area. Maumee Bay State Park is located east of downtown Toledo outside of Oregon.
North of Toledo, in Monroe, Michigan is Sterling State Park. This park has the distinction of being the only state park in Michigan on Lake Erie. There is modern camping, biking, fishing, hiking, and swimming. The park is approximately a half hour from downtown Toledo and a half hour from downtown Detroit.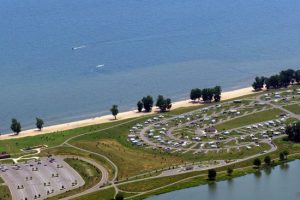 West of Toledo, in Fayette, is Harrison Lake State Park. The camping circles around the lake. The park offers modern facilities, bicycle rental, basketball, boating, canoeing, horseshoes, volleyball and swimming on the 150-foot beach. Nearby attractions to Harrison State Park include Sauder's Village and the remnants and old growth forest of the black swamp, the Goll Woods Nature Preserve. This state park is just under an hour's drive west of Toledo.
Driving further west into Indiana, a very popular camping destination can be found, Pokagon State Park in Angola, Indiana. Pokagon is known for Lake James, bridle trails, boat rentals, fishing, and swimming. The park has 273 electric sites and modern amenities. It is a popular destination in the winter for those who enjoy sledding and tobogganing. Pokagon is the furthest destination from Toledo, about an hour and twenty-minute drive from downtown.
If you desire to stay closer to Toledo, three of the metroparks have camping available. Wiregrass Lake in Holland has three campsites. Here campers can enjoy canoeing, kayaking and fishing on the lake. In Oak Openings, there a campsites available in the White Oak area that provide fire pits, firewood, privacy and nearby restrooms. A stay at Oak Openings can be spent by hiking miles of trail, horseback riding, bike riding or exploring the local Butterfly House a few miles away in Whitehouse. An evening can also be spent under the stars next to the Maumee river at Farnsworth in Waterville. There are group and individual sites available with fire pits, firewood, kayak rental, and a long trail for biking or hiking that extends from Waterville down to Mary Jane Thurston park in Grand Rapids.
Take a vacation on your staycation. A day or several night getaway is within miles of your home! Whether you plan a peaceful trip for much needed "me time" or a meaningful adventure for two, you need not go far.
Candace Byington is an artist and graphic designer from the Greater Toledo area. She enjoys camping, hiking, and cooking. Her artwork can be found at www.etsy.com/shop/candita74 and http://www.redbubble.com/people/vivacandita. Follow her personal blog at https://candacerbyington.wordpress.com/.  Ms.Byington can be contacted at candacerbyington@gmail.com.
All photos by Candace Byington except for Maumee Bay State Park and Sterling State Park, which are curtesy of those parks respectively.