Right where Key, Eastgate, and Heatherdowns come together sits an interesting shopping corner.  Nestled in the very heart of South Toledo sits a group of fun, useful, even whimsical shops and a pub that represent with furvor the idea of "local".  These shops are all owned by our neighbors who are trying to make a living in the shadow of corporate giants.  In the one corner sits Bassett's Health Foods,  Zavotski Meats, Shawn's Irish Tavern, Monarch Cards & Comics,  Encore Books, and just across the street Shivers Ice Cream. One could easily kill a couple of hours or most of a day if you like to browse.
Do you have a favorite shopping corner?  One that we should all know about?  Contact us and let us know.  We will be happy to feature it here at S.O.S.  Meanwhile, stop by these great local merchants on a lazy afternoon.
A long standing Toledo store, Bassett's has a wide range of health products, from health and beauty, Suplements, teas, herbals, and foods.  What is hidden is their bulk section of both staples (like flour) and spices.  For our size household this is an excellent way to restock something we use but don't want five pounds.  It is also a great way to "experiment" with a new recipie without investing a lot of cash.
Another Toledo great has opened this second location.  We are particularly fond of the chicken burgers but there is so much more.  Plus they are a full service butcher so they will help you achieve what every you are trying to when it comes to meat cuts. The staff is very knowledgable and they won't blink twice if you want a "small" quantity.
A pub grub favorite they now serve Casa Made Pizza, which is amazing and a perfect compliment to their already excellent menu.  Lots of seating with a true pub atmosphere.  However, don't discount Shawn's for lunch.  There sandwhiches (and yes another mention of the pizza) are a great mid day repast.
Comics, graphic novels, back issues, figurines, cards, memorabilia, in essence a geek paradise.  Plus a great staff who is not only knowledgable but will be genuinely helpful is you want to "try this stuff out."  A long standing business in South Toledo
Part of a vanishing breed of free standing, well stocked, browsing friendly used book stores.  There is something about being able to walk into a small, warm, slightly cluttered book store and get lost 20 feet from the entrance.  The big corporate chains just can't touch that feeling!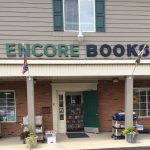 Basic, straight up, multi flavored, ice cream.  Floats, malts, sundaes, banana spits, cones, dishes, shakes….well, you get the picture.  Open seasonally.