By Chris Watson
It is a staple of summer. It has a million variations. Everybody's grandmother made some special version that people have tried to recreate for a decade. It also tends to grow, making gargantuan quantities that defy logic and put us in a food coma if we try to finish the batch. It is also available at every deli and salad bar with this caveat: the commercially produced is almost universally uneatable. We are talking that perennial favorite of picnics and potlucks:  potato salad.
Before anyone complains about how "hard" it is to make or how "available" potato salad is at almost any deli, consider that potato salad takes a few simple ingredients that you, most likely, already have in your fridge. The basics are just yellow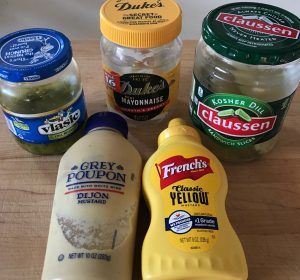 mustard, mayo, and dill pickle relish. Add a bit of onion (which you can get from a salad bar if you don't feel like buying one) and some celery (which you can skip if you don't want to use up a whole bunch of celery or can't find some on a salad bar) and with some cooked potatoes you are done. You can chop up dill pickles if you don't have the relish. Finally, you need some italian dressing (Garlic Expressions is a favorite) or you can whip up a quick vinaigrette.
Now for the "cheat" version. If you really want to go bare bones use onion powder and celery seed for the fresh aromatics. It isn't as good but it will work in a pinch.
Still not convinced? Most commercial potato salads have stuff you may not want…like corn syrup and preservatives. If you are careful with the dressing, mustard, and mayo, this is a gluten free recipe. If you choose the right mayo it can be vegan as well. Plus the potatoes in commercial versions tend to have a weird texture.
So, make potato salad for yourself. Start with this simple base. Buy 2 baking potatoes (or the equivalent of small potatoes if
you like red skins or white etc). This is 1½ to 2 lbs, making  3-4 servings. That seems like a lot but it will last a couple of days. It is also a good excuse to coerce two or three people over for hot dogs. The conversation might go:
"Look guys…I spent a lot of time making potato salad from scratch. I thought we might grill out. You guys bring the hot dogs…and buns…and well everything else because I made potato salad from scratch…"
No matter the reason for making potato salad 2 baking potatoes is plenty (or if making it for a bigger audience just skew up one potato at a time. One potato, two servings). Scrub and cut up in a reasonable size and boil in salted water. Here is the hardest part:  don't over cook! As soon as you can get a fork into a potato chuck pull and drain. If you cook them too long you will get mashed potato salad, which is a whole different recipe (and a southern US favorite).
Here is the "trick":  once the potatoes are drained place them in a bowl and lightly coat them in your Italian dressing. Do this while they are hot. Then let the potatoes cool to room temperature and follow the recipe. The potato salad should sit overnight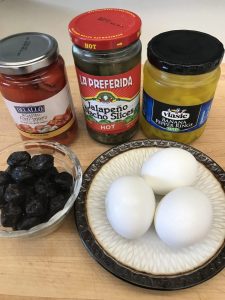 in the fridge. You have a good way to get invited to BBQ's where you don't have to fuss with the grill.
Variations?  Well, this is a "base" potato salad. You can vary this recipe with some amazingly simple add ins or substitutions. The natural thing to do is to add hard boiled egg. You can also add fresh herbs, use a different mustard (like Dijon), add chopped olives or banana peppers or and other chopped vegetable (a favorite is thinly sliced radish). For the "loaded baked potato" variety you see in the deli case omit the mustard and use half mayo half sour cream then add chopped cheese and bacon to taste (and by "taste" we mean lots).
Finally, experiment with the mustard amount. Some people don't want any mustard at all. Some want a bunch. The addition of the Italian dressing gives the potato salad a natural "tang" that allows you to get away from the "yellow".
So make potato salad. It really is easy. It is guaranteed to get you invited to more cook outs.

Basic Potato Salad
Prep time:
Cook time:
Total time:
A basic potato salad that can be used as a base for other other styles of potato salad.
Ingredients
3 Baking Potatoes (1.5-2 lbs of potatoes), cleaned and scrubbed
¼ Red Onion, finely chopped
1 Stalk Celery with leaves, finely chopped
1-2 tbs dill pickle relish
1-2 tbs yellow (salad) mustard
½-1 cup mayo
¼-1/2 cup Italian Dressing or vinaigrette
Instructions
Cut the cleaned and scrubbed potatoes into uniform chunk, around ½ inch. Place in salted water and bring to a boil.
Once boiling check the potatoes regularly and remove from heat as soon as a fork will easily pass into them. Do Not Overcook. Drain immediately. Depending on the size of the chunks this is about 10-15 minutes.
Allow the potatoes to sit in the strainer for 2-3 minutes until the excess moisture steams away.
Put the potatoes in a bowl and lightly coat them with Italian dressing. Do this while the potatoes are hot. Allow the potatoes to cool to room temperature.
When the potatoes are cool add the onion, celery, ½ the relish, ½ the mayo, and ½ the mustard. Gently mix and see if the consistency and taste of the salad is appropriate. Slowly add more mayo and mustard to adjust the consistency.
Dill relish is a preference. You need a little. However, start at the low end and add more if necessary.
Chill at leas 2 hours in the refrigerator. Overnight is better. Check the consistency before you serve. It may need a bit more mayo or mustard.
Do not hesitate to experiment with flavors. Different mustards, more onion or celery, adding grated carrots, slice radishes, olives, cheese, fresh herbs bacon, or chopped egg are all possibilities.