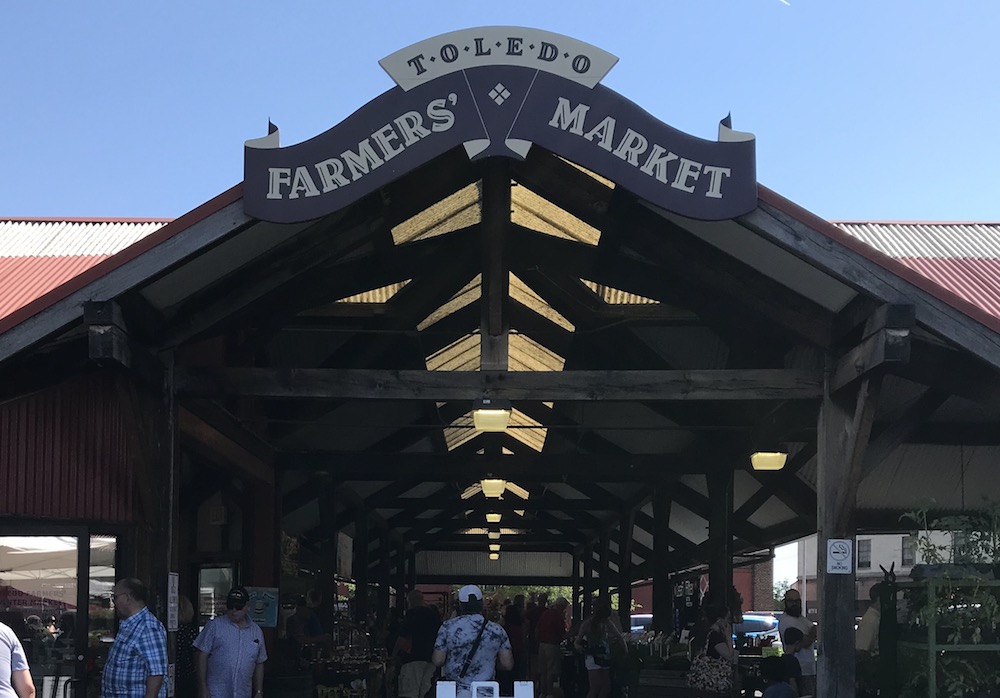 By Chris Watson
Most cooks try to learn by making dishes. Doesn't mean you can cook. It means you can make that dish. When you can cook is when you can go to a farmers market, buy a bunch of stuff, then go home and make something without looking at a recipe. Now you're cooking.  –Tom Colicchio
One of the greatest ironies of the 21stcentury is that farmers markets are "hip." There was a time, only a generation or so ago, when the markets we shopped at daily carried farm products, along with food from local dairies, meat packing plants, bottlers, and bakers. We would never experience walking into a mega mart at the height of berry season here in northwest Ohio and find strawberries labeled: product of Mexico.
Locally produced food is hard to come by in a food economy where want every ingredient on demand.  "Seasonal" is a nonexistent word in most produce sections. So is flavor, as hot house grown produce is, in a word, inferior. Admittedly, there are some upsides to international food distribution. I grew up in Kansas in the 60's and 70's, where "fish" for dinner meant "sticks".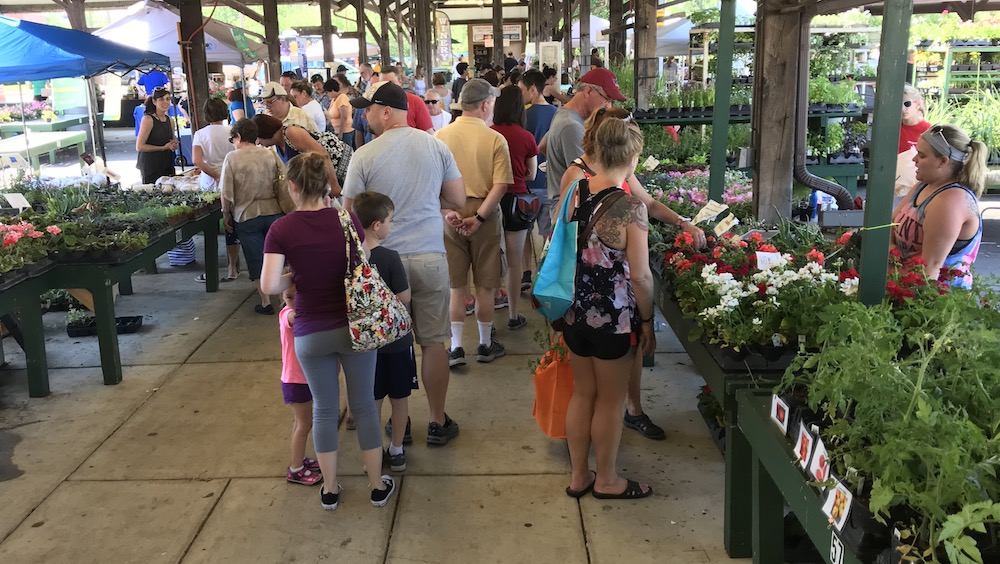 Enter farmers markets. We are blessed in our community with eight…EIGHT regular weekly farmers markets along with pop up markets throughout the growing season (you can find our list along with other summer fairs and festivals here). This is an incredible testament to the amount of food we produce in our region. There is no reason to buy at a mega mart with an actual cornucopia available at our fingertips. However, there are some tips to navigating this vast array of markets. Below are some suggestions and tricks to making the most of the farmers market season.
The "Rules"
Of course, there are no official rules for shopping at a farmers market.  However, there are some pretty good guidelines that, if adhered to, will help even the most seasoned market explorer maximize the experience.
Don't bargain. Yes, it is tempting to try and talk someone into selling only two cucumbers instead of three for a dollar but it is also gauche. It is a clear sign of a market amateur. Things at a farmers market are pretty cheap and they are priced in a way to make most people happy. Can't use three cucumbers?  Give one away.
Bring your own bags. Most of us are now in the habit of bringing our own bags to


Bringing your own bags to farmers markets not only helps out the vendor, but it ensures you limit yourself to what you can carry easily, which will prevent waste and frustration.

markets whether farmers of grocery.However, it is particularly important at a market stand. The people selling produce are doing so in as direct to table process as possible. Things like bags and written receipts gum up the works.  If you don't have your own shopping bags you are bound to have some left over plastic bags from the mega-grocery.  Use them.

Bring change. These are farmers, not retailers. They will have change. However, they will appreciate the fact that you do as well. A fist full of ones and fives is way better than one fifty.
Listen to the seller. Let them tell you about what they are selling. If you are skeptical about soy candles or olive oil soap let them explain it to you. They will guide you on the best way to use something they produce. The same is true for produce. Even if you think you know how to use something ask questions. They may have new ways of serving the same thing in a healthier way.
Listen to the buyers. Keeping quiet and listening to people talking at a produce stand is the best way to pick up usage tips. It falls under the "I always roast my cauliflower" category. What, you steam your cauliflower instead of roast it? Well, you don't know what you are missing until you try.
Buy only what you can carry. The temptation is to over buy. Everything looks good and everything is available. However, we can only eat so much and food at markets is FRESH. If you are single, buy what you can carry.  If there are two of you, buy what two of you can carry.  If you have a couple of kids, buy what they can help carry. By the way, don't fall into the stroller trap. Just because you can cram that stroller full of green peppers doesn't mean you will eat them. Also, don't make multiple trips. Instead, with markets occurring almost every day of the week, the better answer is to go twice a week rather than try and "stock up".
Can sparingly. Yes, people still can. Yes, it is a hobby, an adventure, and a good idea if you enjoy that kind of thing. However, fresh produce at the market looks a lot smaller when surrounded by other produce. Bringing home a bushel of


When produce comes in season it is tempting to overbuy. It is better to can or freeze conservatively than ruin your weekend slaving.*

tomatoes takes time to put up…lots of time. But there is risk/reward. The reward is amazing tomatoes in the winter for chili and marinara (trust us, NOTHING is better than fresh canned tomatoes for a zesty pasta sauce in January). The risk is ruining your whole weekend while you slave away over boiling water on a hot Sunday afternoon. The bottom line is to be conservative. You might only get a limited quantity of amazing product but you will still want to do it again next week.
Above all, follow the three "E's":  explore, experiment, and enjoy.  Exploring a farmers market is an amazing experience.  Even if you don't buy (and that is almost impossible) you can at least be exposed to some great farm to table products that will, upon you next visit, tempt you to…
Experiment. If there is ever a time to take a risk on a weird looking heirloom tomato, lemon thyme, or power green mix containing leaves you have never heard of, a farmers market is the place. It is the place to ask questions and try for less money than a fancy organic store.  You may also find that you…
Enjoy. And that is the goal. We help our local food producers, our local economy and the environment (ever wonder how much gas it takes to get strawberries from Mexico) as we feed our bodies and souls.  So, see you at the market!
Weekly Markets
Tuesday: Downtown Sylvania,
Wednesday: Westgate, 3PM – 7PM, Parking Lot, Elder-Beerman
Bowling Green, 4PM – 7 PM, Downtown BG
Thursday: Perrysburg, 3PM – 8 PM, Downtown Perrysburg
Hancock Co (Findlay), 4PM – 6 PM, Downtown Findlay
Saturday: Toledo, 8 AM – 4 PM, Erie Street Market Downtown Toledo
Bedford, 9 AM – 2 PM, Lambertville, MI
Wauseon, 8:30 AM – 12:30 PM, Downtown Wauseon