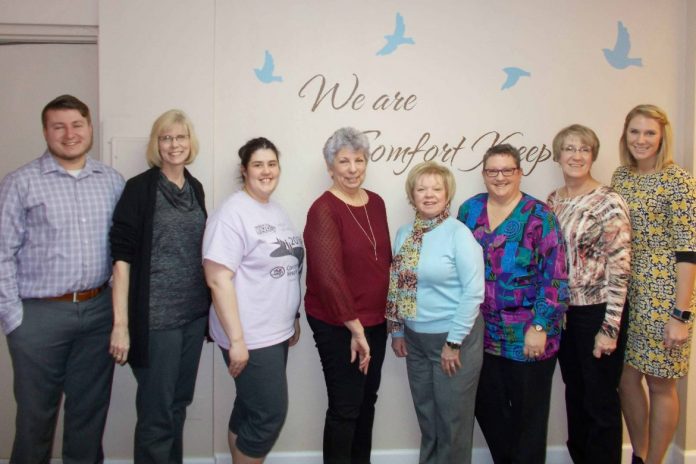 Comfort Keepers Sets High Standards for In Home Care
By Chris Watson
Many businesses adopt the mantle of family. Terms like family owned, family driven, and family centered are tossed about in advertising as easily as the words new and improved. At Comfort Keepers of Toledo, however, those phrases are not only accurate but a source of pride. "All we do around here is family," says Samantha Stainbrook, Community Outreach Professional for Comfort Keepers. "I work for a General Manager whose son owns the business, I work with my mother who is our RN care coordinator, and my grandfather is a long-standing client. All day I help families look into options for helping their loved ones stay in their homes. In other words, it is all about family."
National Standards, Local Care
"I have been here 16 years," says Julie Kuney, General Manager at Comfort Keepers of Toledo. "Before that I was a medical technologist. I had aging parents and I was looking to fill the needs in their lives. Comfort Keepers was a new franchise when I started."  At that time the office was corporate owned but soon became a local operation. "I work here, my son owns the office, and of course we used Comfort Keepers for my parents. The most important aspect of our business is that we have an organized system for service, providing a high level of uniform care with standards handed down from the franchise. This delivers demonstrative quality care and a level of security and trust for our clients and their families."
It starts with assessment and training. "We do an initial assessment of the home situation," says Janice Stainbrook, Nurse Liaison and Client Care Coordinator. "As an RN I have experience and training to see things that may not be apparent to the family or even other care providers. We then continue those assessments on a 2-6 month basis depending on the client."  The assessments help clients and their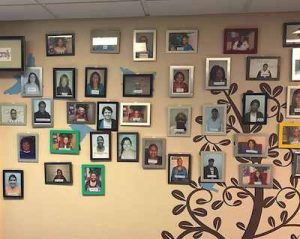 families see and respond to changing needs. "We work and coordinate with the client's various medical entities to monitor and enhance their home life," states Stainbrook. Those entities include various doctors' offices, Hospice, the Veterans Administration, Medicare/Medicaid, LTC insurance, and a whole host of other services.
Besides assessment and monitoring Comfort Keepers is rigorous on whom they employ. Through the standards set by the franchise, local offices use a system of recruitment, screening, interviewing and training to employ and retain high quality staff. "Training, education, and communication is paramount," explains Stainbrook. "As our aids work with our clients they see and report back issues to me that I can follow up on. These situations can overwhelm a family. As a health care professional, I can help families navigate their options."
Care Centric, Technology Driven
"Coordination is a small word for a huge job," explains Kuney. "We start with RN input. We then meet with the family and spend time with the client. We try as best we can to match our caregivers with a client to create a good fit. After all, they are going to be spending time together."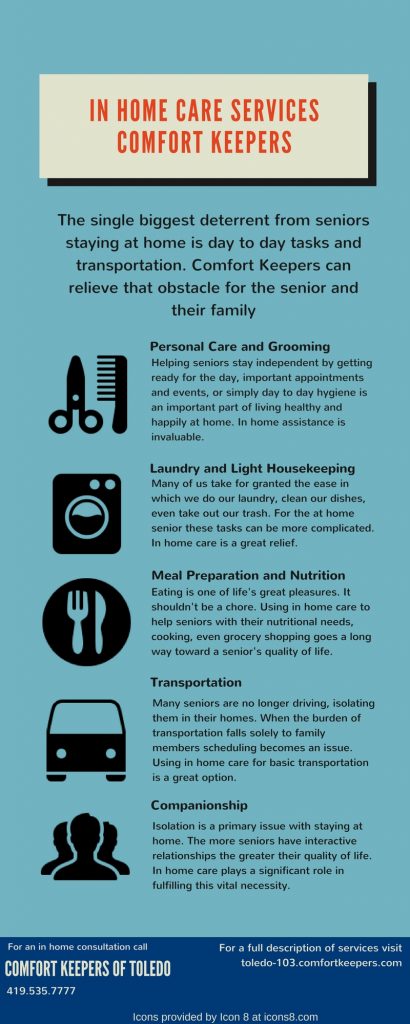 The key word to effective care is interactive. "Every one of our caregivers is trained to be interactive with their clients," states Kuney. "We don't just 'do' things for our clients, we do things 'with' our clients. It is way more than just a housekeeper. We want our caregivers to be companions, not staff."  Client services are broad and include the usual slate of in home care services.
More than the hands on, personal touch, Comfort Keepers is technology driven. "The push with our franchise is technology. Caregivers use their phones as timecards and track tasks," Kuney continues. "Likewise, we are on the leading edge of electronic telephonic systems like safety alerts, GPS tracking systems, and electronic communication. We have a wide variety of products that help keep our clients safe and provide comfort and security to our families."
Comfort Keepers also offers grandPad, a preloaded, "always-on" tablet with essential apps and access to health, wellness and safety information displayed in a senior friendly way. The grandPad is easily set up with no passwords, login screens, Wi-Fi issues, or wires to hinder usage. Services include instant communication with family via secure video chat or closed email system. The email system includes email to voice options. GrandPad also allows for sharing videos and photos of family, allows for instant communication Comfort Keepers plus curated music and games, all set up and device friendly for seniors.
Sooner Rather than Later
"My experience is that people want to stay in their homes," says Samantha Stainbrook. Her experience is born out nationally. According to a recent survey from AARP 87% of those surveyed said they would prefer to remain home rather than move to a group setting.
"The problem isn't the mechanics of staying at home," continues Stainbrook. "We know that as we age we need help with basic living essentials. Many organizations can provide those services in the home."  There are many other services that also need providing, not the least of which is transportation. According to the same AARP survey, 50% of non-drivers of 65 never leave their homes due to transportation difficulties. "We can help seniors get to where they need and want to go. These types of services help relieve family members and give them an opportunity to be with their loved one rather than just cleaning and driving."
Stainbrook gets more wistful as she talks about her grandfather. "Kim started with our family back when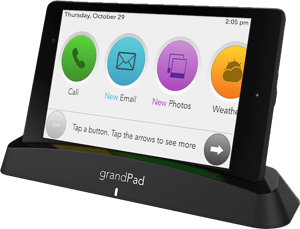 my grandmother was still alive. My grandfather is wheelchair bound and when my grandmother got sick we needed extra help. Even though my grandmother has passed away Kim is still with our family. She is absolutely part of the family."
"We can start the same day or the next day if we need to," Stainbrook continues. "That is another thing that sets us apart. Many services have significant waits. We do our best to expedite the process and begin the helping process as fast as possible."
She continues with a confidence of personal experience. "Above all, most people underestimate the importance of what Comfort Keepers can provide. You can't sell these types of services…they aren't a gym membership. People don't know they need in home care until they need it. Plus, it is always better to start sooner rather than later. Once we have matched our care giver to a client, our caregivers become helpers, workers, drivers, cooks, and most significantly, companions. In a word, family."
Comfort Keepers of Toledo
2451 N. Reynolds Rd
Toledo, OH 43615
419.535.7777
Samanthastainbrook@comfortkeepers.com